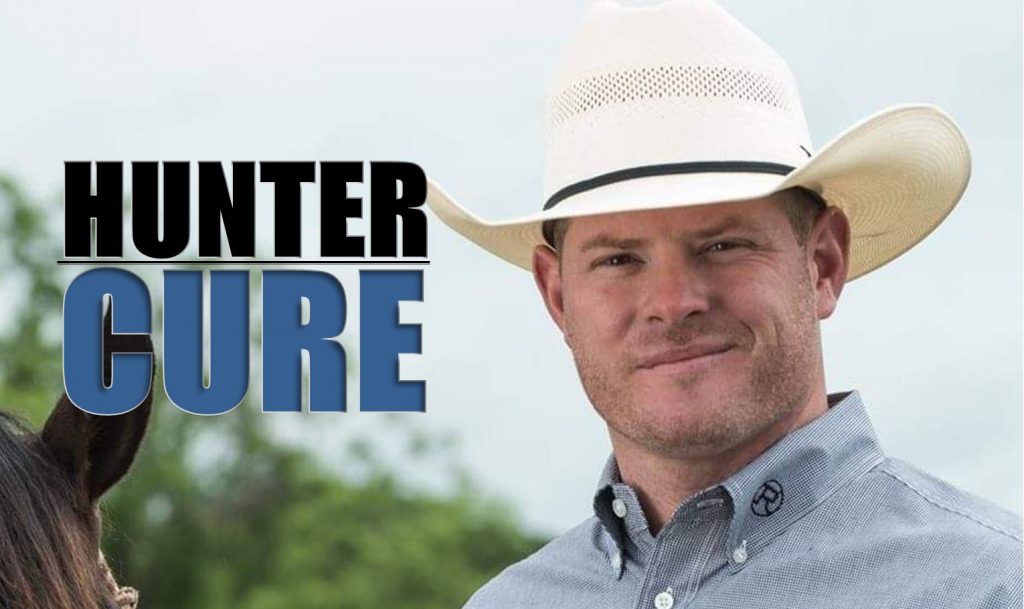 How do you make a career from being a cowboy?
Hunter Cure is a two-time world champion steer wrestler and competes on the Professional Rodeo Cowboys Association (PRCA) level. Hunter shares the good and bad of traveling 6+ months a year with no guarantee of income while being a devoted husband and father at home in Texas.
"The humbling nature of moving up a level"
Hunter married his wife, Bristi in 2006 and they have 2 children. Both Hunter and Bristi attended Texas Tech and were members of the rodeo team. Bristi competed in the barrel racing, and she earned bachelors and master's degrees in communications. Hunter's uncle, Joe Howard Williamson, has won several world championships in cutting. Hunter runs cattle on his Holliday, Texas, ranch and provides stock for the steer wrestling competitions in San Antonio, Fort Worth, San Angelo, Houston and the Timed Event Championships in Guthrie, Okla.. He also likes hunting deer and wild hogs. His favorite restaurant is Outback Steakhouse, and his favorite food is steak.
Connect with Hunter Cure on social media:
BIOGRAPHY
Growing up in North Texas, being a cowboy has always been second nature to Hunter Cure. He was surrounded with large cattle operations and multiple family interests which included a breeding operation, halter, performance and cutting horses. Hunter found his niche in the rodeo arena by first competing in calf roping and bull riding. At age 14, Hunter began steer wrestling and as they say the rest is history. Hunter was successful in the high school ranks and this lead to a rodeo scholarship in college. He went on to win the college national steer wrestling title in 2004 and then started his Professional Rodeo Cowboys Association (PRCA) rookie year in 2006.
In May of 2006 Hunter graduated from Texas Tech with a bachelors of science degree in Agricultural Economics and spent his rookie season on the road. In October he married Bristi and they moved back to the Wichita Falls, Texas area. In his spare time Hunter has been known to work on horse trailer interiors, while running wheat pasture cattle and helping with the families' cow calf operation. In 2011 Hunter entered into the stock contracting business by providing steer wrestling cattle for Rodeo Austin, the San Antonio Stock Show and Rodeo and the Ft. Worth Stock Show and Rodeo.
Throughout the year Hunter can be found traveling the United States and Canada competing. He competes at over 80 sanctioned rodeos a year and drives countless miles in pursuit of another National Finals Rodeo (NFR) appearance.
ACCOMPLISHMENTS
In 2009, Hunter qualified for his first NFR. That same year he won four out of the six rounds at his first Canadian Finals Rodeo (CFR). He also won the Texas Circuit in 2009 which qualified him for a spot at the Dodge National Circuit Finals Rodeo in Pocatello, Idaho, where he finished second. Cure would go on to qualify for the CFR again in 2010. 2013 proved to be an outstanding season for Cure, he qualified for his second NFR, made another trip to the CFR, and won prestigious rodeos like Reno and Sheridan. Cure finished the CFR finals as reserve CFR champion. Cure's NFR performance included two go round wins, placing in seven of the ten rounds, and finishing third in the average. Cure ended the 2013 season winning the PRCA World Championship title.
HISTORY
While Hunter's rodeo career began roping calves and riding bulls, he's been moving cattle and riding horses since a very young age. He even spent a summer riding cutting horses. At age 14 he tried his hand at steer wrestling. While the first few years took a lot of hard work and practice, Hunter continued to improve and get stronger. He made the best of his high school years by being successful at Texas high school rodeos in Region I & III. His successful high school career led to a rodeo scholarship to Howard Junior College where he stayed for one year before transferring to Texas Tech University in 2004. In 2004, Hunter qualified for his first College National Finals Rodeo (CNFR) in Casper, Wyoming and won the National Inter-collegiate Rodeo National (NIRA) Championship title in the steer wrestling.  He later went on to qualify for the CNFR two more times, winning the Southwest Region twice and helped lead Texas Tech University's Men's team to a regional championship, as well as a NIRA runner-up title in 2006.
Team members included other NFR qualifiers Adam Gray (calf roping), Ryan Gray (bare back riding) and CFR qualifier Luke Butterfield.
SUBSCRIBE
You can subscribe to The Travel Wins Podcast on Apple Podcasts, SoundCloud, YouTube, iHeart Radio, Stitcher, Google Podcasts, Spreaker, Podnews, Castbox,  Pocket Casts, Radio Public, and Amazon.