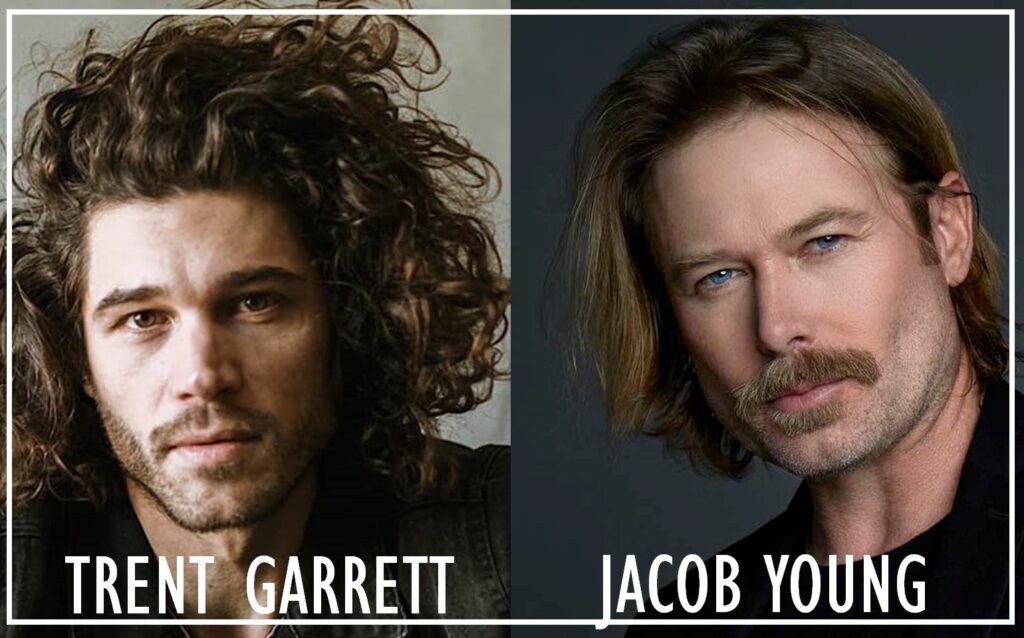 Jacob Young and Trent Garrett, both have distinguished careers as actors and producers with decades of experience in the entertainment industry. While they continue to work and create new projects they have combined their efforts to start a movie workshop program in Hampton, Virginia benefiting children and giving them the opportunity to learn and work creating their own art/projects. They have several cities lined up around the country for future 30 week movie making workshops, including Nashville, Tennessee.
Click the link on my BIO page to visit my website and listen to the full episode and see other past guests.
They share some of the places they have been fortunate enough to work in for acting and why they are so excited to share their experiences with school aged children. The workshops include the full aspect of movie making and their hope is that they can create future actors, directors, grips, audio engineers, lighting, makeup, wardrobe, medics and so many others that are needed to make feature movies and projects.
Connect with Jacob and Trent on their social media pages:
ABOUT Jacob Young
Jacob Wayne Young is an American actor and producer. He is a five-time Daytime Emmy Award nominee, winning once in 2002 for his role as Lucky Spencer in the soap opera General Hospital (2000–2003). He is best known for his roles as Rick Forrester in the soap opera The Bold and the Beautiful (1997–1999, 2011–2018) and JR Chandler in the soap opera All My Children (2003–2011).
Early life and career
Jacob Wayne Young was born in Renton, Washington, the youngest child of Rhonda and Michael Young, Sr. and was raised in Loveland, Colorado, and Roy, Washington, moving to San Diego, California at age seventeen with his mother. His parents divorced and his mother remarried to Edward Vasquez. He has one older brother and two sisters.
Young portrayed Rick Forrester on the CBS soap The Bold and the Beautiful from December 31, 1997, to September 15, 1999. He was nominated for a Daytime Emmy Award as Outstanding Younger Actor in a Drama Series in 1999. Young later portrayed Lucky Spencer on General Hospital for three years from February 25, 2000 until February 10, 2003. In 2001, he was named "Sexiest Soap Star" by People magazine. In 2002, he won a Daytime Emmy Award for Outstanding Younger Actor in a Drama Series for his role as Lucky Spencer on General Hospital
Young portrayed JR Chandler on All My Children from October 1, 2003 to September 23, 2011. In 2005, he was again nominated for a Daytime Emmy Award as Outstanding Younger Actor, and in 2009 he was nominated for Outstanding Supporting Actor in a Drama Series.
In September 2011, Young reprised his role as Rick on The Bold and the Beautiful. His first airdate was September 26. In April 2018, Young announced he had been dropped to recurring capacity, which he called a "blessing."
Other projects
On September 11, 2001, Artemis Records released Young's self-titled CD. In 2004, he guest-starred in the film The Girl Next Door. He additionally guest-starred on ABC's Hope & Faith and, from May 2006 through August 20, 2006, starred in Disney's Beauty and the Beast on Broadway, in the role of Lumiere.
Personal life
In April 2006, Young and his longtime girlfriend, Christen Steward, a model, announced their engagement. They were married on May 13, 2007, at the Westmount Country Club in Woodland Park, New Jersey. The couple has three children.
ABOUT Trent Garrett
Trent Garrett is an American actor best known for his roles as Bowie Quinn on the Disney Channel series Andi Mack, Wes on Splitting Up Together, and John on Maggie.
Personal life
Trent Garrett was born on March 2, 1984. He was born and raised in Hampton, Virginia. Garrett was the kicker on the Grafton High School football team. Garrett has a son born in 2015.
Career
Garrett's film roles include Austin Banks in Boost, Jason in Pocket Listing, and Larry in Martial Science. His first major television role was as Asher Pike in 91 episodes of All My Children. In 2012, he had a recurring role on the ABC Family series, Make It or Break It, playing Brad, who is training to go to the 2012 Olympics for cycling. In 2017, he landed the recurring role of Bowie, Andi's father on the Disney Channel's hit show Andi Mack, and in Season 3 he was promoted to a series regular. In 2018, he joined the cast of the ABC sitcom Splitting Up Together. In 2021, he played the role of Parker Freeman on the TNT drama series Animal Kingdom. In 2022, he played the role of John on the Hulu comedy series Maggie.
SUBSCRIBE
You can subscribe to The Travel Wins Podcast on Apple Podcasts, SoundCloud, YouTube, iHeart Radio, Stitcher, Google Podcasts, Spreaker, Podnews, Castbox,  Pocket Casts, Radio Public, and Amazon.
The Travel Wins intro song by Allison Johnson and Steve Stevens
Website Design by Stack Host