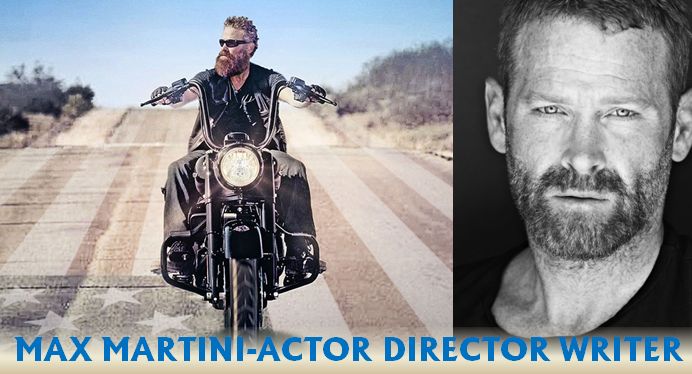 Max Martini is my guest this week. His latest movie release, Sgt. Will Gardner is available on Itunes, YouTube, Amazon, Google Play, Vudu and Netflix. Sgt. Will Gardner co-stars Omari Hardwick, Lily Rabe, Robert Patrick, Dermot Mulroney, Gary Sinise, JoBeth Williams, Jay DeMarcus, Max's son Leo Martini and Elisabeth Rohm.
Max was great sharing his travel stories from the movies he worked on. His latest role as director makes him responsible for everyone's traveling and he shared some of the differences. He has worked with the best people in the movie and television industries in a career spanning decades so it was a pleasure getting to spend some time speaking with him.
I'm excited to watch his upcoming movie "Manson Brothers Zombie Massacre" and he is getting ready to direct a rodeo movie in Oklahoma.
Max on social media:
Click here to see other guests choices for listening while traveling
Wikipedia
Max Martini is an American film, theater and television actor, writer, and director known for his roles as Corporal Fred Henderson in Saving Private Ryan, Wiley in Level 9, First Sergeant Sid Wojo in The Great Raid, and as Master Sergeant Mack Gerhardt on the military television drama, The Unit. He also starred in the film 13 Hours: The Secret Soldiers of Benghazi.
Early life
Martini's father, Raffaelle Martini Pandozy, a sculptor and reformist artist was born in Rome. Martini's mother, Patricia (née Dunne) Martini Margolin, was a private investigator and parole officer. He has two siblings: actor/producer Christopher Martini and costume designer Michelle Martini. His stepfather, Stuart Margolin, is a director and actor. Martini attended St. Michaels University School in Victoria, Canada.
Max moved to New York City and studied acting, first at the Neighborhood Playhouse before continuing training at Michael Howard Studios. He then attended the School of Visual Arts in Manhattan and received a B.F.A.in painting and sculpture.
Filmography
Film
The Glitter Dome (1985)
Paramedics (1988)
Pictures of Baby Jane Doe (1995)
"Behind Enemy Lines" (1996)
Contact (1997)
Saving Private Ryan (1998) – Corporal Henderson
Cement (1999)
Backroads (2000)
Another Day (2001)
The Great Raid (2005)
Street Warrior (2008)
Redbelt (2008)
Mandrake (2010)
The Town – FBI/HRT Swat
Colombiana (2011) FBI Agent Special Agent Williams
Pacific Rim (2013) – Hercules "Herc" Hansen
Captain Phillips (2013) – U.S. Navy SEAL Commander
Sabotage (2014) – Tom "Pyro" Roberts
Fifty Shades of Grey (2015) – Jason Taylor
Edge (2015)
Spectral (2016)
13 Hours: The Secret Soldiers of Benghazi (2016)
Live by Night (2016)
Fifty Shades Darker (2017) – Jason Taylor
My Little Pony: The Movie (2017) – Boyle
Fifty Shades Freed (2018) – Jason Taylor
Eli (2019) – Paul
Will Gardner (2019) – Will Gardner
Television
The Pretender (1996–2000)
Walker Texas Ranger (1993–2001) – Luke
Da Vinci's Inquest (1998–2002)
Harsh Realm (1999–2000) – Mel Waters
Level 9 (2001)
Taken (2002)
CSI: Crime Scene Investigation (2003 & 2011)
The Division (2003)
24 (2003) – Agent Steve Goodrich
CSI: Miami (2003–05)
Try to Remember (2004)
Without a Trace (2004)
Numb3rs (2005) – Billy Cooper
The Unit (2006–09) – Mack Gerhardt
Burn Notice (2008) – Gerard
Street Warrior (2008) – Jack Campbell
Lie to Me (2010) – David Burns
Dark Blue (2010) – Tim Rowe
White Collar (2010) – U.S. Marshal John Deckard
Hawaii Five-0 (2010) – Nick Taylor
Castle (2011) – Hal Lockwood
Flashpoint (2011) – Bill Greely
Rizzoli & Isles (2011) – Dan Mateo
Revenge (2011–12) Frank Stevens
Criminal Minds (2011) – Luke Dolan
The Mentalist (2012) – Fletcher Moss
Republic of Doyle (2013) – Big Charlie
Person of Interest (2013)
Crisis (2014) – Koz
Real Detective (2016) episode; "Darkness" – Detective Tommy Ray
Training Day (2017) – Agent Jack Ivers
NCIS: Los Angeles (2018) episode; "Ninguna Salida" – Arlo Turk
The Order (2019) – Edward Coventry
Doom Patrol (2019) – episode; "Hair Patrol" – Alistair