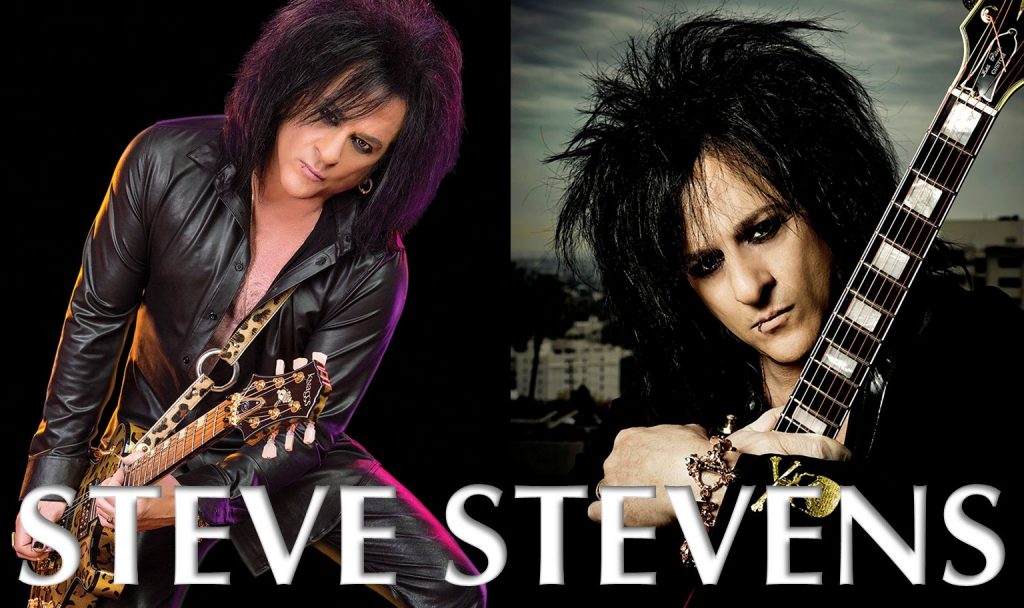 What's it like being a rebel guitarist?
Steve Stevens is my guest on today's podcast. Steve shared stories and advice from his decades on the road. His guitar playing background started at the age of 7 and five decades later he is still rocking out on a regular basis with Billy Idol. Spending nearly 40 years, off and on, with Billy Idol has given him some rare insight to the music industry. Steve worked on albums with Michael Jackson, Ric Ocasek, Vince Neil, soundtracks for the movies "Top Gun" and "Speed", and more recently supergroup Deathland Ritual. He won his Grammy for the "Top Gun Anthem" and we talked about the possibility of the song making a comeback for this summer blockbuster follow up "Top Gun: Maverick". He sees a need for the continuation of rock music and live performances but he also spoke about the growth of electronic music and the recent boom of Billie Eilish.
I was completely blown away getting to spend so much time talking with Steve and thankful for his wife, Josie, for setting up our time to chat. They work well together and we spoke about the positives of having your spouse with you while traveling for work.
Make sure to check out Steve on his social media platforms and follow him to find out where he will be playing next.
If you like the podcast, I would love it if you left me a review! Also, feel free to contact me directly via DM regarding this episode or anything in the podcast that may have related to you.
Steve Stevens on social media:
Steve's listening choice while traveling for work is:
Taking a break from music, Steve likes to relax when he has time. 
Click here to see other guests choices for listening while traveling
ABOUT
Steve Stevens is an American guitarist and songwriter. He is best known as Billy Idol's guitarist and songwriting collaborator and for his lead guitar work on the theme to Top Gun – "Top Gun Anthem" – for which he won a Grammy in 1987: Best Pop Instrumental Performance. A session guitarist, he has played for Michael Jackson, Ric Ocasek, Robert Palmer and many others. Stevens was in Vince Neil's band in 1993, touring and recording on Neil's album Exposed. In 1995, Stevens and Idol were briefly members of the group Neurotic Outsiders. Stevens was a founding member of the supergroup Bozzio Levin Stevens, which released Black Light Syndrome in 1997 and Situation Dangerous in 2000. He brought Spanish flamenco guitar stylings to the song "Pistolero" (1999) for the trance group Juno Reactor. During 2012–2016, Stevens appeared with Kings of Chaos. His "Steve Stevens" group headlined the closing performance at the Musikmesse in Frankfurt, Germany, in April 2016. He is also a television personality on the E! Show Married to Rock, alongside his wife, Josie Stevens.
Discography
Solo albums
The Guitar World According To Steve Stevens (1986 cassette from the music magazine Guitar World)
Atomic Playboys (1989)
Akai Guitar Sample Collection (1994)
Flamenco a Go-Go (1999)
Memory Crash on Magna Carta Records (2008)
Movie soundtracks
"Top Gun Anthem", Top Gun (1986)
"Speed", Speed (1994)
Albums with Billy Idol
Billy Idol (1982)
Rebel Yell (1983)
Whiplash Smile (1986)
Devil's Playground (2005)
Kings & Queens of the Underground (2014)
Albums with Michael Jackson
Bad (1987)
Albums with Robert Palmer
Don't Explain (1990)
Albums with Jerusalem Slim
Jerusalem Slim (1992) – only released in Europe and Japan
Albums with Vince Neil
Exposed (1993)
Albums as a member of Bozzio Levin Stevens
Black Light Syndrome (1997)
Situation Dangerous (2000)
Albums with Kyosuke Himuro
I·De·A (1997)
Collective Souls (1998)
The One Night Stands (1998)
Mellow (2000)
Beat Haze Odyssey (2000)
Follow the Wind (2003)
Albums with Gregg Bissonette
Submarine (Stevens played on "Train to Willoughby") (2000)
Albums with Adam Bomb
New York Times (Stevens played on "NY Child" "Cheyenne" "Saluda a Lola" & "Anxiety") produced by Jack Douglas (2001)
Albums with Sebastian Bach
Give 'Em Hell (2014)
Other performances
Merry Axemas Vol. 2 ; track 3 "Do You Hear What I Hear" (1998)
The Fallout | Neodymium Project (2012)
Desire | Meg Myers – Sorry (2014)
I Will Always Be Yours | Ben Rector (2018)
Down in Flames | Deadland Ritual (2018)
#stevestevens #billyidol #guitarist