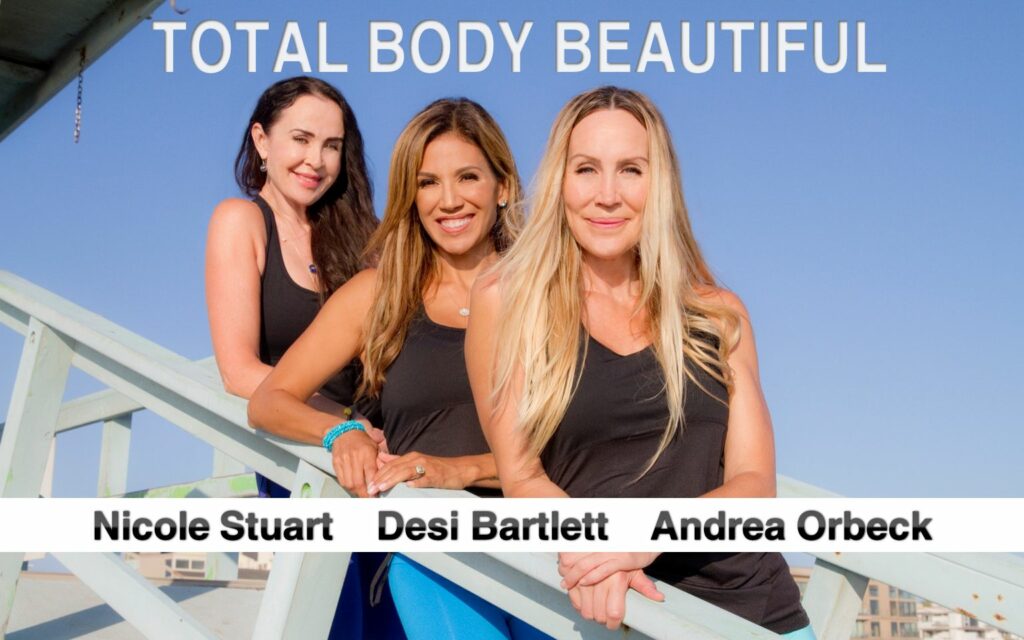 Total Body Beautiful is a new book being released with the secrets to looking and feeling your best after age 35 written by personal trainers Andrea Orbeck, Desi Bartlett and Nicole Stuart. We had a great talk about why they chose the age of 35 as a starting point and how our fitness goals change as we get older. These three ladies are legitimate celebrity trainers with a client roster that includes Julia Roberts, Kate Hudson, Ashley Tisdale, Heidi Klum, Anna Faris, Goldie Hawn, Portia De Rossi and Maria Menounos.
They also shared the premise that they are helping people better their lives and what that means to them personally. All three ladies have various backgrounds prior to their fitness journey and I think that helps them relate to their clients' needs and desires.
Make sure to buy their new book and follow their social media pages to find out how you can reach out to them.
Connect with them on their social media pages:
WEBSITE: https://totalbodybeautiful.com/
Instagram: https://www.instagram.com/totalbodybeautiful/
Facebook: https://www.facebook.com/TotalBodyBeautifulBook
YouTube: https://www.youtube.com/channel/UCxgaGku7ZXUVBxOaVmd0l0Q
Book: https://www.amazon.com/Total-Body-Beautiful-Secrets-Looking-ebook/dp/B09MYDXNQ4
Desi Bartlett: https://www.desibartlett.com/
Andrea Orbeck: https://www.andreaorbeck.com/
Nicole Stuart: https://nicolestuart.com/
ABOUT Total Body Beautiful
A woman's mind and body change as she goes through life, and so should her outlook on what it means to be healthy and fit. If you're a woman over age 35, you need fitness and wellness advice that's uniquely tailored to your needs so you can look and feel your best. You need Total Body Beautiful.
With combined decades of experience and dozens of fitness certifications and credentials, the expert team of authors, Andrea Orbeck, Desi Bartlett, and Nicole Stuart, have worked with hundreds of celebrities, supermodels, and ordinary women to develop workout and wellness solutions to stay active and feel good in their own skin–and they can do the same for you. These authors understand the complexities of women's bodies and the changes that occur as women age.
More than an exercise guide, Total Body Beautiful explores the changes that women experience during and after pregnancy, during perimenopause, and during and after menopause. You'll learn how hormones affect your physical body and emotional wellness, the effects of exercise on the brain, and how nutrition affects the way you look and feel. You'll find insider tips and client stories from celebrities and clients who the authors have worked with.
You'll get practical and research-backed advice on improving strength, mobility, flexibility, and aerobic fitness. You'll learn how to choose fitness activities based on your goals–both now and when your life priorities change. With 100 different exercises–spanning yoga, Pilates, and strength exercises–you'll have plenty of options to choose from when creating your workouts build, no matter what life stage you are in. Sample plans help you consider your needs when creating daily and weekly workout schedules, or you can choose from over two dozen predesigned yoga, Pilates, strength and cardio, and combination workouts for instant variety and effectiveness.
Movement in many forms is the key to building and maintaining a healthy body and mind at any age. Get a renewed outlook on what it means to be fit with Total Body Beautiful.
SUBSCRIBE
You can subscribe to The Travel Wins Podcast on Apple Podcasts, SoundCloud, YouTube, iHeart Radio, Stitcher, Google Podcasts, Spreaker, Podnews, Castbox,  Pocket Casts, Radio Public, and Amazon.
The Travel Wins intro song by Allison Johnson and Steve Stevens
Website Design by Stack Host
#desibartlett #andreaorbeck #nicolestuart