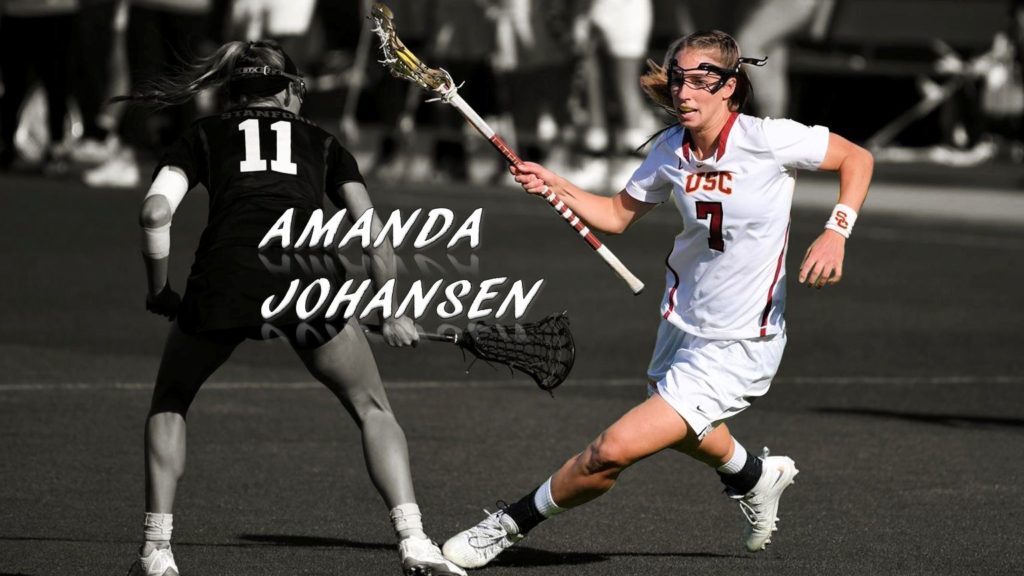 Can I turn a playing lacrosse into a coaching career?
Amanda Johansen is an All Star professional lacrosse player and college coach based in the Baltimore area after playing for the inaugural University of Southern California (USC) women's lacrosse team. She will always have the distinction of being the first women to score a goal for the University of Southern California lacrosse program.
 "Traveling is tough as a big group. You feel like you're responsible for a lot of people. You want everything to go well. I had this big binder that I had to take on every trip. You have to be super organized and ready".  ~ Amanda Johansen on team travel as a coach
We had a great chat about the future of women's lacrosse and the growth the sport is seeing on the West Coast. She shared how the Covid19 lockdown affected her professional team season, the Hofstra team and its seniors. Make sure to follow Amanda on her social media pages. If you get a chance watch a women's lacrosse game and become a fan.
Connect with Amanda Johansen on social media:
SUBSCRIBE
You can subscribe to The Travel Wins Podcast on Apple Podcasts, SoundCloud, YouTube, iHeart Radio, Stitcher, Google Podcasts, Spreaker, Podnews, Castbox,  Pocket Casts, Radio Public, and Amazon.
Intro song "Road Trip" by Robin Tricker
ABOUT
Amanda Johansen just completed her second season with the Hofstra Women's Lacrosse program in 2020. Johansen serves as the program's defensive coordinator and oversees the draw team as well. 
In Johansen's first season with the Pride she helped the team to a 12-win campaign and a spot in the Colonial Athletic Association Championship Game. The 12 wins were the most since 2010 and the appearance in the championship game was the first for Hofstra since 2013. 
The 2020 season saw Hofstra compile a 4-3 record in the shortened season. 
Johansen spent the 2018 season as an assistant coach at the University of Southern California. While with the Women of Troy she helped guide USC to a 10-win campaign and assisted in the development of five student-athletes earning all-conference honors from the Pac-12 and three earning IWLCA All-Region accolades. Johansen served as the offensive coordinator for USC and help lead a unit that averaged 12 goals per game. 
Prior to working at USC, Johansen spent a season as a graduate assistant coach at Mount St. Mary's. She served as the program's defensive coordinator at Mount St. Mary's and also oversaw much of the planning as it related to team travel. 
Johansen was a decorated student-athlete at USC as she compiled 194 points on 134 goals and 60 assists during her 77-game career with the Women of Troy. She also had 258 draw controls. The 2013 Mountain Pacific Sports Federation Rookie of the Year and a Intercollegiate Women's Lacrosse Coaches Association Third Team All-American as a senior, she was a team captain in 2015 and 2016 and was an integral part of USC's first-ever NCAA Tournament appearance and run to the NCAA Quarterfinals as a senior in 2016. 
Johansen has also played professionally as she played two seasons with the Baltimore Ride of the United Women's Lacrosse League and most recently is a member of the Baltimore Brave of the Women's Professional Lacrosse League. This past summer she captured the WPLL title with the Brave and was also named to the All-Star team. In addition, Johansen is a member of the U.S. National Team Training Team. 
Johansen, who graduated from USC in 2016, earned her bachelor's degree in business administration and also received a minor in sports media studies. She earned her master's degree in sports management from Mount St. Mary's in 2017. She is working towards her second master's degree, in sports science, from Hofstra.