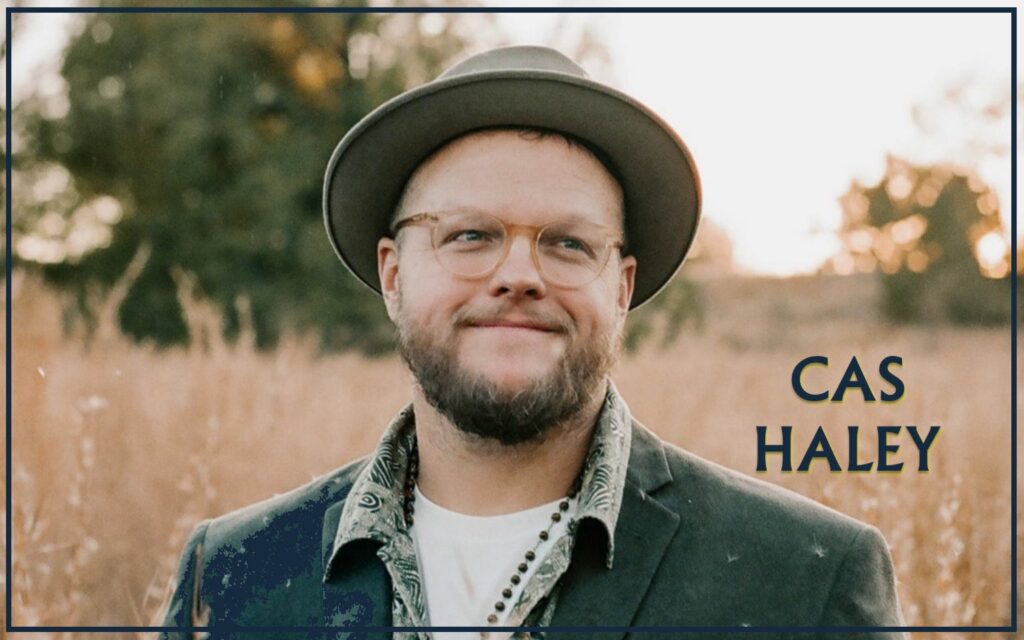 Cas Haley is a Texas based reggae singer/songwriter who also gives his favorite country songs a reggae twist while touring with his family. I first saw Cas perform on the show Americas Got Talent and I have followed him since watching him get the runner up placing on the show. I loved hearing the stories of an independent artist trying to grow his fan base and Cas shared how he is currently growing his social media following by treating it like a job or just another part of being an artist. He treats it like work but he has seen the fruits of his labor by growing his following in excess of 100K just in the past few months.
He shared some of the ups and downs of touring and how he makes life on the road a little better. Being able to bring his entire family on the road is a blessing but it also makes for more work in the travel arrangements. Make sure to follow him and see where he will be performing next.
Connect with Cas on his social media pages:
ABOUT Cas
Sometimes when one door closes, another one opens. Texas singer-songwriter Cas Haley never imagined that in the year of the pandemic, both doors would belong to a 2020 Lincoln Corsair that would take him on a musical adventure across the country. But maybe he shouldn't have been surprised. It was just the latest soulful swerve in the musical ebb and flow of a career that's been both full of challenges and mightily blessed.
Fresh off a battle with his wife Cassy's cancer diagnosis, Cas and his family learned in January 2020 that out of 1,600 competitors, he had won the grand prize in Lincoln's "Chart Your Course" songwriting contest with his song "Every Road I'm On." The prize included that new Lincoln Corsair, but the vehicle came with a purpose: a cross-country journey to meet and work with famed songwriters and musicians to perfect and arrange his winning song, fittingly titled "Every Road I'm On."
The road trip also came with some valuable advice – and a spiffy new hat – courtesy of an unexpected new friend by the name of Matthew McConaughey. It culminated with a recording at the legendary Capitol Studios in Hollywood, CA with multiple-Grammy-winning producer Al Schmidt (Steely Dan, George Benson, and Quincy Jones). And Lincoln featured Cas and McConaughey in a commercial that debuted at the Grammy Awards in Los Angeles, with Cas in attendance, and that's now everywhere.
The whole road-trip saga was also captured in a captivating 25-minute documentary, where we meet Cas and his family and witness him working out song arrangements with the likes of Ruthie Foster, Jon Batiste, Tank of Tank and the Bangas, and Grammy winner Jon Cleary.
Lights, camera, action. It's in the bag. Print it!… and then the pandemic hit. Touring, promotions, the Lincoln campaign – everything was put on hold.
Cas wasn't fazed. The philosophy he'd lived by all along held true and carried him through: "Success," he says, "is an accumulation of being in balance, going with your gut, and following your bliss." Or, as he put it in the context of his 2019 album Lessons and Blessings: "It's about wanting to get out of one's head, feel connected, get back to one's roots and body and self."
Roots are everywhere on Cas's new album, All the Right People, set for an early-2021 release on Jimmy Buffet's Mailboat Records label. The video for the infectious title track features Cas and his family, bandmates, and friends all singing together and celebrating the power of music and love. A vintage funky pop flavor dominates tracks like "Kellie's Song"; "Misunderstood" and "Long Shadow" hark way back to old-timey sounds and traditional folk; and "Take It All Back" is pure delicious R&B balladry.
Together, the new album and the Lincoln adventure sum up a fascinating career journey. Cas grew up immersed in ska/punk/skateboard culture and the classic reggae-pop of bands like UB40 and Sublime. After a dramatic runner-up finish on an early season of America's Got Talent, he worked with indie reggae label Easy Star Records, sharing stages with the likes of UB40, Mike Love, and Trevor Hall.
All along he followed his bliss, going his own independent way, bouncing back from setbacks. He built an enviable career on the road and in the studio, dividing his time between touring and spending time with Cassy and their two kids on his Texas farm.
Today, music is more a family affair than ever for Cas, who collaborates with Cassy on songwriting and now hits the road with his son Eben on bass and his daughter Nolah on fiddle.
What he says about "All the Right People" applies to his whole approach to music and life. American Songwriter calls the song an "instantly memorable singalong," but Cas goes deeper: "It's a feeling, inspired by that energizing emotion that happens when things are in balance and you know you're exactly where you're supposed to be. That magnetic flow that happens when you recognize and honor all the relationships that have helped shape the person you are, and being able to cultivate presence in your life wherever you're at and to find that internal sanctuary, whatever tragedy you might be going through."
Tragedies come and go; what Cas Haley gets at in his songs is that internal sanctuary – whether it's the interior of a brand new SUV or something more ethereal. "Blessings always come rearranged," he sings in "Every Road I'm On." "The only plan I have is here right now…Every road I'm on is my home."
SUBSCRIBE
You can subscribe to The Travel Wins Podcast on Apple Podcasts, SoundCloud, YouTube, iHeart Radio, Stitcher, Google Podcasts, Spreaker, Podnews, Castbox,  Pocket Casts, Radio Public, and Amazon.
The Travel Wins intro song by Allison Johnson and Steve Stevens
Website Design by Stack Host