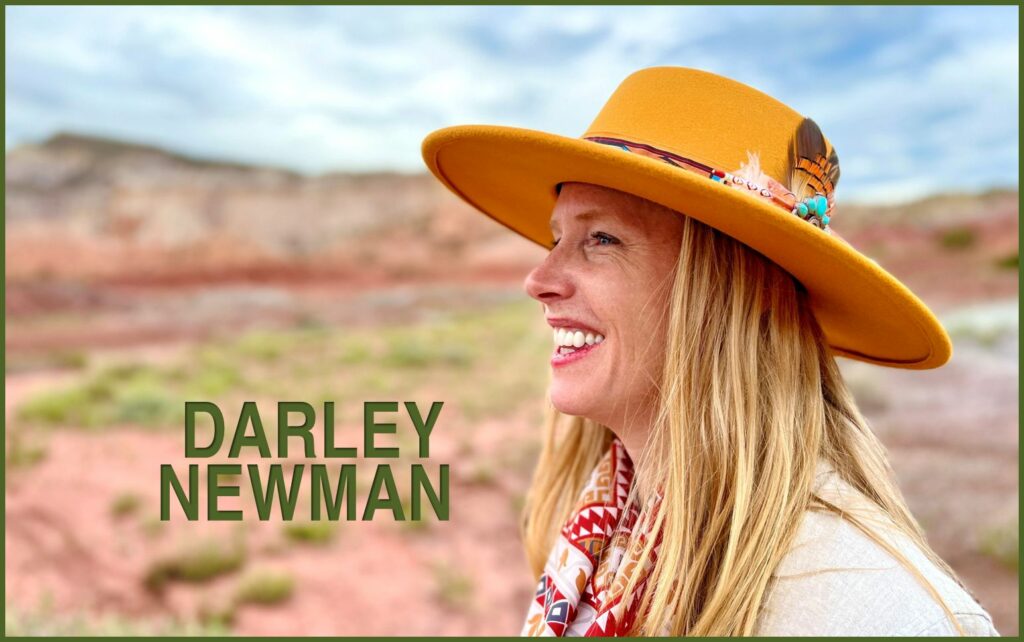 Darley Newman has built her career both behind and in front of the camera in diverse positions as producer, videographer, editor, director, writer and TV host. She is the host, creator and producer of "Travels with Darley" and "Equitrekking" on PBS, Amazon Prime, Ovation TV's Journy, Verizon Digital and international networks in over 85 nations. This was my second opportunity to speak with Darley on the show and we had a lot to catch up on. She is releasing Season 10 of "Travels with Darley" on PBS this month so make sure to catch some of the new exciting episodes. Her visits to multiple states and different countries gave her a unique ability to talk about business travel and personal vacations.
We talked about her interests in researching new locations and how she goes about deciding which location will be next. Even though she is just releasing Season 10 this month she is already making travel plans for Season 11 locations. I loved being able to ask her "behind the scenes" questions as to what it takes to create your own travel show.
Connect with Darley on her social media pages:
Website: https://darley-newman.com/
Instagram: https://www.instagram.com/darleynewman/
Twitter: https://twitter.com/DarleyNewman
LinkedIn: https://www.linkedin.com/in/darleynewman/
Facebook: https://www.facebook.com/TravelswithDarley
YouTube: https://www.youtube.com/channel/UCvjlxSsVxOF0FxdfaFg1eTQ
ABOUT Darley Newman
An adventure and culture seeker, Darley has most recently taken on extreme adventures while filming in diverse locations. In Macao, China, viewers watched on social media as Darley took the plunge from the world's highest commercial bungee at the Macau Tower. Taping a 360 camera to her hand, she filmed herself plummeting off the tower, an experience that turned out to me more emotional than Darley expected. She dove into the Dubai Aquarium to swim with sharks in the Middle East and back in the USA in Reno, Nevada, climbed the world's highest climbing wall.
When not getting out of her comfort zone with adventure activities, she does so with food. She's tasted her way through Seoul's street food markets and cooked with Michelin-star chefs in Belgium, England, the USA and Hong Kong.
An expert on travel and entrepreneurship, Darley makes regular guest contributions with leading media and at live events, including The Smithsonian, NAB Show and New York Times Travel Show. A pioneer in emerging media, she teams up with lifestyle brands, as well as global non-profits, to reach both business and consumer audiences using immersive video and social media.
Darley has been honored with six Daytime Emmy Award nominations for hosting, writing, directing and producing alongside media moguls Ellen DeGeneres, Jon Stewart and Stephen Colbert. She popularized a new genre of equestrian travel with her long-running Emmy Award-winning PBS and globally broadcast series, "Equitrekking." She has been profiled in The Washington Post, USA Today, Chicago Tribune, NPR and made live appearances on NBC's The Today Show and The Weather Channel.  
An entrepreneur and adventurer, Darley chronicled her decade long adventures riding horses around the world in her Equitrekking: Travel Adventures by Horseback book, which won the North American Travel Journalists Competition for Best Travel book and was published by Chronicle Books. Darley has hosted segments for Ralph Lauren TV and international networks in the UK, Ireland, Japan and France, and covered the White House for The Talk Radio News Service. She created, hosted and produced the digital original series "Travel Like the Locals" for Scripps Networks Interactive and a series of interstitials on Western history for Encore Starz! She's worked on FRONTLINE, NOW with Bill Moyers, 48 Hours CBS, and various documentaries and series.
Her ability to make on camera guests feel at ease has allowed her to interview people of varying cultures and walks of life including HRH Princess Alia in Jordan, Yeardley Smith, the voice of Lisa Simpson on The Simpsons, Olympian Jonny Moseley and inspiring entrepreneurs across the USA.
SUBSCRIBE
You can subscribe to The Travel Wins Podcast on Apple Podcasts, SoundCloud, YouTube, iHeart Radio, Stitcher, Google Podcasts, Spreaker, Podnews, Castbox,  Pocket Casts, Radio Public, and Amazon.
The Travel Wins intro song by Allison Johnson and Steve Stevens
Website Design by Stack Host