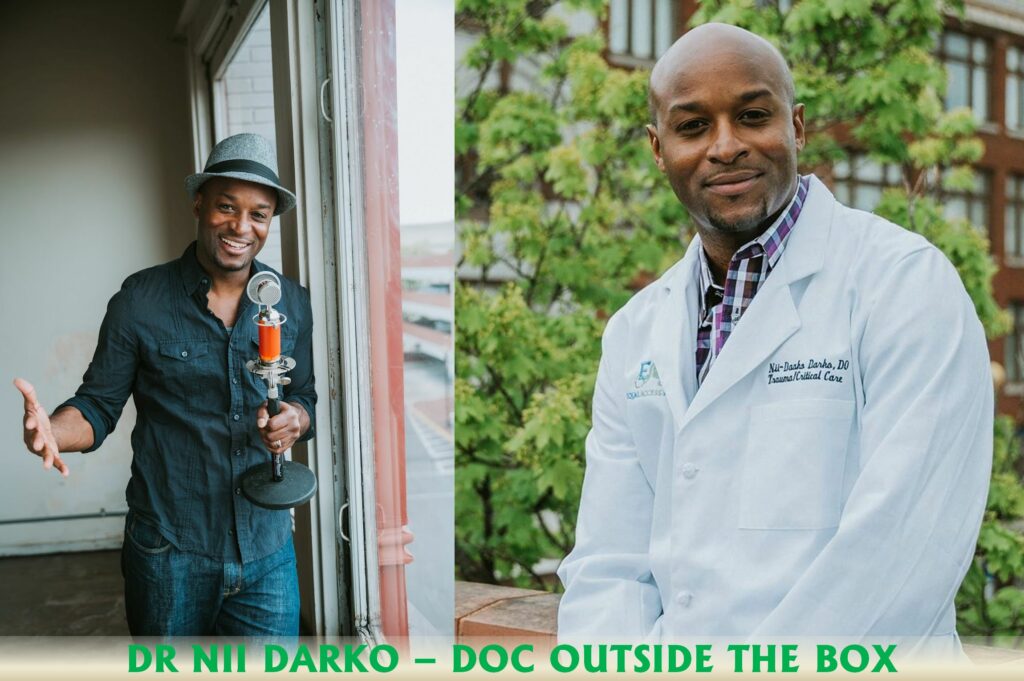 What can doctors do outside their medical profession?
Dr. Nii Darko is my guest on today's episode. Dr. Darko a Board-certified General Surgeon who is pushing past the limits of the status quo. He hosts Docs Outside the Box, an Apple Podcasts Top 100 in Careers – where he highlights stories of doctors doing extraordinary things outside of medicine to inspire other doctors to think outside the box. Through his successful locum tenens business, Equal Access Health, physicians are empowered to have the lifestyle they deserve. He recently became a best-selling author with his book, 3,2,1…Podcast, that helps you build brand authority through podcasting.
"I've really embraced this locum tenens lifestyle as a traveling doctor"
Alongside his wife, he does yearly medical humanitarian work to the underserved in Ghana. Dr. Nii Darko holds a Doctor of Osteopathic Medicine (DO) from Kansas City University of Medicine & Biosciences and a M.B.A. in Health Care Leadership from Rockhurst University. He completed his General Surgery residency at Morehouse School of Medicine. He then went on to complete a Trauma/Surgical Critical Care fellowship at the University of Miami. Dr. Nii Darko is a Fellow of the American College of Surgeons.
Visit his website www.drniidarko.com for more information on how Dr. Nii is making the world a better place.
Excerpt from his website:
"My name is Nii-Daako Darko and let me get real with you. As a kid, I always wanted to have an impact on people or be larger than life. I thought about becoming an astronaut, athlete, lawyer, or doctor. It wasn't until the Cosby Show that I knew what I wanted to be. A successful doctor with a beautiful wife, great kids, and lives in Brooklyn… What more could a regular kid from New York City want?
After getting the degrees, credentials, and certifications, I realized that my life was far from a TV show. As a doctor, not only was I not in complete control over my life, but I also hadn't explored other talents I knew I had. I was in a box.
After a year of doing locums work, I had met so many doctors making moves outside of traditional medicine. There were doctors who did medical humanitarian work in war-torn places of the world, others running their own businesses, and some on TV.
They were happy and passionate not just about being physicians but about being IMPACTFUL and adding VALUE to society by doing more than just medicine.
I thought to myself "If I had known some of these stories or met these people during my climb up the ladder, maybe I would have done things a bit differently." So, I pulled my other talents off the back burner and created Docs Outside the Box podcast.
Docs Outside the Box podcast brings stories of ordinary doctors doing extraordinary things to inspire other docs to think outside the box. My guests are living proof that doctors can break free from the exam room."
SUBSCRIBE
You can subscribe to The Travel Wins Podcast on Apple Podcasts, SoundCloud, YouTube, iHeart Radio, Stitcher, Google Podcasts, Spreaker, Podnews, Castbox, Overcast, Breaker, Pocket Casts, Radio Public, and Spotify.