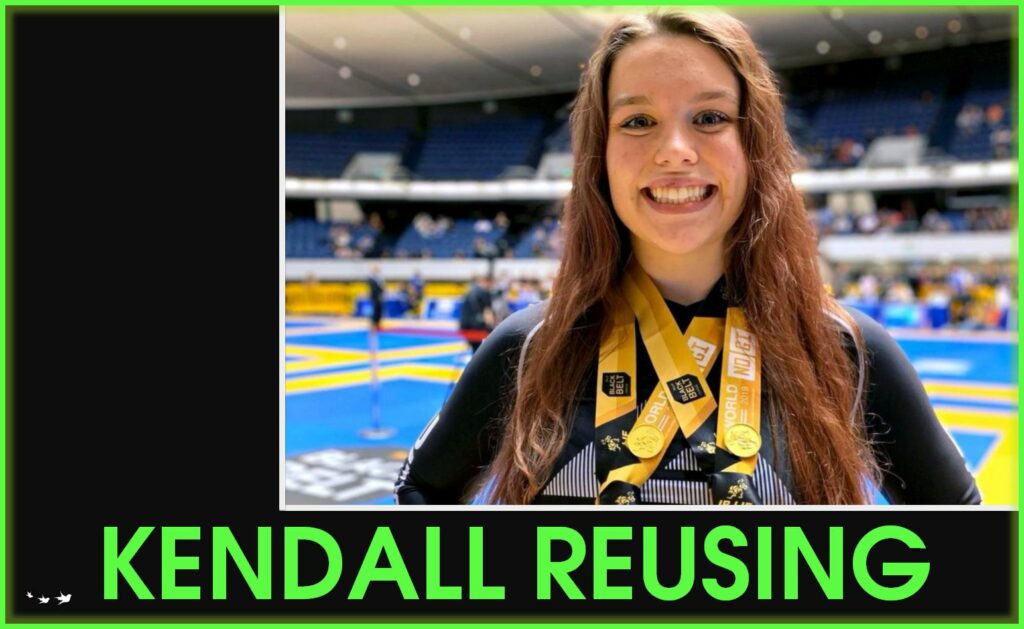 Kendall Reusing is an exceptional Brazilian Jiu Jitsu black belt instructor and world champion based in the vibrant region of Southern California. Her reputation as one of the foremost competitors of her generation stems from an illustrious career that began with tremendous success as a freestyle wrestler. As she progressed through the ranks, Kendall's dominance in the super-heavyweight division as a colored belt was evident, leading her to elevate her game further by joining the esteemed black belt brackets in July 2019.
Her transition to the professional division of BJJ proved to be a remarkable journey. Within a mere six months, Kendall showcased her extraordinary skills by conquering the International Brazilian Jiu-Jitsu Federation (IBJJF) World No-Gi Championship, emerging victorious not only in her weight class but also in the absolute division (open weight). This landmark achievement solidified her position as one of the most esteemed and admired athletes in the realm of Brazilian Jiu Jitsu.
Despite her immense success, Kendall's thirst for growth and excellence continues to drive her, leading her to frequently embark on travel adventures across the United States. These journeys primarily serve two significant purposes: competing in prestigious competitions and conducting training seminars for aspiring BJJ practitioners.
As her prominence within the sport expands, so do the demands for her presence at various events and workshops. Each trip brings new challenges, but Kendall remains undeterred and embraces the opportunities to explore different cities and cultures while upholding her commitment to a balanced diet and rigorous training routines. She recognizes the importance of maintaining optimal nutrition while on the road, ensuring that her body stays at peak performance levels during crucial competitions and physically demanding seminars.
Kendall's zest for life and the sport she loves shines through in every conversation she has, including discussions about her travels. She revels in the chance to experience the unique charm of each city she visits, often taking time to immerse herself in local cuisines, landmarks, and activities. By striking a harmonious balance between her passion for Brazilian Jiu Jitsu and her desire to savor the world around her, Kendall embodies the spirit of a true adventurer, both on and off the mats.
Connect with Kendall Reusing on social media:
Kendall Reusing Biography
With a sporty and outgoing personality from an early age, Kendall went through an array of activities as a child, from gymnastics to judo, wrestling, jiu-jitsu as well as singing and acting.
Brazilian jiu-jitsu was the first martial art Reusing engaged in, a sport she initiated at the age of 5, through her parents' influence. Kendall's father, Tom Reusing had moved from the southeastern state of Georgia to California, years before she was born to study jiu-jitsu and gradually instilled in his daughter the same love for martial arts.
By the time Kendall was 7, she was already practicing BJJ (with coach Ricardo Guimarães and dad, Tom) as well as judo, sports she broke from as a 13-year-old, to focus on her wrestling career. Reusing spent the following 6 years on those wrestling mats, winning a California State Championship, as well as 4 US National Championships in high school.
In 2012 Reusing started wrestling with Team USA internationally, training at the US Olympic Training Center in Colorado Springs for a few years, competing at the World Teams and several international teams tournaments at various levels, going on represent the Simon Fraser University (British Columbia) for 1 year (2015-2016), before returning to California, and jiu-jitsu, in 2016.
Once home, Kendall Reusing quickly made up for lost time, conquering some of the top events available in BJJ's colored belt divisions. Her numerous wins were the catalyst for her black belt promotion, a promotion that took place in July 2019, led by Tom Reusing.
SUBSCRIBE
You can subscribe to The Travel Wins Podcast on Apple Podcasts, SoundCloud, YouTube, iHeart Radio, Stitcher, Google Podcasts, Spreaker, Podnews, Castbox,  Pocket Casts, Radio Public, and Amazon.
The Travel Wins intro song by Allison Johnson and Steve Stevens
Website Design by Stack Host