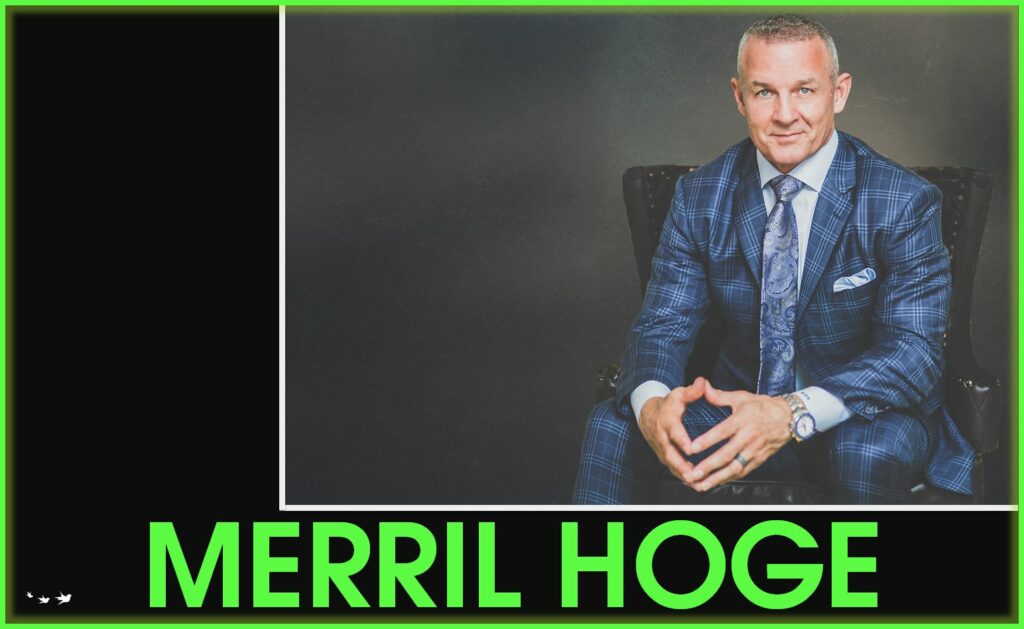 Merril Hoge, a remarkable individual, boasts an illustrious past as a former NFL running back, having dedicated eight seasons to the Pittsburgh Steelers and the revered Chicago Bears. However, his captivating journey extends far beyond his time on the gridiron.
We had a great talk about his time after bidding farewell to his football career. Merril embarked on a new chapter as an insightful analyst at ESPN, where he shared his expertise and passion for the game for an astounding twenty-one years. During his tenure, he played an instrumental role in revolutionizing sports broadcasting, contributing to the launch of ESPN2, NFL Live, and Fantasy Football, platforms that have become staples in the realm of sports media.
In the spirit of continuing his hectic business travel schedule, his story transcends his accomplishments in sports and broadcasting. He has faced and conquered numerous life-altering challenges, demonstrating an unparalleled resilience. Despite enduring career-ending head trauma, battling the depths of depression, overcoming cancer, and even undergoing open heart surgery, Merril harnessed these adversities to become a beacon of inspiration for others traversing similar paths. Through his motivational speaking engagements and various business ventures, he has dedicated himself to aiding those who face similar obstacles, providing them with unwavering support and guidance.
However, amidst all these extraordinary achievements and endeavors, there remains one facet of Merril's life that he holds above all else – his role as a devoted father. The bond he shares with his children is a source of immeasurable joy and fulfillment. It serves as a constant reminder that, amid life's triumphs and tribulations, the love and connection forged within a family are truly priceless treasures.
Merril Hoge's journey encompasses far more than the accolades and milestones he has amassed throughout his eventful life. He personifies resilience, compassion, and the unwavering pursuit of personal growth. From the heights of professional success to the depths of personal struggles, Merril's story is an inspiration to all, emphasizing the transformative power of determination and the immeasurable value of cherishing those who matter most.
Connect with Merril on his social media pages:
ABOUT Merril Hoge
Ever since Merril Hoge was eight-years-old, he dreamed of being a professional football player. Growing up in a small town in Idaho, the goal seemed unrealistic. But Merril didn't just dream about this goal. From that young age, he used the words "Find A Way" to take action to overcome any obstacle and to attain any goal. Today, as he continues to strive towards his own goals, he also uses his Find A Way philosophy as a parenting tool, and challenges his children, Kori and Beau, to Find A Way to achieve their goals, overcome obstacles and take ownership of their lives.
As a graduate of Idaho State University with a degree in education and a minor in health and fitness, Merril was a four-year football starter who set 44 school and conference records and two NCAA football records, one for most receptions by a back in a season and the other for most receptions by a back for a career and stood until recently when they were broken. In 1987, Merril made his childhood dream a reality when he was drafted by the Pittsburgh Steelers, where he played until 1993 and led the team in rushing and receiving in four of his first five years, setting a record in his third year for receptions by a running back. Along with Franco Harris, he is one of only two Steelers players to rush for more than 100 yards in back-to-back playoff games. He was the Steelers Iron Man of the Year two years in a row (1989 and 1990) and was named to the All-Madden team in 1989. In 1993, Merril went to the Chicago Bears as a free agent, where he played for one year until he was forced to retire early due to post-concussion syndrome. At the time of his retirement, Merril had the longest consecutive playing streak in the NFL.
Merril joined ESPN in 1995 as a football analyst and sideline reporter, where he quickly distinguished himself through his in-depth knowledge of the game and his strong relationships with the coaches and players in the National Football League. He has since served as a host and analyst for a wide variety of ESPN programs on television, radio and the Internet, including ESPN's SportsCenter and NFL Live; Friday Football and Fantasy Insider on ESPN News; The NFL on ESPN Radio; and alongside Ron Jaworski on the highly acclaimed State Farm NFL Matchup, which is the only show that uses coaches' tape to provide an inside look at the game. Merril is also a regular contributor to ESPN.com and to ESPN's Sunday NFL Countdown, Monday Night Football and Super Bowl and NFL Draft coverage.
In 2003, the habits and mindset that Merril formulated throughout his childhood and carried into adulthood, helped him Find A Way to overcome the ultimate challenge – cancer. Diagnosed with non-Hodgkin lymphoma on February 14, Merril took on chemotherapy with the same tenacity that got him to the NFL and beat it. Through the difficult moments, Merril found inspiration through his daughter Kori, then nine, who upon hearing the news, whispered, "Dad, find a way." On July 2, 2003, Merril was cancer-free. For all of his life accomplishments as an athlete and businessman, Merril's biggest impact can be felt within his family and community. A long-time Board Chairman of the Highmark Caring Foundation and Caring Place centers, which provide a place for grieving children, adolescents and their families to cope with the loss of a parent or loved one, Merril's vision is to help all children know their value and importance, helping them to grow up healthy and whole. For the last 12 years, alongside Pittsburgh Steelers wide receiver Hines Ward, Merril has hosted the Hoge Ward Celebrity Golf Classic for Children to raise funds and awareness for the programs of the Highmark Caring Foundation. Merril loved playing in the NFL and loves working at ESPN but what he cherishes most is being a dad. He has used Find a Way philosophy to become a better parent and to challenge his kids to take ownership for their lives.​
SUBSCRIBE
You can subscribe to The Travel Wins Podcast on Apple Podcasts, SoundCloud, YouTube, iHeart Radio, Stitcher, Google Podcasts, Spreaker, Podnews, Castbox,  Pocket Casts, Radio Public, and Amazon.
The Travel Wins intro song by Allison Johnson and Steve Stevens
Website Design by Stack Host