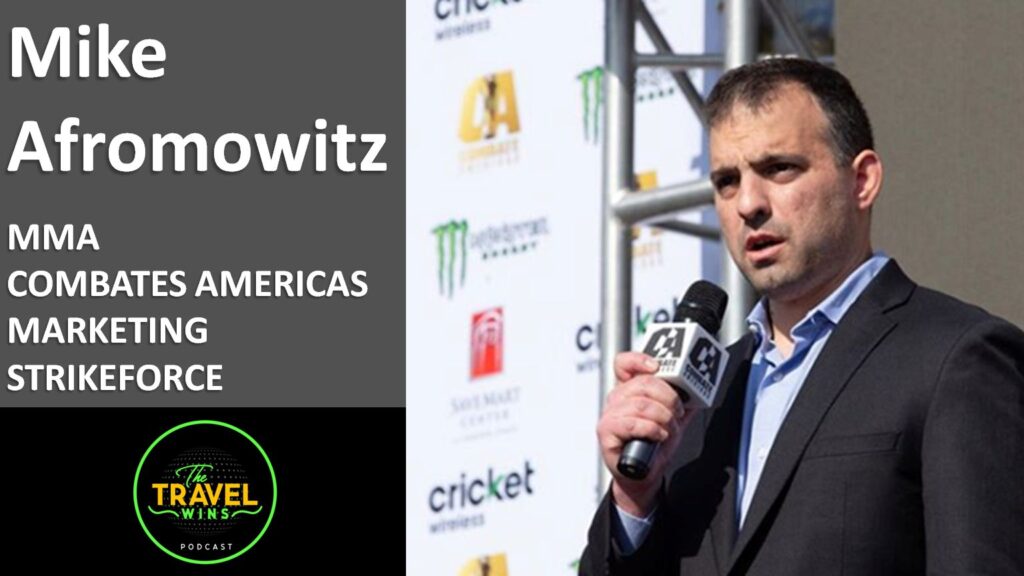 How do I work in MMA without being a fighter?
Mike Afromowitz is the Senior Vice President of Communications and Operations for Combate Americas.
"I have to be on the ground several days in advance. I need to get to that destination so I can fulfill that mission"
Mike has over 17 years of experience in communications, marketing and operations management in sports entertainment and media, and recent winner of the "Best Variety or Reality Show" at the 29th annual Imagen Awards.
He launched Combate Americas, the first-ever U.S. Hispanic Mixed Martial Arts (MMA) sports franchise and competition reality TV series, with UFC co-founder Campbell McLaren, Creative Artists Agency (CAA), Bunim/Murray Productions and NBCUniversal's mun2, in 2013.
The 10-episode Combate Americas reality series premiered on mun2 on Sunday, February 23, 2014, and became the first fight-themed program in history to win a major TV award – "Best Variety or Reality Show" – at the 29th annual Imagen Awards on August 1, 2014.
One of four executives who launched STRIKEFORCE (www.strikeforce.com) as a regional MMA sports franchise in San Jose, Calif. in 2006, and developed it into the number 2 MMA franchise in the world, putting it into position to be sold to the parent company of number 1 competitor, the UFC, in March 2011.
Mike was also directly responsible for raising over $1 million in sponsorship fees and television licensing fees for STRIKEFORCE programming. Helped pave the way to a multi-year live event programming deal between STRIKEFORCE and SHOWTIME in 2009.
Created, developed,and delivered clear and consistent messages that strengthened STRIKEFORCE brand awareness, equity and loyalty. Produced multi-city media tours with talent, produced and staffed stunt events and media functions, and placed media coverage with top sports, business, entertainment and lifestyle media platforms.
Promoted and operated logistics at 14 live K-1 USA kickboxing events in Las Vegas, Nev., beginning in 2001, for ESPN2, Pay-Per-View and Fuji TV in Japan. Created all K-1 USA website editorial and copy for marketing and public relations campaigns.
Combate Americas is a Hispanic mixed martial arts (MMA) sports franchise and media company. The franchise includes reality TV programming, live events and mobile content. In the US, it can be seen on Univision and Univision Deportes; in Mexico on Azteca7; in LATAM on ESPN and on GOL in Spain and on RedeTV in Brazil.
SUBSCRIBE
You can subscribe to The Travel Wins Podcast on Apple Podcasts, SoundCloud, YouTube, iHeart Radio, Stitcher, Google Podcasts, Spreaker, Podnews, Castbox, Overcast, Breaker, Pocket Casts, Radio Public, and Spotify.