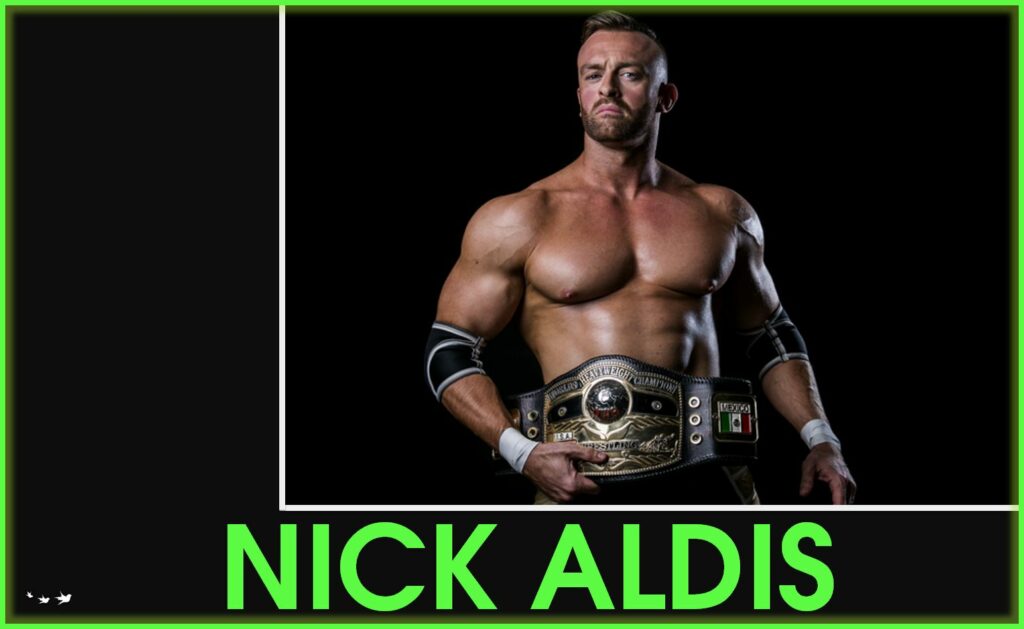 "Juggling Family, Wrestling, and Business: Nick Aldis' Remarkable Journey"
In this thrilling episode of The Travel Wins, we delve into the extraordinary life of Nick Aldis, a British professional wrestler, devoted husband, and proud father. But that's not all – Nick also happens to be the reigning NWA World Heavyweight Champion in his second reign, and he's on a mission to conquer the world, both in the ring and in the world of business.
The Champion Wrestler and Family Man
Nick's story is not just about his remarkable wrestling achievements but also about his deep commitment to family. He shares the spotlight with none other than his wife, Mickie James, a fellow professional wrestler and past guest on The Travel Wins. Together, they've navigated the challenging waters of a life filled with travel, all while raising their beloved son.
Balancing Act: Family and Career
Imagine being a professional wrestler, constantly on the road, and now, add the responsibilities of being a husband and father into the mix. Nick Aldis does just that, and he does it with finesse. In this episode, we dive deep into how he manages to strike the perfect balance between the demands of his family and the pressures of his high-profile career. It's a story of dedication, love, and sheer determination.
Legacy Sports Nutrition: From Wrestling Ring to Business World
But Nick Aldis is not content with just being a wrestling superstar and a loving family man. He's also the brains behind Legacy Sports Nutrition, his very own supplement company. Discover how Nick is applying the same principles that made him a world champion pro wrestler to build his thriving business empire. It's a fascinating journey of entrepreneurship, grit, and relentless pursuit of excellence.
Join us in this captivating episode as we explore the life and times of Nick Aldis – the man who wears multiple hats with style and grace. Whether it's in the wrestling ring, at home with his family, or in the boardroom, Nick Aldis proves that with the right mindset, anything is possible. Don't miss this incredible story of triumph and inspiration on The Travel Wins!
Connect with Nick Aldis on social media:
ABOUT Nick Adlis
Professional wrestling career
Early career (2003–2008)
After becoming proficient in swimming and tennis, Aldis began bodybuilding, which ultimately led to his training to be a professional wrestler. After beginning his training at the age of 16, he made his professional debut on 17 December 2004 for the British Wrestling Promotion Dropkixx Wrestling (DXW), losing to Charlie Rage.
Early title matches included a DAM Promotions event where he teamed up with Bash to take on the DAM Tag Team Champions Big Dave and The Bulk for the titles and he also went up against Ashe for the LDN Championship at Summit Wrestling, he would lose both matches. In 2007, he would face the WAW British Heavyweight Champion Brett Meadows for the title and lost.
His last match before joining TNA was a win against Marty Scurll. During his time in England he wrestled primarily at All Star Wrestling and World Association of Wrestling.
Total Nonstop Action Wrestling (2008-2015)
Early feuds (2008–2009)
In November 2008, Aldis signed with Total Nonstop Action Wrestling (TNA). On 11 December 2008 episode of Impact!, TNA started airing vignettes of Aldis' debut under the name Brutus Magnus, a modern-day gladiator.
Aldis competed under his Brutus Magnus name and gimmick at the TNA Maximum Impact! Tour in Glasgow, Scotland on 22 January 2009, where he defeated Matt Morgan. Two days later on the last night of the tour, Magnus defeated Sheik Abdul Bashir in London at the Wembley Arena. On 29 January episode of Impact!, another vignette of Magnus was played and it stated that Magnus' debut would occur next week. He debuted on 5 February episode of Impact! as a villainous character, defeating Shark Boy with his finishing move, the Tormentum. After the match, he issued an open challenge to anyone on the TNA roster. Chris Sabin answered the open challenge at Against All Odds, which Magnus also won. This continued with another victory against Eric Young at Destination X.
The British Invasion (2009–2011)
On 30 April 2009 episode of Impact!, Magnus dropped the gladiator character and formed a villainous group called The British Invasion with fellow British wrestlers Doug Williams and Rob Terry. In their debut match as a team, Williams and Magnus defeated Homicide in a two-on-one handicap match after assaulting his tag team partner Hernandez backstage prior to the match, and stealing his Feast or Fired briefcase. The Invasion has since formed an alliance called World Elite with Eric Young, Sheik Abdul Bashir and Kiyoshi and engaged in a feud with Team 3D over the IWGP Tag Team Championship. On 30 July episode of Impact!, Magnus and Williams won the IWGP Tag Team Championship by defeating Team 3D in a Tables match.
The New Main Event Mafia (2012-2013)
On 1 November episode of Impact Wrestling, Magnus challenged Joe to a rematch as part of the Open Fight Night; however, he lost the match via disqualification, after hitting Joe with a wrench. The rivalry culminated in a No Disqualification match on 11 November at Turning Point, where Magnus was again unsuccessful in winning the title. On the following episode of Impact Wrestling, Magnus was sidelined with a storyline injury after he was ambushed by the Aces & Eights and hit in both his knees with a ball-peen hammer.
TNA World Heavyweight Champion (2013–2014)
On 21 November 2013 episode of Impact Wrestling, Magnus was entered into a tournament to crown a new TNA World Heavyweight Champion after the title was vacated. He defeated Samoa Joe in a Falls Count Anywhere match at Turning Point and Kurt Angle on Impact Wrestling to advance to the finals. He defeated Jeff Hardy in a Dixieland match to become the new TNA World Heavyweight Champion on 3 December; the match aired on 19 December, on Impact Wrestling: Final Resolution. In the process, he turned heel by joining Team Dixie and allying himself with Dixie Carter, Ethan Carter III, and Rockstar Spud.
Later feuds (2014–2015)
Shortly after his loss to Eric Young, Magnus began a losing streak, after losing out on a number one contender's spot for the championship Magnus was met in a backstage segment by his childhood friend and fellow Brit Bram, who began to chastise him, claiming he had gone soft. Over the next several weeks, Magnus began showing signs of a face turn when Bram would throw weapons into the ring and encourage him to let out a more intense side but Magnus would refuse. More signs began to show from Magnus when he first attacked Bram in a backstage segment, and then when Magnus saved Tigre Uno from an assault from Bram the following week. On the edition of 5 June of Impact Wrestling, it looked as though Magnus would finalize his face turn and save Willow from Bram, but would in fact remain heel and attack Willow himself with a steel pry bar. Since developing a more violent persona, Magnus and Bram began a rivalry with Willow and the returning Abyss. Magnus defeated Willow on 15 June 2014, at Slammiversary XII. On 26 June 2014, episode of Impact Wrestling Magnus and Bram defeated Willow and Abyss in a tag team Monster's Ball match. On 20 August 2014, at Hardcore Justice, Magnus was a participant in a six-sided of steel match to determine a number 1 contender for the TNA World Heavyweight Championship; the match was ultimately won by Eric Young and Bobby Roode.
Pro Wrestling Noah (2012)
On 22 July 2012, Magnus made his debut for the Japanese Pro Wrestling Noah promotion, when he and Samoa Joe defeated Akitoshi Saito and Jun Akiyama to win the GHC Tag Team Championship. On 8 October, Magnus and Joe lost the title to KENTA and Maybach Taniguchi in their first defense.
Global Force Wrestling (2015–2017)
On 29 June 2015, it was announced that Aldis had signed with Global Force Wrestling, and will compete under his real name. On 9 July, Aldis made his in-ring debut defeating Tommaso Ciampa as part of the inaugural GFW Grand Slam Tour. On 10 July 2015, Aldis faced Kongo Kong as part of the GFW Grand Slam Tour in Erie, Pennsylvania making this their first of three matches during the tour which saw him winning on all three occasions.
Independent circuit (2017–present)
On 20 May 2017, Aldis made his first post-GFW appearance for WFW losing to Tommy Dreamer. On 11 and 12 August, Aldis wrestled for House of Hardcore losing on the first night to Jeff Cobb and winning on the second night by defeating Bull James.
On 23 September 2017, Aldis made his debut for Championship Wrestling from Hollywood, defeating Will Roode. Immediately following the match Aldis set forth a challenge to Tim Storm for the NWA Worlds Heavyweight Championship. That match took place on 12 November and saw Storm retain the title; this was the first title match under the new NWA regime headed by Billy Corgan. Although many other wrestlers were vying for a shot at the title, Aldis kept demanding a rematch due to what he perceived to be an unfair finish wherein Storm pushed off the bottom rope to make the pin. On 9 December, Aldis defeated Storm in a rematch at Cage of Death 19 to become the new NWA World Heavyweight Champion, making him the second British-born champion after Gary Steele. On 21 October 2018, at the NWA 70th Anniversary Show, Nick Aldis beat Cody to regain the NWA Worlds Heavyweight Championship.
SUBSCRIBE
You can subscribe to The Travel Wins Podcast on Apple Podcasts, SoundCloud, YouTube, iHeart Radio, Stitcher, Google Podcasts, Spreaker, Podnews, Castbox, Pocket Casts, Radio Public, and Amazon.
The Travel Wins intro song by Allison Johnson and Steve Stevens