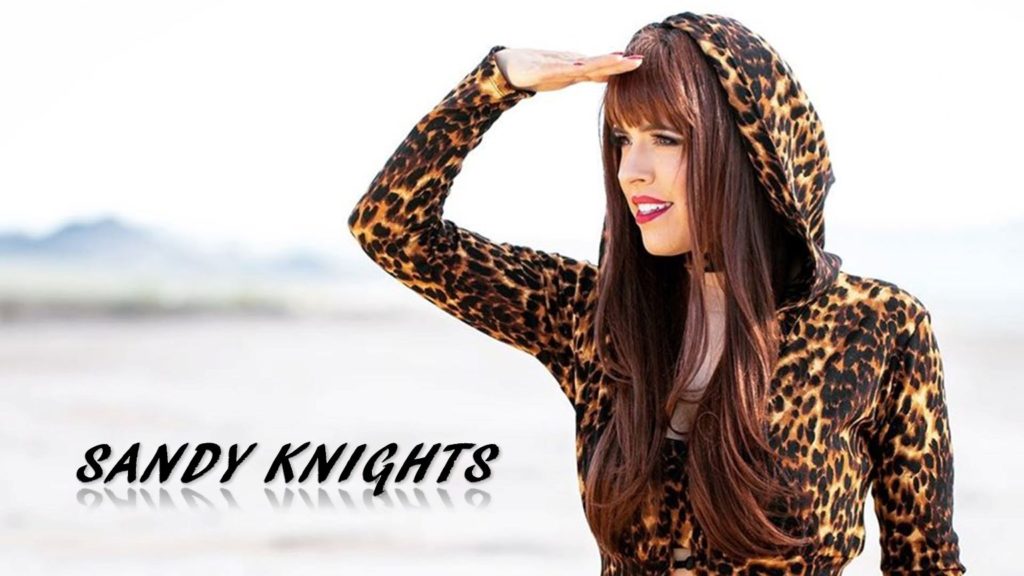 Sandy Knights is my guest on today's podcast. Sandy started singing in her home state of California. She decided to make a career of it and moved to Las Vegas several years ago. Sandy started singing and touring with a local Vegas band, Whiskey Maiden. She traveled to several western states this past year and got to experience life on the road as the only woman in a five piece band. I was excited to speak with a female lead singer that traveled with a band. Part of our discussion was about the hardships of traveling while she was missing out on her hobbies, friends and family.
"I've recently come across some free time and I kind of sat back with some solitude and thought to myself, when is the last time I rode a horse? When's the last time I shot a gun? When's the last time I went fishing? These are all things I did on a weekly basis back home."
Connect with Sandy Knights:
I am truly thankful for the time Sandy shared with me. Our conversation was one of several I've had with different friends as we are all trying to figure out where we fit in the world and what are we contributing to it. I hope you enjoy the conversation with Sandy Knights.
Sandy's BIO
They say some people are born to do what they do and Sandy is living proof of that. Since before she could talk and barely walk Sandy's grandmother would catch her pulling herself from the ground up her high chair and use the handle as microphone to sing in. This came as somewhat of surprise since no one in Sandy's family had any kind of career in music.
At the young age of 3 Sandy began dance classes and started performing on stage in recitals and in church plays. At age 12 Sandy fell in love with musical theater where she was able to not only dance but also use her vocal talent and began performing in various musicals through Junior High and High School. During her junior year in high school Sandy began thinking about her future. As much as she loved performing she could not ignore her family's expressed concern for a more stable career path.
Sandy then became a Volunteer Fire Fighter (Fire Explorer) for the city of Fremont and was ranked 2nd in the Academy. After high school Sandy went on to college for Fire Science Technology and was looking to have a career in the Fire Service. Call it fate, call it what you will, or you could just say life took a few different turns and Sandy ended up in Sacramento at age 19. Finally out of her hometown she began searching for her own identity. She worked a couple of fun, but dead end jobs in her first year on her own while continuing various college classes. One night she went out with a few guy friends to dinner at Hooters and was offered a job on the spot. Flattered and ready for new adventure; she accepted. Sandy went on to be crowned Miss Hooters of Sacramento 2007 and competed in Miss Hooters International Pageant in Las Vegas. While in Vegas she appeared on an episode of ESPN's Best Damn Sports show with Pamela Anderson and Randy Couture. Upon Sandy's arrival back from Vegas she received a message from the WWE that she had been scouted to audition to become a WWE Diva. During her audition Sandy was asked if she could sing…being out of singing for so long she replied "yes???". Sandy was then asked to sing for the first time in 3 years and had an overwhelming feeling of stage fright. Sandy made it to the top 25 and was cut in the last round. After the audition Sandy could not stop thinking about singing and wondered how or if she would ever overcome being afraid to sing on her own. Just before turning 21 Sandy was introduced to a friend of a friend who was going to be opening a new country bar in Sacramento and was offered a bartending position.
Sandy, up for another new adventure, accepted. Soon after the bar opening, they began to have karaoke every night and Sandy began singing again. Shyly singing karaoke turned into her becoming "THE Singing Bartender", which then turned into live bands asking her on stage during shows, which then created a buzz and people began asking Sandy why she doesn't sing in a band. After 4 years of encouragement and persistence from customers and friends, Sandy joined her first band in 2011. She has since developed as a performer and singer and had no intention on stopping.