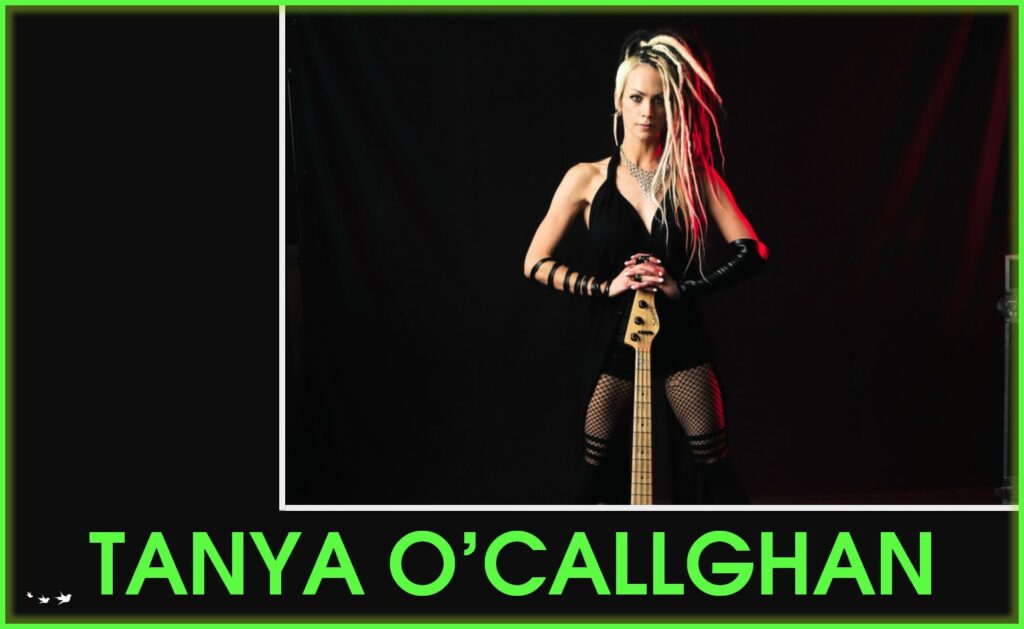 Tanya O'Callaghan is a talented bass player hailing from Ireland, known for her remarkable skills and musical prowess. Recently, she embarked on an exhilarating European tour alongside the legendary rock band Whitesnake, led by the iconic David Coverdale. Having just returned from this electrifying experience, I had the opportunity to speak with Tanya at a pivotal moment when the anticipated US tour was unexpectedly canceled. This presented the perfect occasion to delve into the unpredictable nature of a musician's career and the challenges it entails. Fortunately, Tanya possesses a diverse array of other projects and passions that will help fill the void left by the missed touring dates.
While music remains Tanya's primary passion, she is also a lifelong environmentalist and a devoted advocate for plant-based health. Beyond the stages that have witnessed her astounding performances across the globe, she champions the belief that "Changing plates changes the world!" This motto reflects her conviction that adopting a plant-based lifestyle can bring about a transformative impact on both human health and the well-being of our planet. Tanya's dedication to this cause extends far beyond words, as she has created, produced, and co-hosts an exciting new television show called "Highway to Health," set to grace screens in the near future. Through this platform, she endeavors to promote the global adoption of a plant-based lifestyle and shed light on its myriad benefits for individuals and the environment alike.
To keep up with Tanya's inspiring journey and discover where her musical and advocacy endeavors will take her next, be sure to follow her on her vibrant social media pages. There, you can join her ever-growing community of supporters and witness firsthand the remarkable impact she is making through her music, environmental activism, and commitment to holistic well-being.
Connect with Tanya on her social media pages:
Website: https://tanyaocallaghan.com/
Instagram: https://www.instagram.com/tanyaocallaghan_official/
Facebook: https://www.facebook.com/tanya.o.callaghan.3
YouTube: https://www.youtube.com/user/tsubbass
Other: https://www.linkedin.com/in/tanya-o-callaghan-public-speaker-international-musician/
ABOUT Tanya
Tanya O'Callaghan is an established freelance musician / bassist, speaker and activist with an eclectic impressive career to date.
Tanya began crafting her skills at home making a mark for herself on the Irish music scene early in her career, playing with just about every band around and regularly guesting in house bands for many high-profile Irish TV shows and artists.
Never afraid to make a leap of faith, Tanya's determination, passion and talent began to pay off the further she spread her wings internationally. She has toured, recorded, written and worked with legends such as Maynard James Keenan (Tool/APC), Dee Snider (Twisted Sister) Steven Adler (Guns N' Roses) Nuno Bettencourt (Extreme), The Riverdance, The Voice, Orianthi, Michael Angelo Batio, Kevin Godley, Sharon Corr (The Corrs) and David Grey, to name a few…
While the Irish rhythm technician is known for powering through propulsive rock and metal tempos, her dynamic talents extend far beyond any single genre – also touring and guesting on pop, funk, RnB and blues projects with various bands.
A whirlwind of energy, positivity and determination, it'll come as no surprise that Tanya is a keynote speaker and a lifelong advocate and activist for animal, human and environmental issues. A force to be reckoned – it's fair to say that this Irish lass has made her mark on the music scene both at home and internationally.
SUBSCRIBE
You can subscribe to The Travel Wins Podcast on Apple Podcasts, SoundCloud, YouTube, iHeart Radio, Stitcher, Google Podcasts, Spreaker, Podnews, Castbox,  Pocket Casts, Radio Public, and Amazon.
The Travel Wins intro song by Allison Johnson and Steve Stevens
Website Design by Stack Host