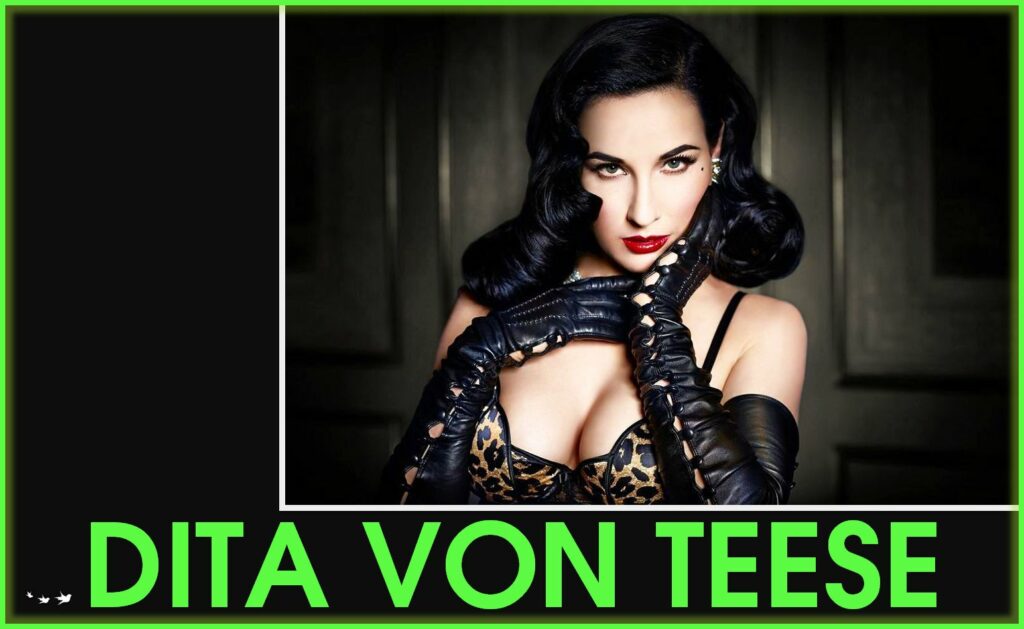 Dita Von Teese, the captivating and internationally acclaimed burlesque dancer, effortlessly combines artistic prowess with astute entrepreneurial skills. Her multifaceted career extends beyond her enthralling live performances, as she successfully manages a diverse portfolio of businesses. Amidst the anticipation of her upcoming New Year's Eve extravaganza at the illustrious Orpheum Theatre in Los Angeles, Dita's remarkable achievements in various domains come to the forefront.
Notably, Dita Von Teese's creative endeavors extend beyond the realm of performance art. She has made a significant impact as a New York Times best-selling author, captivating readers with her insightful and empowering writings. Moreover, her modeling career has further cemented her status as a true icon, gracing the pages of renowned fashion publications and captivating audiences with her timeless beauty and poise.
However, Dita's entrepreneurial spirit truly shines through her successful management of various ventures. From her eponymous lingerie line, which exudes elegance and sensuality, to her forays into eyewear, cardigans, French gin, candles, and perfume, she has established herself as a force to be reckoned with in the business world. Each enterprise showcases her impeccable taste and attention to detail, captivating consumers with luxurious and refined products.
In an insightful conversation, Dita Von Teese reflects upon the challenges she faced as a live performer during the global lockdowns. Despite being unable to grace the stage, she exemplified resilience and adaptability, ensuring the growth of her business empire even in unprecedented times. Her ability to navigate uncharted waters and thrive amidst adversity truly speaks volumes about her remarkable character and dedication to her craft.
While Dita has traversed the globe throughout her illustrious career, a recent conversation unveils a surprising fact – there is still a tropical location she has yet to visit, despite her extensive travels. This intriguing revelation invites listeners to delve deeper into the episode and discover the allure and mystery behind this yet-unexplored paradise, adding an extra layer of fascination to Dita's already captivating persona.
Moreover, exploring Dita Von Teese's journey allows fans and admirers to witness the profound impact she has had on her audience. Her unwavering humility despite her global fame and status as a renowned performer and fashionista shines through in her heartfelt discussions about her devoted fan base. This unique blend of talent, grace, and relatability has contributed to the passionate following that continues to grow around her, elevating her to the status of a true icon.
To keep up with Dita's exciting endeavors, it is encouraged to follow her on various social media platforms. From discovering her upcoming performance destinations to getting a glimpse into the exciting new projects slated for 2022, her online presence promises to provide an exclusive window into her vibrant world. By staying connected, fans can witness the evolution of a remarkable artist and entrepreneur who never ceases to amaze with her boundless creativity and timeless elegance.
Connect with Dita Von Teese on her social media pages:
ABOUT Dita Von Teese
Born Heather Sweet in West Branch, Michigan, Dita Von Teese grew up fascinated by the Golden Age of Cinema. This naturally blond, mid- western girl transformed herself into a glamour girl like those she ad- mired. Performing striptease since 1992, she is the biggest name in burlesque in the world since Gypsy Rose Lee and is credited with bringing the art form back into the spotlight with a new sense of elegance and sophistication.
Taking audiences on a journey into fantasy and spectacle, Dita is renowned for her ornate sets and dazzling haute-couture performance costumes lavishly adorned with Swarovski crystal. She has collaborated with designers Elie Saab, Christian Dior, Jenny Packham, Christian Louboutin, Catherine D'Lish, Mister Pearl and more. This "Burlesque Superheroine" (Vanity Fair) has been the burlesque performer of choice at high-profile events for Louis Vuitton, Chopard, Cartier, and at The Cannes Film Festival. Dita was the first guest star in history at The Crazy Horse Paris, reviving the iconic cabaret with several sold-out runs, including "Dita's Crazy Show" to celebrate their 65th Anniversary. In 2019, she was also the first guest star of Jean Paul Gaultier's Fashion Freak Show at The Folies Bergère in Paris, and walked the runway for his final Haute Couture show in 2020.
Dita brought burlesque to prime time television in the States as a guest star on CSI, performing her trademark Martini Glass show in one of their highest rated episodes of all time.
In addition to her burlesque shows, Dita is a self-styled fashion icon, topping best-dressed lists all over the world, appearing on Vanity Fair's International Best Dressed List twice. Expanding into her own distinctive brands, her namesake lingerie collection debuted at Bloomingdales and has since expanded to other popular retailers such as Nordstrom, David Jones and Glamuse.com.
Dita also has a luxury gloves collection, a signature hosiery line, a perfume and eyewear collection, and she launched the worlds' first-ever striptease candle.
Her New York Times Bestselling book, "Your Beauty Mark: The Ultimate Guide to Eccentric Glamour" (Harper Collins) is printed in several languages, and is requisite reading for pin-up, burlesque and fashion fans across the globe. She is currently writing her third book, "Fashioning the Femme Totale", a guide to her distinctively modern take on vintage style.
Dita served as the global ambassador for Cointreau from 2007-2013 and in 2010-2011, she was also the face of Perrier for an exclusive set of limited edition bottles. An advocate in the fight against AIDS, Dita was MAC Viva Glam Spokesperson from 2006-2008. She has also per- formed and appeared at many events for amfAR and was honored with their Award of Courage in 2008. Her status as a burlesque star and modern-day feminist garnered her the coveted invitation to address the Oxford Student Union in February 2006.
Dita has collaborated on several music projects, including songs with Monarchy, plus a full album composed by French artist Sebastien Tellier.
Dita's four full-length revues, "Strip, Strip, Hooray!", "The Art of the Teese", "Dita Von Teese and the Copper Coupe" and "Glamonatrix" are the biggest burlesque shows in history, showcasing a diverse case of the crème de la crème of neo-burlesque performers of all genders, hailing from all over the world. In 2018, Dita and her cast performed in historic theatres across Europe, with five sold-out nights at the London Palladium. They made burlesque history bringing burlesque to The Opera Garnier in Monte Carlo, performing with His Serene Highness Prince Albert II in attendance.
In addition to these touring shows, each New Year's Eve, Dita produces an opulent gala show at The Orpheum Theatre in Los Angeles, selling out the palatial Golden Age vaudeville theatre to an audience that loves to dress to the nines in vintage style, creating an unforgettable atmosphere of glamour not to be missed!
Dita's newest revue "GLAMONATRIX" debuted in Australia and New Zealand in 2019. The tour continues across Europe and the UK beginning in February 2022, with four nights at the historic Folies Bergère, a week at The London Palladium, plus a night at Opera Garnier Monte Carlo.
SUBSCRIBE
You can subscribe to The Travel Wins Podcast on Apple Podcasts, SoundCloud, YouTube, iHeart Radio, Stitcher, Google Podcasts, Spreaker, Podnews, Castbox,  Pocket Casts, Radio Public, and Amazon.
The Travel Wins intro song by Allison Johnson and Steve Stevens
Website Design by Stack Host