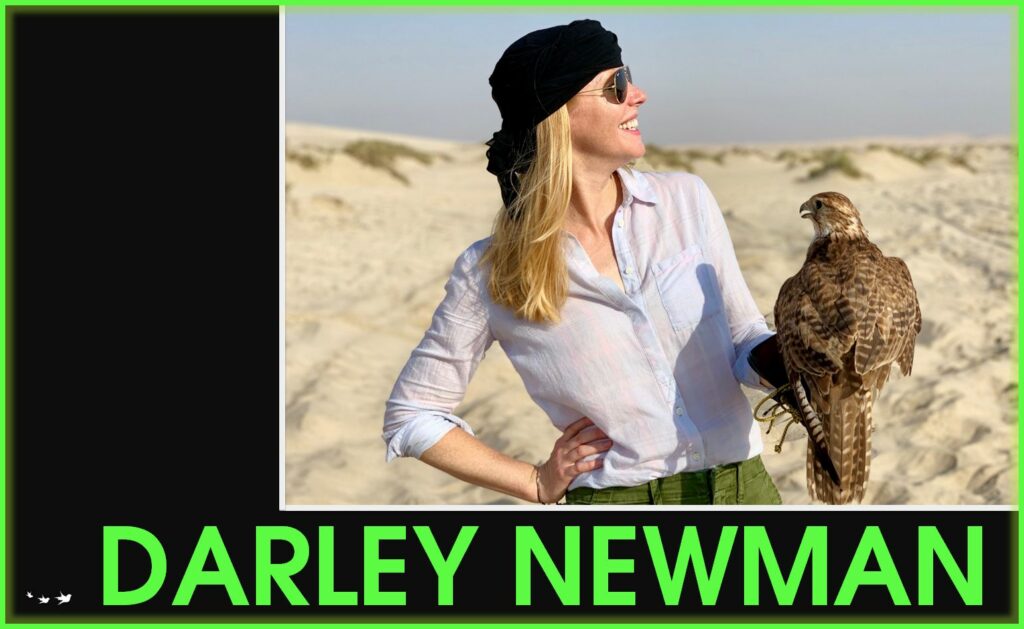 "Exploring the Globe with Emmy-Winning TV Host Darley Newman"
In this captivating episode of The Travel Wins, we have the privilege of hosting the remarkable Darley Newman, an intrepid traveler and the creative force behind the acclaimed travel show "Travels with Darley." Join us as we embark on a thrilling journey through the enchanting landscapes of Qatar, the vibrant streets of Macao, and the untamed wilderness of Botswana.
Venturing into Qatar's Rich Tapestry
Darley's tales from Qatar paint a vivid picture of this Middle Eastern gem, where ancient traditions seamlessly blend with modern luxury. She takes us on a sensory journey, describing the fragrant spices wafting through bustling souks, the glistening skyscrapers of Doha, and the timeless beauty of the desert. Through her lens, Qatar becomes a captivating realm waiting to be explored.
Macao: Where East Meets West in Style
Our conversation then transports us to the enchanting world of Macao, where Darley shares her experiences in a city where East meets West in a spectacular fusion. We meander through the charming streets of Macao, filled with a rich heritage and the echoes of Portuguese influence. Darley's vivid narratives immerse us in the vibrant culture, delectable cuisine, and thrilling adventures that await in this unique destination.
Botswana: An Adventure Like No Other
Prepare for an exhilarating adventure as Darley recounts her unforgettable journey to Botswana, a land teeming with wildlife and natural wonders. Her stories of close encounters with majestic wildlife, picturesque safaris, and the mesmerizing Okavango Delta will leave you yearning for your own African expedition.
Emmy-Winning Excellence
Darley's remarkable achievements are not limited to her globetrotting adventures. With an impressive tally of three Daytime Emmy Awards and eight nominations, she stands as a testament to the power of determination and passion. Her success serves as an inspiration to anyone with a dream, showcasing that with hard work and dedication, you can turn your aspirations into reality.
Tune in to this episode of The Travel Wins to uncover invaluable insights from Darley Newman about crafting your own path and embracing the changes necessary to reach your goals. Join us on a journey of discovery, inspiration, and the boundless possibilities that come with exploring the world.
Don't miss out on this captivating conversation with Darley Newman, available exclusively on The Travel Wins podcast.
Connect with Darley Newman on social media:
Darley's listening choice while traveling for work is:
Darley enjoys catching up on work while she is spending countless hours flying to the next destination. She also catches up on her favorite TV shows.
Click here to see other guests choices for listening while traveling
SUBSCRIBE
You can subscribe to The Travel Wins Podcast on Apple Podcasts, SoundCloud, YouTube, iHeart Radio, Stitcher, Google Podcasts, Spreaker, Podnews, Castbox,  Pocket Casts, Radio Public, and Amazon.
ABOUT Darley Newman
TV host, producer, author, and entrepreneur Darley Newman travels the globe for Emmy-Award winning TV, digital series and brands she's built through her production company DCN Creative.
She is the host, producer and creator of Travels with Darley on PBS, Amazon Prime and international broadcast networks. A pioneer in new media, the series also appears as video shorts and 360 videos on AOL, MSN and over 2,000 partner sites. She created the globally recognized brand and Emmy-winning Equitrekking series, which broadcasts on PBS and networks in over 85 countries, including Horse & Country TV in Europe and the Tabi Channel, a division of Turner Broadcasting in Japan.
Recognized in Forbes for her "PBS Travel Empire" and most recently on France's largest news network for her work in driving tourism to France through her series, she consistently innovates as a media entrepreneur, storyteller and adventurer. Cited by BusinessWeek back in 2006 for her niche dive into online travel video with Brightcove, most recently she's teamed up with top media and brand partners including The Washington Post for Facebook Lives, Scripps Networks Interactive for a digital original series and AOL, MSN and state and country tourism boards to gain traction and views with immersive 360 content. A popular speaker, her presence is sought after for events, including at exclusive Embassy and Consular parties and screening events, lectures at the Smithsonian, keynotes for Governor's Conferences on Tourism, educational events on Capitol Hill, international conferences and in small USA towns and international locations.
She's spent over a decade riding horses around the world and penned the "Equitrekking: Travels Adventures on Horseback" book, published by Chronicle Books, documenting her journey. In her quest to showcase each destination from a local's perspective, Darley provides viewers with authentic, culturally enticing experiences that they can recreate on their own through her multi-platform series.
Darley's travel experiences have ranged from the exotic and challenging to invigorating and serene. Getting charged by an elephant in Botswana's Okavango Delta, whisky tasting in Scotland, biking through Brussels, horseback riding with gauchos in Uruguay and dining with award-winning chefs are just some of the interesting adventures she's enjoyed to help educate and excite her dedicated fans, who travel in her footsteps and take the trips featured on her series.
Accolades
Emmy Awards and nominations
| | | | |
| --- | --- | --- | --- |
| Year | Association | Nominated work | Result |
| 2009 | Daytime Emmy Award for Outstanding Single Camera Photography | Greg Barna for Equitrekking | Won |
| 2009 | Daytime Emmy Award for Outstanding Special Class Series | Darley Newman & Chip Ward for Equitrekking | Nominated |
| 2010 | Daytime Emmy Award for Outstanding Special Class Series | Darley Newman & Chip Ward for Equitrekking | Nominated |
| 2011 | Daytime Emmy Award for Outstanding Special Class Writing | Darley Newman & Chip Ward for Equitrekking | Nominated |
| 2012 | Daytime Emmy Award for Outstanding Single Camera Photography | Greg Barna for Equitrekking | Won |
| 2013 | Daytime Emmy Award for Outstanding Single Camera Photography | Greg Barna for Equitrekking | Won |
| 2013 | Daytime Emmy Award for Outstanding Travel and Adventure Program | Darley Newman & Chip Ward for Equitrekking | Nominated |
| 2013 | Daytime Emmy Award for Outstanding Special Class Writing | Darley Newman & Chip Ward for Equitrekking | Nominated |
Other honors
2008: North American Travel Journalists Association (NATJA) First Place Award for Best Travel Broadcast (Video) for Equitrekking
2008: North American Travel Journalists Association (NATJA) Award of Merit for Best Travel Book for Equitrekking: Travel Adventures on Horseback
2009: North American Travel Journalists Association (NATJA) First Place Award for Best Travel Broadcast (Video) for Equitrekking
2012: Inspiring Woman Award from Women in Philanthropy & Leadership (WIPL) at a conference hosted by Coastal Carolina University
2012: Silver Telly Winner for The Telly Awards' Film/Video TV Programs, Segments, or Promotional Pieces – Videography/Cinematography for DCN Creative's Equitrekking