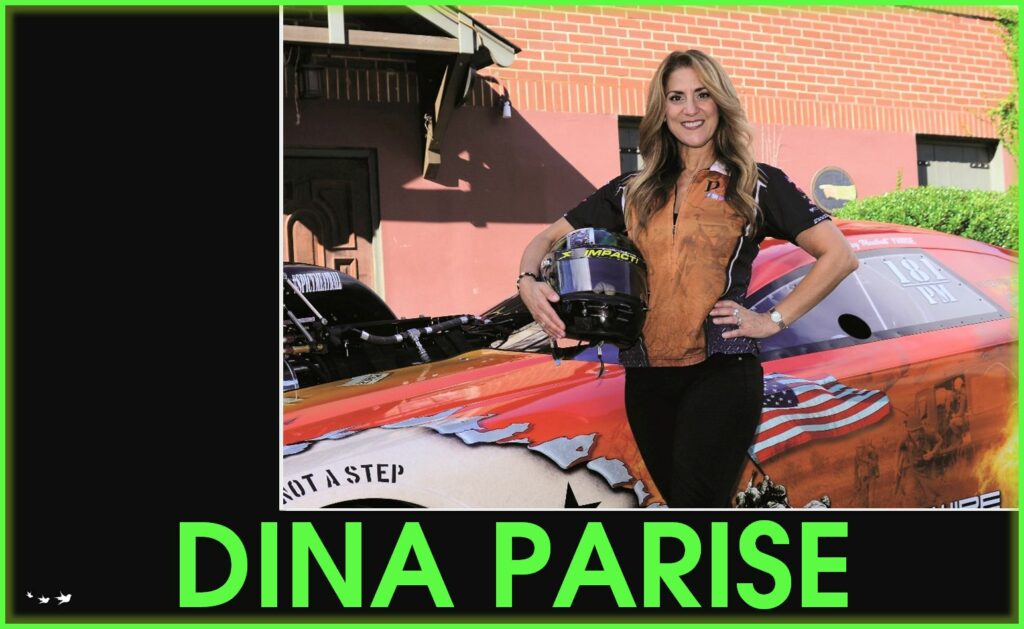 Dina Parise is a remarkable individual with a diverse set of skills and accomplishments in the world of drag racing. As the President of Dina Parise Racing, she not only demonstrates her prowess as a highly skilled driver, but also takes on multiple roles including that of a talented cook, a skilled PR professional, and a master of social media and marketing. Her multifaceted expertise sets her apart from her peers, making her a true force to be reckoned with.
Notably, Dina Parise achieved the incredible feat of becoming the 2015 IHRA Pro Mod World Champion, a prestigious title that has eluded many in the industry. What sets her apart even further is that she is the first woman ever to hold this esteemed title, solidifying her status as a trailblazer and breaking barriers in a traditionally male-dominated field.
Beyond her achievements in racing, Dina Parise's exceptional background includes a history in Professional Figure Skating, further highlighting her unique and diverse talents. She seamlessly combines the grace and precision required in figure skating with the high-octane world of professional racing, creating a captivating and extraordinary presence on the circuit.
In summary, Dina Parise is not just a world champion drag racer, but a dynamic and multifaceted figure who embodies excellence in various domains. Her exceptional driving skills, culinary expertise, PR acumen, social media finesse, and marketing prowess make her an unmatched force in the industry. Her status as a former Professional Figure Skating World Champion and the first female IHRA Pro Mod World Champion solidifies her place as one of the most remarkable and dynamic figures on the business travel circuit today.
"I will normally get my workouts in at the track in the mornings, I'll get up a little earlier as I always do a track walk"
Connect with Dina Parise:
Growing up on Long Island, she was a competitive gymnast all through school but her real passion was figure skating. Her ultimate dream was to skate professionally for the World-Renowned 'Ice Capades'. She took that passion and made her dream a reality, although it almost did not come to fruition! She passed her audition with flying colors, but there was an issue. Parise was told she did not meet the height requirement. In the scheme of things, that did not seem to matter to the gentleman running the audition. He was so impressed with her, he had her 'adapt' her height (yes, she lied) on the application, and the rest is history. She then skated, touring with the 'Ice Capades' for four years.
Did you ever see something and just know you had to try it? Even if maybe you did not succeed, but you just had to try? Well, that's just what Parise thought when she began Drag Racing. She had to try it. When your very first time down the ¼ mile is 9 seconds at 146 MPH you know you mean business! Not to mention, she was in her 30's at the time. There was no looking back from there!
Now in her Pro Mod Cadillac 'Stella', she powers down the ¼ mile track in under 6 seconds at over 240 MPH. In her words, "I was born with glitter in my veins and a led foot!" Racing is not just a man's game as some may think. The most engaging part about it is the fact that in racing, men and women compete equally and are not segregated by gender (unless you are affiliated with F1, but that's another story).
Something many people do not realize is that Drag Racing circuits and touring Ice shows are quite parallel. Touring with an Ice show consists of traveling week to week from venue to venue. The ice surface changes, but the performer still has their 'skates' (to perform with) and 'sequin costume's. The fans wait (by the backstage door) for autographs and the children have positive role models to look up to. In Racing, the game is the same although the venue and the equipment may be vastly different. The racers race at a different track (venue) each week. The track surface changes, and racers have 'Tires' (for performance) and 'Fire suit' (as clothing). When coming back from a run, fans wait to have autographs signed, and meet the drivers. You see, it's all relative!
DPR has a rich history in giving back to the community on many levels. DPR has always gone by the motto, 'it's an accomplishment to get to the finish line first, but the journey getting there is what is most important.' DPR is very proud to take fan engagement to the next level in the way of programs Parise herself has developed to honor our nations Veterans and Military Members. Creating visibility honoring those who have served this great nation is paramount to DPR.
Having an eclectic background has led Parise into the realm of motivational speaking (not as cliché as it sounds) combined with elite athlete mentorship as well as keynote speaking for various companies and events. Parise has also ventured into the hosting side. Her days as a performer for the Ice Capades honed her skills for promotion, marketing and on-camera work.  
"I want people, (especially females) to know they can achieve anything they set their mind to." Said Parise. "Never let anyone tell you no."
"Follow your dreams. If you feel the need to try it, then try it! Life is not a dress rehearsal," Stated Parise "As I always say… In life you get one ticket, and I'm using mine until it expires!"
Dina's traveling music/song/podcast choice is:
Podcasts – Ed Mylett, Dee Snider "I Wanna Talk"
Music – Spotify; Queen, Def Leppard, Billy Joel, Elton John, etc.
Click here to see all of the guests listening choices when traveling.