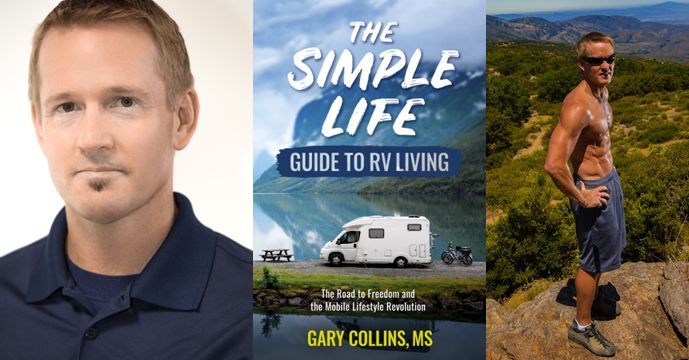 Gary Collins is my guest this week. Gary is a bestselling author of several books in his series called The Simple Life Guide. He also has background that includes military intelligence, Special Agent for the U.S. State Department Diplomatic Security Service, U.S. Department of Health and Human Services, and U.S. Food and Drug Administration. Collins' background and expert knowledge brings a much-needed perspective to today's areas of simple living, health, nutrition, entrepreneurship, self-help and being more self-reliant. He holds an AS degree in Exercise Science, BS in Criminal Justice, and MS in Forensic Science.
He was raised in the High Desert at the basin of the Sierra Nevada mountain range in a rural part of California. Gary now lives off-the-grid part of the year in a remote area of NE Washington State. The other part of year exploring in his travel trailer with his trusty black lab Barney.
He enjoyed, and considers himself lucky to have grown up in a very small town experiencing fishing, hunting, and anything outdoors from a very young age. Gary has been involved in organized sports, nutrition, and fitness for almost four decades. He is also an active follower and teacher of what he calls "life simplification." He often says:
"Today we're bombarded by too much stress, not enough time for personal fulfillment, and failing to take care of our health… there has to be a better way!"
In addition to being a bestselling author, Gary has taught at the University College level, consulted and trained college level athletes, and been interviewed for his expertise on various subjects by CBS Sports, Coast to Coast AM, The RT Network, and FOX News to name a few.
Gary on social media:
Click here to see other guests choices for listening while traveling
GARY'S PERSONAL BIO
Since I started publishing my own books years ago, people have been asking when and if I was going to do audio versions… well that day has come! The first book in audio is The Simple Life Guide To RV Living: The Road to Freedom and the Mobile Lifestyle Revolution.
My next book The Simple Life Guide To Financial Freedom will also be available in audio (see the cover below). I will try my best to get the remainder of my books in audio as soon as possible. But as a lot of you know I do a lot of the work on my books myself. That means there is no publishing company paying for everything, just me, which can delay things at times. The big upside, is it allows me to control my content and own 100% of everything I do. 
A quick update: There are a lot of exciting changes coming to The Simple Life, so make sure to sign up for my newsletter if you are reading this on the blog. The Simply Gary podcast is slated to come out in September, I'm excited to get going on that and have some really interesting guests talking about all things related to living the simple life. I want my podcast to be a place of learning new things and stretching our imaginations, as we float around on this rock in an infinite universe.