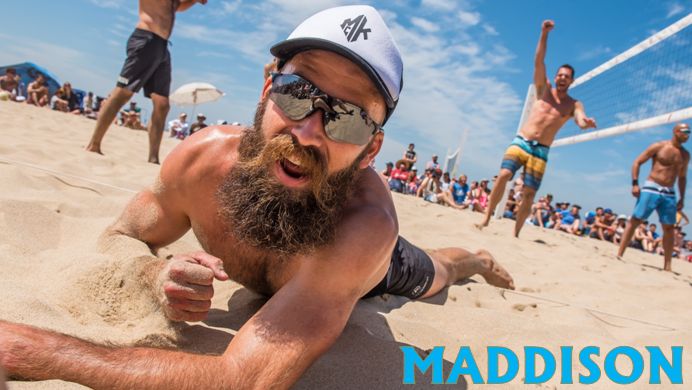 Maddison McKibbin is my guest on today's episode. It was great speaking with one half of the "Bearded Brothers" pro beach volleyball team. Maddison shared some stories about life as a professional volleyball player, indoors and beach. He also shared his snow volleyball stories as he talked about the possibility of the sport becoming a Winter Olympic game.
We talked about life outside of volleyball and how players in professional sports need to diversify their talents and connections. The McKibbin brothers have successfully developed their audio/video company supporting the volleyball community and sharing the fun times with everyone.
You can watch the McKibbin brothers play in the AVP beach tournaments in person or streaming on Amazon Prime. The volleyball community as a whole is welcoming to new fans and truly appreciates the support they receive.
Maddison McKibbin was a three-time state champion at Punahou High in Honolulu for indoor volleyball. He was the MVP of both the 2009 Volleyball Magazine Fab 50 list as well as the Mizuno/Volleyball Magazine All-American Team. Maddison continued his indoor career as opposite/outside hitter at the University of Southern California.
Maddison on social media:
Click here to see other guests choices for listening while traveling
McKibbin Brothers BIO
The McKibbin brothers, Maddison and Riley, grew up on the island of Oahu playing volleyball in their backyard and on the sand of the Outrigger Canoe Club. They are the only brothers in the history of the sport to have played together in high school, college, professionally overseas and now professionally on the beach on the AVP tour. Born two years apart, the McKibbins attended Punahou High School. They lead the boys varsity volleyball team to a pair of state championships. In high school, they represented the United States at the FIVB Beach Volleyball Junior World Championships in China, Bermuda and The Netherlands.
After both accepting scholarships to the University of Southern California, the McKibbins led the USC men's volleyball team to two NCAA Final Four appearances. On the professional indoor volleyball circuit, they played one year together in Greece. The brothers joined forces on the AVP tour in 2015. The McKibbins have played in 12 AVP events as partners, finishing as high as ninth place four times. An injury to Riley separated them for five tour stops last season, during which time Maddison won the 2017 San Francisco Open (and sibling bragging rights). The McKibbins have strong family ties to volleyball, specifically at USC. Their uncle, Owen, also helped the Trojans to a pair of Final Fours. Their aunt, Claudia, won a national championship there in 1980.