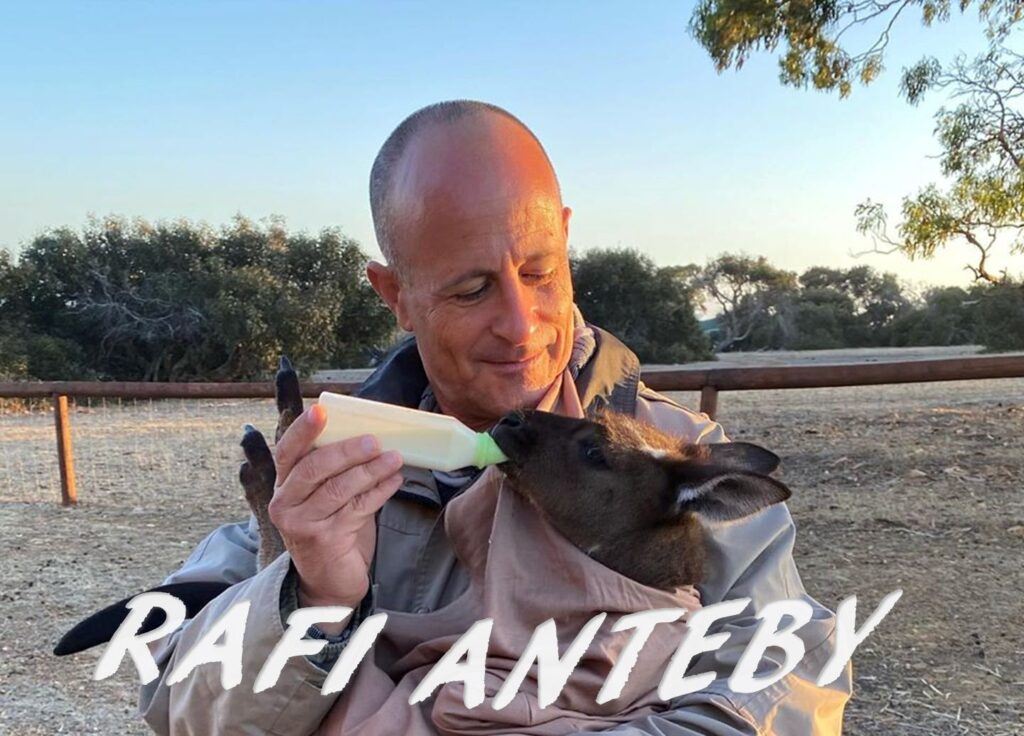 Rafi Anteby is my guest today. Rafi is known as the "conscious traveler" and that has never been more so than right now. He set up the REloading Life Gala to benefit Australia's wildlife. The gala will be hosted by Jamie Foxx and Renee Bargh on March 16 in Los Angeles at the Vibrato Grill. The proceeds from the event are to benefit an emergency triage for wounded animals on Kangaroo Island. This triage center will become a protected wildlife sanctuary that will help heal the animals of Australia.
In addition to Rafi's help with the Australia wildfire damage, he is also known for his jewelry design companies, Bullets 4 Peace and The Domino Effect.
He is proof positive that if you put out good vibes you will receive good vibes back. We talk about his travels and how he combats jet lag and the importance of giving back to the communities we visit while on our own work/business trips.
Rafi has a passion for animals and nature and focuses much of his philanthropic efforts on animal rescue and nature preservation. Through his worldwide travels, he has visited some of the most beautiful unknown places and met incredibly special people. However, traveling to these underserved communities also opened his eyes to the overwhelming needs of the people, animals and our sacred habitats around the world. 
His goal in founding Reloading Life is to bring awareness and to help those in need by uniting passionate people with a common cause of making the world a better place for all.  In Hollywood, he is known for his charitable jewelry lines Bullets4Peace and Domino Effect as well as his award show official gift lounges where he curates luxury lifestyle goods and exotic travel experiences for the entertainment industry's elite. He uses his influence in Hollywood to rally entertainment's most influential people to raise awareness and funds for various important causes around the world.
Rafi Anteby on social media:
Rafi's listening choice while traveling for work is:
Rafi enjoys his sleeping patterns and will catch up with work and/or events while he travels.
Click here to see other guests choices for listening while traveling
ABOUT
Growing up in Israel, a country accustomed to conflict and war, Rafael became familiar with the devastating effects of gun violence at an early age. As a young adult Rafael found refuge in the arts by expressing his talents through painting, sculpture, music and the realm of Martial arts. After achieving 3 world titles Rafael, a Kung Fu master, became motivated to make a greater impact on society and began teaching martial arts in Israel, South Africa and the United States. Armed with his superior martial arts abilities and knowledge of Chinese healing and meditation, he embarked on a journey to promote peace and unity where Bullets 4 Peace subsequently emerged. More recently Rafael has expressed a passion for preserving and protecting nature, animals and wildlife through his photography from his travels around the world and at home in Los Angeles.
COMPANIES
BULLETS 4 PEACE
Bullets 4 Peace, founded by LA fashion designer Rafael Anteby, is a unique jewelry collection with a focus on promoting global peace and helping humankind by giving back to communities through partnerships with charitable organizations. Used bullet casings are collected from around the world giving them a new purpose, a handcrafted jewelry line symbolic of peace and unity.
THE DOMINO EFFECT 
Rafi Anteby is known as "The Conscious Traveler" and for his creation Bullets 4 Peace.
"I wanted to create a new, elegant collection that could help the many causes I see during my travels around our beautiful planet and to help those without a voice.
I feel strongly that one small step of kindness from all of our supporters will create a huge domino effect of love and abundance". 
RELAODING LIFE FOUNDATION
Reloading Life Foundation is a charity organization with a purposeful mission.  Our mission is to protect, restore, and sustain life in all forms.  Our three areas of focus are abused and endangered animals; under-served remote communities; and natural indigenous habitats. Our goal is to create initiatives and partnerships with existing programs that help preserve the natural way of life for animals, living habitats, and people around the world.