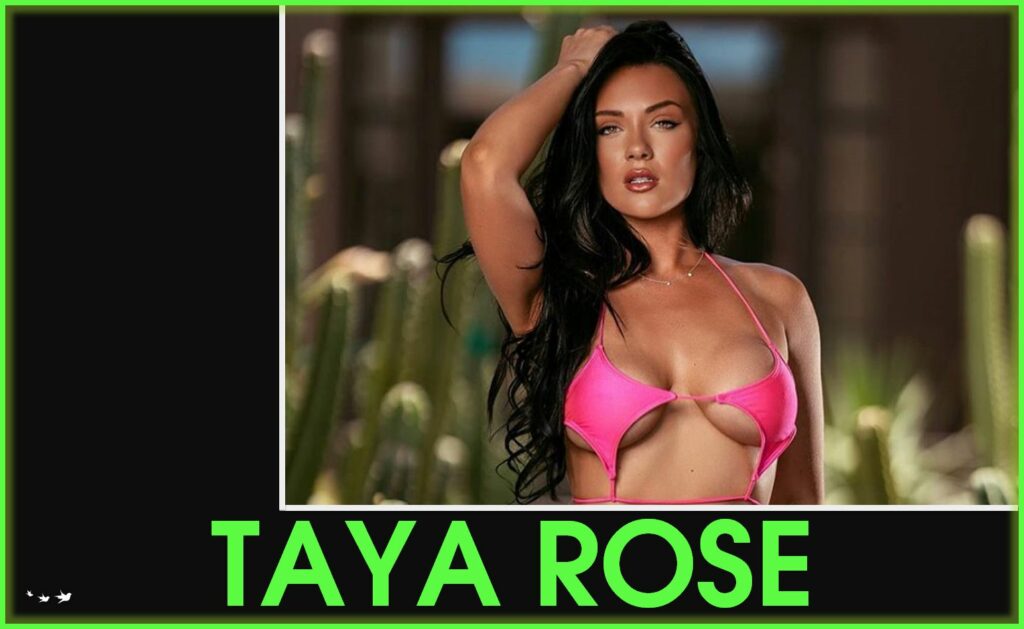 Taya Rose is an exceptional individual who wears multiple hats with grace and tenacity. As a devoted mother, she exemplifies the epitome of strength and nurturance. Alongside her role as a mom, Taya has ventured into the dynamic world of modeling, captivating audiences with her captivating presence and striking beauty.
But Taya's influence doesn't stop there. Recognizing the power of the mind, she has embraced the role of a mindset coach, guiding individuals towards personal growth and empowering them to unlock their full potential. Through her unique insights and transformative strategies, she has earned the title of "the mindset influencer," inspiring countless individuals to reshape their perspectives and transcend their limitations.
Fueling her entrepreneurial spirit, Taya fearlessly takes on new challenges and has established successful businesses. Juggling the demands of running multiple ventures, she exhibits an unwavering determination and a remarkable ability to thrive amidst the ever-changing landscape of entrepreneurship. Her unwavering dedication has even taken her on ventures across the globe, as she fearlessly travels while managing her enterprises.
One of Taya's recent endeavors includes stepping into the world of podcasting, where she takes on the role of a host. Through her newly formed podcast, she engages in insightful conversations, sharing her wisdom and experiences with a wide audience. By delving into the difficulties of being a single mom while simultaneously launching, operating, and traversing for her businesses, she offers a relatable and empowering narrative that resonates with many.
Taya's accomplishments at such a young age are nothing short of remarkable, and her future endeavors hold boundless promise. As we eagerly anticipate her continued progress, we can't help but be inspired by her resilience, passion, and unwavering commitment to personal and professional growth. Taya Rose is undoubtedly a force to be reckoned with, leaving an indelible mark on the world and paving the way for others to follow in her footsteps.
Connect with Taya Rose on social media:
Taya's listening choice while traveling for work is:
She likes to listen to music or catch up on some rest when she can. 
Click here to see other guests choices for listening while traveling
A little about me…
Seattle is my home.
I'm the mother of one beautiful little girl named Kalina.
(Don't let the photos deceive you; I've done my fair share of carrying my child surfboard style out of the store while sporting a messy bun and bags under my eyes from sleepless nights.) 
I love hiking, anything Disney, and traveling. 
Now, let's get personal
My name is Taya Rose. I'm an entrepreneur, philanthropist and Mindset Coach.
Coming from a rough childhood, I carried an unhealthy relationship with myself, my body and my life in to my early adulthood, where I unconsciously repeated much of my past. It wasn't until one day; I made the decision to change my life forever. 
I began to passionately study habit change, self-improvement, neuroscience, psychology, nutrition, fitness and much more. This turned in to years of auditing college courses, taking online classes, gaining certifications and reading countless books.
After achieving AMAZING results in my own life and physical, mental and emotional health, I became obsessed with the question, "What is the key difference between those who spin in endless circles living unfulfilling lives, verses those ACTUALLY change their lives for the better- permanently?
My key takeaway-
MINDSET.
IS.
EVERYTHING.
It became my mission to show others what was possible for them and use this knowledge for something outside of myself. That's when I decided on becoming a dually certified Life & Health Coach. Or as I call it, a Mindset Coach
My message to you is that you are truly more powerful, wonderful and capable than you give yourself credit for. You don't have to repeat the past. You don't have to half-ass live your life. You don't have to stuff down your talents and gifts, or settle for not feeling your best.
My mission is to light the way for others to bridge the gap between whom they are now and who they want to be.
You got this, keep going and believe in yourself! I believe in you.