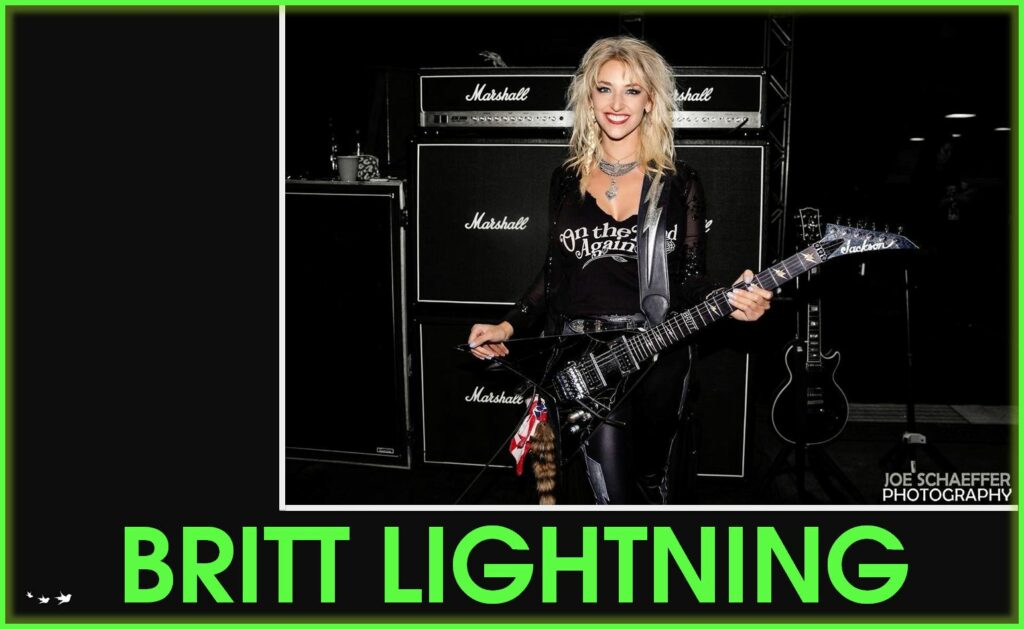 Britt Lightning is a supremely talented and accomplished lead guitarist, recognized for her electrifying performances with the legendary all-female 80's rock band, Vixen. With her exceptional skills and undeniable stage presence, she effortlessly commands the spotlight, captivating audiences around the world with her fierce guitar solos and infectious energy.
Beyond her role in Vixen, Britt Lightning holds the esteemed position of Musical Director at the renowned Rock 'N' Roll Fantasy Camp. This prestigious role showcases her expertise and leadership in the music industry, where she orchestrates unforgettable experiences for aspiring musicians and fans alike. Through her guidance and mentorship, she inspires and shapes the talents of budding rock stars, leaving an indelible mark on their musical journeys.
I had the privilege of catching Britt Lightning in a rare moment of reprieve at her home, nestled between her tour dates. During our conversation, we delved into the captivating world of life on the road with her Vixen bandmates, exploring the triumphs and challenges they encounter while traversing the global music scene. With remarkable candor and warmth, Britt shared her insights on striking a delicate balance between her relentless work schedule and nurturing connections with friends and family.
Our discussion ventured into the tapestry of the places Britt Lightning has had the privilege of performing. From enchanting cruises to pulsating festivals and intimate gigs, she has graced diverse stages that span the spectrum of musical experiences. As we journeyed through her anecdotes, we unearthed the most influential place she has ever visited—a destination that left an indelible impression on her musicality and artistic growth.
While discussing her upcoming ventures, Britt's eyes sparkled with anticipation as she revealed her excitement to perform in Japan and Australia next year. These future performances hold the promise of fresh experiences, cultural immersion, and a chance to connect with fans from different corners of the world. It is a testament to her unwavering dedication and unquenchable passion for sharing her music with a global audience.
During the downtime imposed by the COVID-19 pandemic, Britt Lightning embraced the opportunity to channel her creativity as the musical director for the Rock 'n' Roll Fantasy Camp. She masterfully orchestrated virtual camps that bridged the gap between enthusiastic fans and seasoned musicians, facilitating meaningful connections and fostering a vibrant musical community amidst challenging times. Her adaptability and resourcefulness shone through as she expertly navigated the virtual landscape, providing solace and inspiration to countless music enthusiasts craving a connection to their passion.
In essence, Britt Lightning's journey as a lead guitarist for Vixen, her role as Musical Director, and her endeavors during the pandemic exemplify her unwavering commitment to music, her insatiable thirst for growth, and her undeniable talent. Through her mesmerizing performances, she continues to leave an indelible mark on the rock music landscape, inspiring generations of aspiring musicians and captivating audiences worldwide.
Make sure to follow Britt on her social media pages to see where she'll be performing next.
Connect with Britt on her social media pages:
Website: https://www.brittlightning.com/
Instagram: https://www.instagram.com/brittlightning/
Facebook: https://www.facebook.com/brittlightning
ABOUT Britt
During COVID Britt hosted and helped to produce over 160 online Rock 'n' Roll Fantasy Camp master classes with legendary artists including Roger Daltrey (The Who), Alice Cooper, Dave Mustaine (Megadeth) and more.
From 2015 to 2016 Britt played guitar for Rachel Platten, performing live at festivals and on national TV shows promoting the single "Fight Song", which charted at #6 on the Billboard Hot 100 chart. Britt performed live on Good Morning America, the Today Show, Live with Kelly and Michael, VH1, the Teen Choice Awards, Nickelodeon, and performed on the 2016 finale of America's Got Talent, which took place at NYC's Radio City Music Hall. Britt also performed on Live with Kelly and Michael with Jason Derulo to promote his new album "Tattoos".
From 2012-2015 Britt performed for 22-time Grammy Award winning artist Alejandro Sanz in his stadium-level world tour. Britt is featured in Sanz's "La Musica No Se Toca – En Vivo" CD/DVD. Britt joined Sanz at the 2013 Latin Grammy Awards in Las Vegas performing the single "No Me Compares", and performed with the band at prestigious festivals, venues and international TV specials.
Britt recorded "Live At The Roxy", a live CD/DVD with Alejandra Guzman, an iconic Latin artist who has sold over 30 million records.
Labeled the "Closer" by Lady Gaga, Britt has followed her dreams by striving to grow and evolve as a musician and simultaneously earned a degree in Music Business from Northeastern University graduating Summa Cum Laude, and continued her education at Berklee School of Music. She also has experience working in the music industry with Live Nation and Universal Music Group.
Britt continues to tour with Vixen while working on their upcoming studio album.
SUBSCRIBE
You can subscribe to The Travel Wins Podcast on Apple Podcasts, SoundCloud, YouTube, iHeart Radio, Stitcher, Google Podcasts, Spreaker, Podnews, Castbox,  Pocket Casts, Radio Public, and Amazon.
The Travel Wins intro song by Allison Johnson and Steve Stevens
Website Design by Stack Host
#brittlightning #guitarist #vixenband