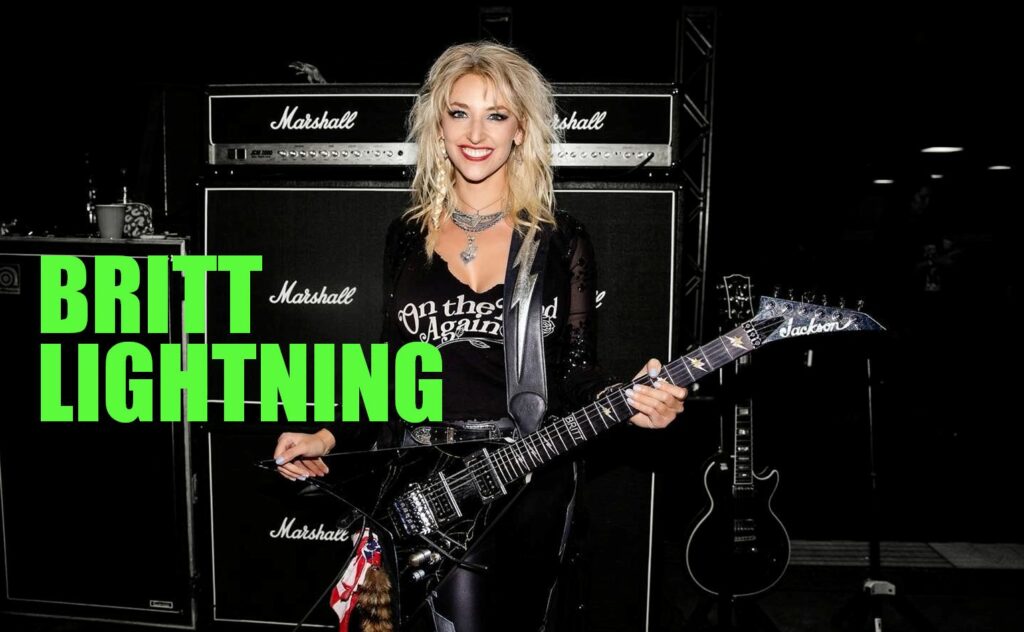 Britt Lightning is the lead guitarist for the all-female 80's rock band Vixen. She is also the Musical Director at Rock 'N' Roll Fantasy Camp. I caught her in a rare moment at home in between tour dates. We had a great talk about life on the road with her Vixen bandmates and how she balances spending time with friends and family while maintaining such a busy schedule for work.
We talked about some of the more interesting places; cruises, festivals, small gigs all the way to stadium tours she has played and find out what is the most influential place she visited.  She is excited to play in Japan and Australia next year. Britt was able to fill her downtime during Covid as the musical director for the Rock'n'Roll Fantasy Camp setting up virtual camps between fans and musicians.
Make sure to follow Britt on her social media pages to see where she'll be performing next.
Connect with Britt on her social media pages:
Website: https://www.brittlightning.com/
Instagram: https://www.instagram.com/brittlightning/
Facebook: https://www.facebook.com/brittlightning
ABOUT Britt
During COVID Britt hosted and helped to produce over 160 online Rock 'n' Roll Fantasy Camp master classes with legendary artists including Roger Daltrey (The Who), Alice Cooper, Dave Mustaine (Megadeth) and more.
From 2015 to 2016 Britt played guitar for Rachel Platten, performing live at festivals and on national TV shows promoting the single "Fight Song", which charted at #6 on the Billboard Hot 100 chart. Britt performed live on Good Morning America, the Today Show, Live with Kelly and Michael, VH1, the Teen Choice Awards, Nickelodeon, and performed on the 2016 finale of America's Got Talent, which took place at NYC's Radio City Music Hall. Britt also performed on Live with Kelly and Michael with Jason Derulo to promote his new album "Tattoos".
From 2012-2015 Britt performed for 22-time Grammy Award winning artist Alejandro Sanz in his stadium-level world tour. Britt is featured in Sanz's "La Musica No Se Toca – En Vivo" CD/DVD. Britt joined Sanz at the 2013 Latin Grammy Awards in Las Vegas performing the single "No Me Compares", and performed with the band at prestigious festivals, venues and international TV specials.
Britt recorded "Live At The Roxy", a live CD/DVD with Alejandra Guzman, an iconic Latin artist who has sold over 30 million records.
Labeled the "Closer" by Lady Gaga, Britt has followed her dreams by striving to grow and evolve as a musician and simultaneously earned a degree in Music Business from Northeastern University graduating Summa Cum Laude, and continued her education at Berklee School of Music. She also has experience working in the music industry with Live Nation and Universal Music Group.
Britt continues to tour with Vixen while working on their upcoming studio album.
SUBSCRIBE
You can subscribe to The Travel Wins Podcast on Apple Podcasts, SoundCloud, YouTube, iHeart Radio, Stitcher, Google Podcasts, Spreaker, Podnews, Castbox,  Pocket Casts, Radio Public, and Amazon.
The Travel Wins intro song by Allison Johnson and Steve Stevens
Website Design by Stack Host
#brittlightning #guitarist #vixenband