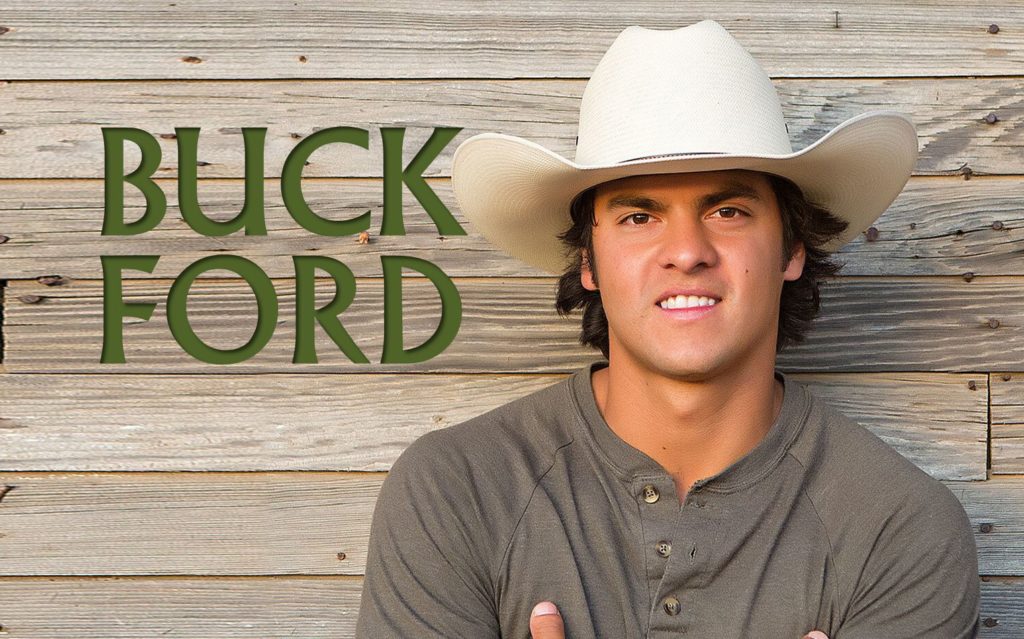 Buck Ford is a country singer, songwriter and family man making the rounds to succeed at his passion of singing country music to others. We had a great chat about his experiences singing while based in California and Nashville, making it thru the lockdown and his upcoming album and touring projects.
As a dad of two young boys, Buck is learning how to navigate the challenges of wanting to tour and meet his fans while wanting to be home to help his wife raise their boys. He talks about the California country music scene and being able to tour in California. Buck is excited to start touring again in different states and is ready to release a new album before the end of 2021.
Make sure to check out Buck's social media pages and website for his upcoming tour dates.
Connect with Buck Ford on social media:
ABOUT Buck Ford
Nashville recording artist Buck Ford is a young, pure country singing sensation that focuses on keeping the traditional country sound and rhythm flowing. Bucks influences consist of George Strait, Merle Haggard, George Jones and Keith Whiteley, just to name a few. Buck and his band pride themselves on the fact that their performances "bring back to life" the sound and feel of real traditional country music. Buck began his story as a professional motocross racer, riding the circuit for over a decade. He received a full ride endorsement with a Honda team through the West Coast Super Cross Series in 2009. He placed his riding career on hold to pursue his love and passion for country music. Despite his dedication and talent in the professional motocross scene, his heart has always been in country music, as he passed many hours on the road "picking away," at his guitar to good ole classic country music.
His performances include performs his own written and composed music and covers songs from greats such as the likes of George Strait, Conway Twitty, Tracy Lawrence, Mark Chesnut, Johnny Paycheck, Merle Haggard, George Jones, Keith Whitley, Bob Wills, Gene Watson, Craig Morgan, Wade Hayes, Daryle Singletary, Alan Jackson, Waylon Jennings, Garth Brooks and many more.
Buck has played with other fine musicians, such as The Time Jumpers, Vince Gill, Dawn Sears, Wade Hayes, James Mitchell, Mike Johnson, Paul Franklin, Kevin Grant, Greg Morrow, Lonnie Wilson, Larry Franklin, Dirk Johnson, Tommy Harden, Chad Cromwell, Scotty Sanders, Glen Duncan, Gary Prim and many other talented musicians throughout the West Coast, South West and Nashville regions. Buck has performed at fairs, festivals, rodeos, clubs, many private events, weddings, and parties. He has also had the pleasure of opening for Jason Micheal Carrol, Daryle Singletary, Steve Azar, Easton Corbin, Steel Magnolia, Ty Herdon, John Michael Montgomery, Clint Black, Wade Hayes, Aaron Watson, Aaron Tippin, Cory Morrow, Dustin Lynch and most recently Mark Chestnut in July, September and October.
Since he has been able to combine the creative heart of country music with his values, which were learned from his motocross endeavors, of dedication, discipline and perseverance, Buck has the strong professional work ethic to back up his notable vocal talent. He exudes the charisma that audiences, both young and old, appreciate and relate well to; people seem to like Buck, a kid from today's generation, singing and paying respect to the values of the good ole days, making him a "one of a kind anomaly." He's a favorite everywhere he goes and a sure bet for any venue. Buck's 4th CD titled "Something Bout Those Cowgirls" was realized in 2014. His 3rd CD titled "Country Never Goes Outta Style" was released in June of 2012. His 2nd CD "For Now", was recorded in Nashville and was released in Oct 2010. This followed his first hit CD from 2009, "Guitar and Gasoline", (all three of those CDs are available on itunes, buckford.com or cdbaby.com) Buck is currently playing pure country music all over the United States with his band, The Buck Ford Country Band.
SUBSCRIBE
You can subscribe to The Travel Wins Podcast on Apple Podcasts, SoundCloud, YouTube, iHeart Radio, Stitcher, Google Podcasts, Spreaker, Podnews, Castbox,  Pocket Casts, Radio Public, and Amazon.
The Travel Wins intro song by Allison Johnson and Steve Stevens
Website Design by Stack Host
#buckford #countrymusic #californiacountry