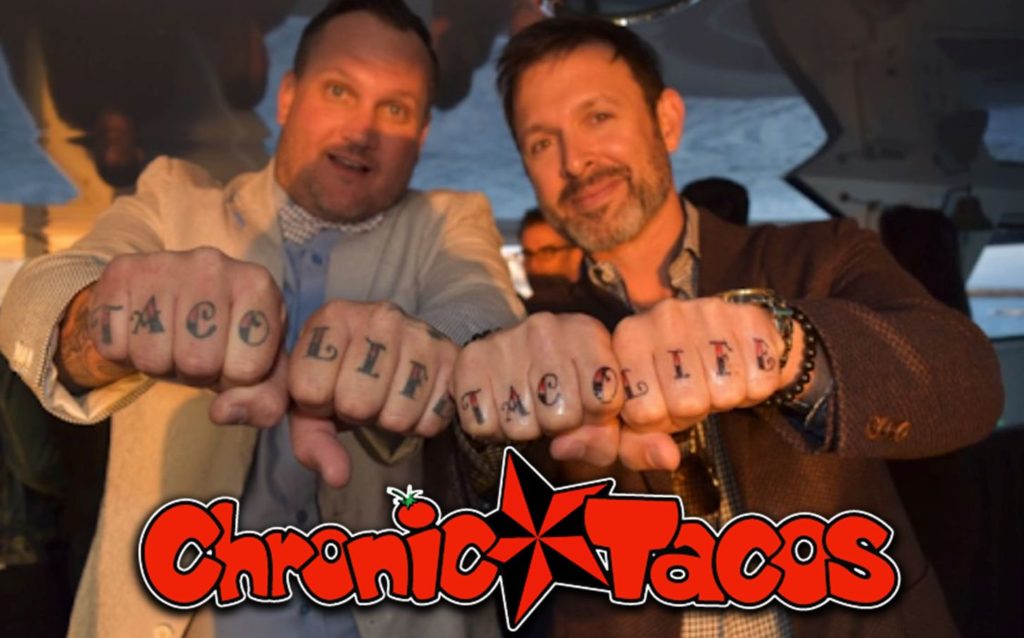 Chronic Tacos is the center of my podcast with Michael Mohammed and Randy Wyner. It was a great opportunity to speak with the two men behind the past, current and future plans of a growing Mexican food chain. As we start to come out of the worldwide pandemic, I was really interested to hear how the closures affected their business and what their future plans are now. Both have traveled extensively for their restaurant business so I was able to ask how they balance business schedules, travel schedules, friends and family. A background of Chronic Tacos starts in Orange County, California, where you could find a Mexican taqueria on every corner. The food was great, but there was an opportunity to create a taco shop with not only authentic Mexican food, but with a unique vibe inspired by their Southern California roots – the Taco Life was born, and the first Chronic Tacos swung open its doors in 2002. Michael Mohammed is the Chief Executive Officer and President at Chronic Tacos Enterprises, Inc., where he oversees the strategic vision of the fast casual Mexican restaurant brand. Originally from Vancouver, Canada, Michael attended Saint Martin's University in Washington State, where he earned a Bachelors of Business Administration and a Masters of Business Administration. Michael and his three brothers first became affiliated with Chronic Tacos in 2010 when they helped finance the chain's expansion into Canada Randy Wyner is the founder of Chronic Tacos, the Southern California chain of fast-casual Mexican food restaurants. Born and raised in Orange County, Randy draws his inspiration from the distinct Californian food culture. Randy grew up on authentic Mexican food and signature So Cal taquerias. It was his belief that the tastiest taquerias tended to be small, family-owned shops that led him to open his first Taco shop using third generation family recipes he acquired from a close family friend. When Randy was struck with the idea of made-to-order Mexican food that was both fast and fresh, Chronic Tacos was born.
Connect with Chronic Tacos on social media:
Website
Instagram
Facebook
Twitter
ABOUT Chronic Tacos
Chronic Tacos is an American chain of fast casual restaurants specializing in tacos, Mission or California burritos, tostada bowls, carne asada fries and churros. The first Chronic Tacos restaurant was opened in 2002 in Newport Beach, California by Daniel Biello and Randy Wyner. As of 2020, the company operates over 60 locations across the United States, Canada and Japan. Since 2011, the company has partnered with Dexter Holland's Gringo Bandito hot sauce company to host the Gringo Bandito Chronic Tacos Challenge, a competitive eating contest in which Takeru Kobayashi set world records in 2015 and again in 2017 for taco eating. History Daniel Biello and Randy Wyner opened the first Chronic Tacos in Newport Beach, California in 2002. Their initial concept was one inspired by the local taquerias they had grown up eating at, but that allowed more customization. In 2005, they opened their second location in Huntington Beach, California. In 2006, Chronic Tacos started franchising with a third location in San Clemente, California. As the company grew, Biello and Wyner decided to give up their controlling interest citing burnout. In 2010, Chronic Tacos opened its first location in Canada. In 2011, Wyner started talking with Michael Mohammed, a franchisee financier, about buying back Chronic Tacos. In 2012, Mohammed and Wyner acquired majority control of the company and stopped franchising until 2015. In 2018, Chronic Tacos opened its first location in Japan. In 2016, Chronic Tacos began offering a vegetarian protein option consisting of common fajita vegetables and in 2019 the franchise partnered with Beyond Meat to launch and begin offering Beyond Beef Crumbles, a new vegan protein option.
SUBSCRIBE
You can subscribe to 
The Travel Wins
 Podcast on 
Apple Podcasts
, 
SoundCloud
, 
YouTube
, 
iHeart Radio
, 
Stitcher
, 
Google Podcasts
, 
Spreaker
, 
Podnews
, 
Castbox
,  
Pocket Casts
, 
Radio Public
, and 
Amazon
. The Travel Wins intro song by Allison Johnson and
Steve Stevens
Website Design by
Stack Host
#chronictacos #tacos #californiatacos