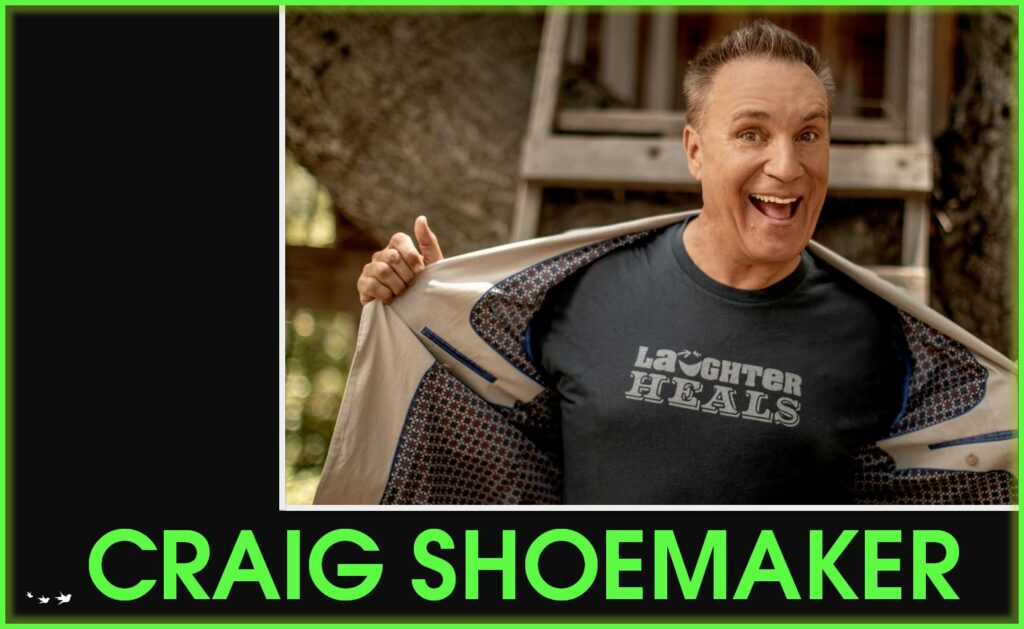 Craig Shoemaker is a multifaceted individual whose illustrious career spans over three decades. Renowned as a stand-up comedian, actor, author, writer, and producer, he has enthralled audiences with his exceptional talents and infectious humor. Beyond his professional endeavors, Craig is also a devoted husband and father, cherishing his roles within his family.
What sets Craig apart is his passion for harnessing the power of laughter to positively impact lives. Through his acclaimed "Command The Room" coaching and the establishment of the "Laughter Heals" foundation, he takes laughter to a whole new level, recognizing its incredible potential to uplift and heal.
During our conversation, Craig reflects on the profound influence of the people who inspired him during his formative years, shaping his comedic journey. He reveals how he incorporates laughter into his daily life, using it as a force to improve not only his own existence but also to spread joy and positivity to everyone around him.
A true visionary, Craig has spearheaded a Laughter Movement, dedicated to assisting others in finding joy and relief through humor. His noble purpose revolves around sharing the gift of laughter and making a meaningful difference in people's lives. Speaking with someone who has touched the lives of so many, positively transforming their well-being, is a rare and inspiring opportunity.
Having collaborated with a multitude of talented individuals over the years, Craig has a treasure trove of captivating stories to share. Beyond his work with business professionals and diverse individuals, he has played a significant role in bolstering the spirits of sports teams like the Boston Red Sox and Los Angeles Lakers through the incredible power of laughter.
To stay connected with Craig and experience his unmatched comedic prowess, visit his website www.craigshoemaker.com. Here, you can explore his upcoming performances and discover when he is available for his sought-after laugh coaching sessions. Prepare to embark on a journey filled with laughter, joy, and the potential for life-changing transformation as you engage with the extraordinary world of Craig Shoemaker.
Connect with Craig
Shoemaker on social media:
ABOUT Craig Shoemaker
Craig Shoemaker has had a career in show business spanning over three decades as a stand-up comedian, actor, author, writer and producer. He was named Funniest Male Stand-Up Comic at The American Comedy Awards on ABC and has garnered two Emmy Awards.
Craig is known for his engaging, relatable standup and iconic baritone-voiced character, The Lovemaster (all time Top 10 list on XM Radio as the "Most Popular"). He released a 90-minute standup special, "Daditude" which aired on the SHOWTIME Network and Netflix. His Comedy Central special was voted by viewers as one of the "Top 20" of all time. His follow-up special "Unzipped" aired to mass acclaim and the live CD was on the Billboard Top 20 for six weeks.
He has made multiple network TV/movie appearances, including: Middle Man, MTV's "Awkward", Parks & Recreation, The Late Show, The View, Comic Relief, The Bold & The Beautiful, Matlock, Fresh Prince of Bel Air, and Scream 2. Craig has written for season two of the sitcom Fuller House. He wrote, produced and starred in Universal's cult hit "Totally Baked". He also produced, wrote and starred in "The LoveMaster". As a voiceover artist, Craig's dead-on impression of Don Knotts and narration was featured in the film Pleasantville.
Craig's passion reaches beyond stand-up comedy. He founded LaughterHeals.org, a nonprofit group dedicated to using laughter as a healing modality and holds an honorary doctorate degree from Cal U of PA. Years of using comedy as both a personal and professional tool has prepared him to motivate you with laughter, share his truths and leave you with a set of coping tools of your own to find your funny and be Enlightened Up. 1-on-1 coaching programs, speaking engagements and workshops will teach you how to use laughter to get out of your most difficult times, make connections and reconnect with yourself as well as others.
SUBSCRIBE
You can subscribe to The Travel Wins Podcast on Apple Podcasts, SoundCloud, YouTube, iHeart Radio, Stitcher, Google Podcasts, Spreaker, Podnews, Castbox,  Pocket Casts, Radio Public, and Amazon.
The Travel Wins intro song by Allison Johnson and Steve Stevens
Website Design by Stack Host