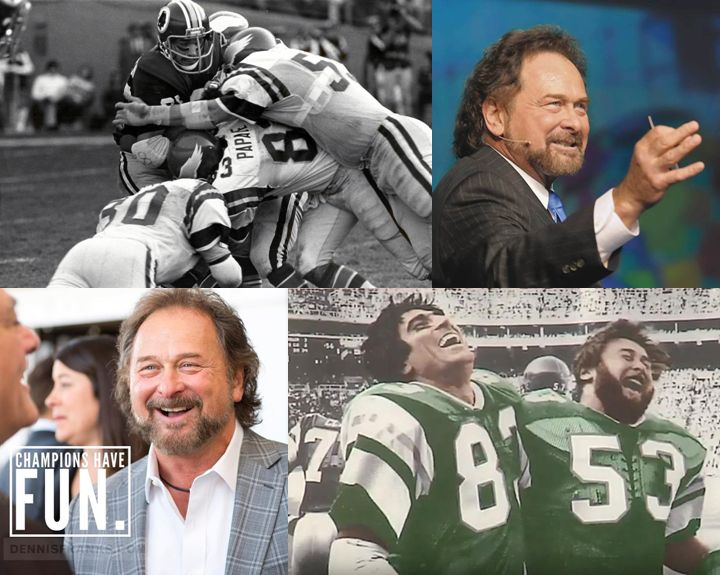 How do you get the last laugh?
On today's The Travel Wins podcast is Dennis Franks. Dennis is retired NFL player, playing with the Philadelphia Eagles and Detroit Lions, and now an author, business owner and motivational speaker.
He recently co-authored his first book "The Last Laugh: Vision to Victory" with his friend and teammate Vince Papale. In addition to traveling for the release of the book, Dennis has over 2 million miles in the air while traveling thru out the US and several countries for his business and speaking engagements. He talks about the importance of fitness and good eating habits being essential for all travelers.
Connect with Dennis Franks:
ABOUT
Dennis played professional football as a center and on special teams for the Philadelphia Eagles from 1976 to 1978 and for the Detroit Lions in 1979. He also played college football at the University of Michigan from 1972 to 1974. He was the starting center in all 11 games for the 1974 Michigan Wolverines football team that began its season with ten consecutive wins before losing to Ohio State by a 12-10 score in the final game of the season. Franks was selected as a first-team All-Big Ten Conference center in 1974.
Franks attended the University of Michigan on a football scholarship. As a freshman in 1971, he played on the all-freshman team. As a sophomore, he was the backup for starting center Bill Hart. As a junior, Franks started 5 of 11 games at center for the undefeated 1973 Michigan Wolverines football team.
As a senior, Franks started all 11 games at center for the 1974 Michigan team that began its season with ten consecutive wins before losing to Ohio State by a 12-10 score in the final game of the season. Franks was selected as a first-team All-Big Ten Conference player 1974. Head coach Bo Schembechler said of Franks: "He's the best center I've seen around so far. He may be a little better than Guy Murdock — a little better and a little quicker. He's consistent"
While playing football at Michigan, Franks drew press attention for his hobby of figure skating. His mother had been a figure skating champion in Germany, and he noted: "The figure skating is a great help for me in developing agility, versatility, quickness, and strength in my legs."
Franks was not selected in the 1975 NFL Draft. Franks later recalled, "The computers said I was too small. I just didn't believe the computers." He tried out with the Philadelphia Eagles and Oakland Raiders in 1975, but both teams cut him during training camp. He tried out with the Eagles again in 1976 and made the team. As a rookie, he appeared in 14 games for the Eagles as a special teams player. During the 1977 season, Franks was given the opportunity to play at the center position. Following an injury to the team's starting center Guy Morriss, Franks played one game as the Eagles' starting center.
Franks was waived by the Eagles in August 1979. He had played for the Eagles for three years from 1976 to 1978, appearing in a total of 44 games. The Philadelphia Inquirer later summarized Franks' career as follows: "For the Eagles, Dennis Franks was a bit player who made himself important to the team by sheer force of personality. He was gung-ho, articulate and hard-working. Whatever coach Dick Vermeil wanted him to do, whether it was to fill in at an unusual position or work out year after year just to sit on the bench, Franks never lost his enthusiasm for the game or the team. His attitude may have been his most important team contribution.
In September 1979, Franks signed to play for the Detroit Lions. The Lions announced that they would use him as the center on punts and on special teams. Franks appeared in 13 games for the Lions during the 1979 NFL season.
SUBSCRIBE
You can subscribe to The Travel Wins Podcast on Apple Podcasts, SoundCloud, YouTube, iHeart Radio, Stitcher, Google Podcasts, Spreaker, Podnews, Castbox, Overcast, Breaker, Pocket Casts, Radio Public, and Spotify.