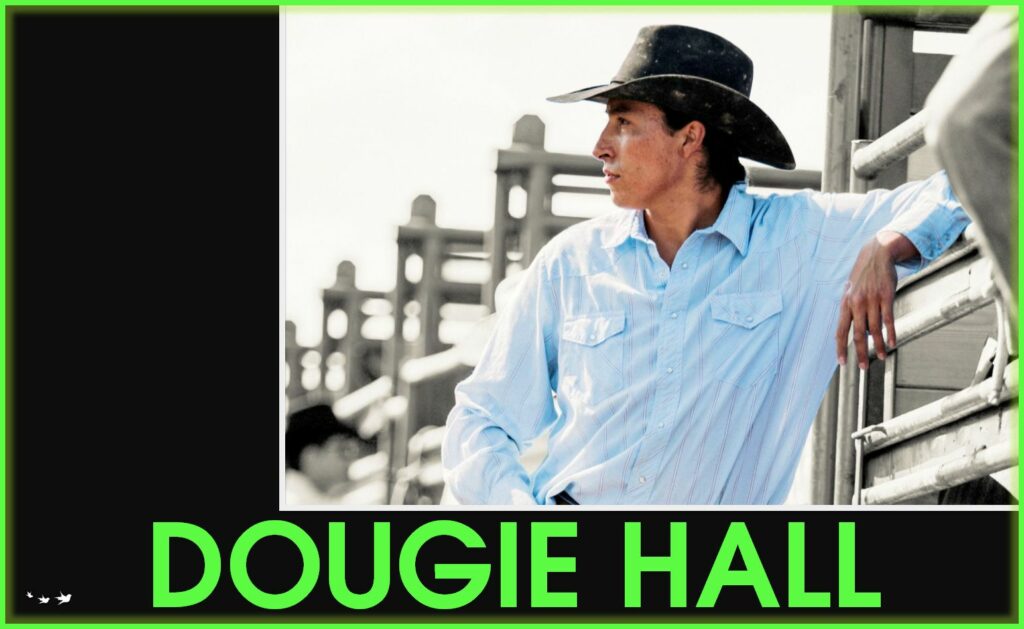 Dougie Hall is a remarkable individual who embodies the spirit of resilience and triumph. Hailing from Browning, Montana, situated on the Blackfeet Reservation, Dougie is not just a horse trainer, saddle bronc rider, and motivational speaker, but also a beacon of inspiration for countless individuals.
                "The most important tool you'll ever need in this world is yourself" – Dougie Hall
From a tender age, Dougie immersed himself in the world of fairs and rodeos, traversing the picturesque landscapes of Montana alongside his family. These early experiences ignited a passion within him, propelling him on a remarkable journey of self-discovery and accomplishment.
It was in high school that Dougie's dedication and natural talent led him to saddle bronc riding, a thrilling and challenging discipline within the rodeo circuit. With unyielding determination and unwavering focus, he honed his skills, transforming into a formidable competitor.
Dougie's remarkable prowess and unwavering commitment caught the attention of Montana Western, where he earned a coveted college scholarship. Representing his institution with distinction, Dougie fearlessly took on the best in the nation, participating in the fiercely competitive college national finals. His presence in the arena was a testament to his indomitable spirit and unrelenting pursuit of excellence.
Beyond his exceptional riding skills, Dougie possesses an infectious enthusiasm that radiates through every fiber of his being. After an awe-inspiring eight-second ride, a feat that demands sheer skill and physical prowess, Dougie's contagious spirit takes center stage. As the dust settles, he gracefully breaks into a dance, an expression of his unbridled joy and a vivid display of the passion that fuels his journey.
"By letting your own light shine and enjoying your life you unconsciously give other people permission to do the same thing" – Dougie Hall
The story of Dougie Hall is one that encapsulates the power of perseverance and optimism. Through his remarkable achievements and captivating presence, he has the remarkable ability to touch the lives of others, inspiring them to embrace positivity, overcome challenges, and strive for success. Dougie's story is a testament to the heights one can reach when they harness their passion and refuse to be deterred by obstacles.
Connect with Dougie Hall on social media:
SUBSCRIBE
You can subscribe to The Travel Wins Podcast on Apple Podcasts, SoundCloud, YouTube, iHeart Radio, Stitcher, Google Podcasts, Spreaker, Podnews, Castbox,  Pocket Casts, Radio Public, and Amazon.
The Travel Wins intro song by Allison Johnson and Steve Stevens
Website Design by Stack Host