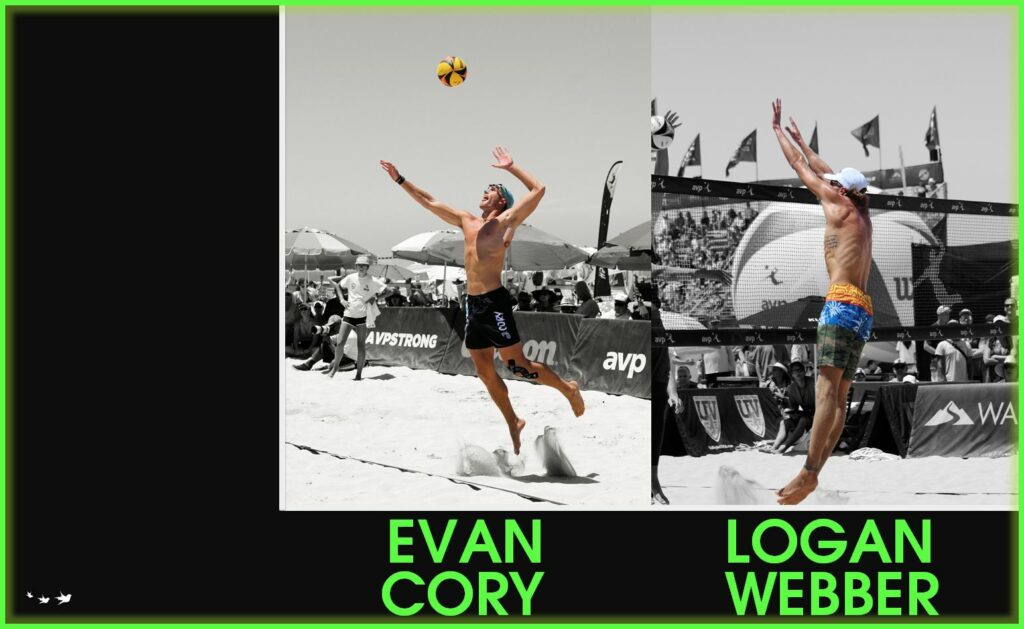 Step into the exhilarating world of beach volleyball as we embark on a thrilling adventure with two extraordinary athletes, Evan Cory and Logan Webber, for their highly anticipated 2023 season! The stage is set for a comeback like no other, as these two dynamic players reunite after a hiatus to conquer the sandy courts here and across the globe.
Brimming with excitement and determination, Evan and Logan are geared up to make waves on the world's most stunning beaches. Embracing a resolute "cowboy" mentality, they vow to remain unwavering in their focus, toughness, and determination throughout the entire year. Their journey from humble beginnings in non-volleyball hotspots, Louisiana and Michigan, to becoming shining stars in the sport, has been nothing short of remarkable. They take immense pride in nurturing the growth of volleyball in their hometowns, leaving a lasting legacy.
One of the most gratifying rewards of their unparalleled success in beach volleyball is the boundless travel opportunities that await them. Having crisscrossed the globe for their beloved sport, Evan and Logan are eagerly looking forward to the captivating cities they will grace this year. From the shimmering coasts to the vibrant metropolises, they are ready to leave their mark and create unforgettable memories in every corner of the world.
As we delve into the fascinating world of these world-class athletes, we wish them the best of luck in their Olympic tryouts. And as a delightful bonus, they'll share their exclusive travel tips and reveal their favorite haunts to play and explore during their globetrotting escapades.
So, buckle up for a riveting episode as we uncover the riveting tales of Evan Cory and Logan Webber's 2023 beach volleyball season—a journey of passion, perseverance, and the joy of experiencing the world through the lens of sports.
Connect with Evan and Logan on their social media pages:
Evan Cory Instagram: https://www.instagram.com/evancoryvolley/
Logan Webber Instagram: https://www.instagram.com/loganmichaelwebber/
ABOUT Evan Cory
Cory and Logan Webber played in all three AVP tournaments. The duo finished ninth in Manhattan Beach, the first main draw ever for Cory. Evan made his AVP debut at the age of 17 in New Orleans, losing in the qualifier alongside Derek Zimmerman.
Cory played four seasons at Lincoln Memorial University in Tennessee, leading the team in kills all four years. He led the nation in aces (.64 per set) as a junior and he had one of two triple-doubles (with 14 kills, 20 assists and 10 digs) in Division I-II his senior season. He left the school as the all-time leader in kills (1,249), aces (155) and digs (585) and was second in blocks (281).
Cory has one sister, Hayden. He was Valedictorian at his high school and captain of his beach volleyball team.
ABOUT Logan Webber
In Austin 2022 Webber and John Hyden broke the AVP record for having the biggest age discrepancy between partners in a main draw (23 years, 0 months and 22 days difference in age).
2021: Webber and Evan Cory played in all three AVP tournaments. After losing in the qualifier in the first one, the duo was seeded directly into the main draw for the last two, finishing ninth and 13th. Webber ended the year ranked eighth in both blocks (1.38 per set) and kills (6.63 per set). He competed once internationally, finishing 13th with Michael Boag.
Logan played volleyball at Cincinnati Christian University in Ohio. Webber has an older sister, Libby, who played volleyball at Cornerstone University in Grand Rapids, Michigan. Logan was an assistant coach for the women's volleyball team at Cincinnati Christian and assistant coach for the men's volleyball team at Cornerstone University.
SUBSCRIBE
You can subscribe to The Travel Wins Podcast on Apple Podcasts, SoundCloud, YouTube, iHeart Radio, Stitcher, Google Podcasts, Spreaker, Podnews, Castbox,  Pocket Casts, Radio Public, and Amazon.
The Travel Wins intro song by Allison Johnson and Steve Stevens
Website Design by Stack Host