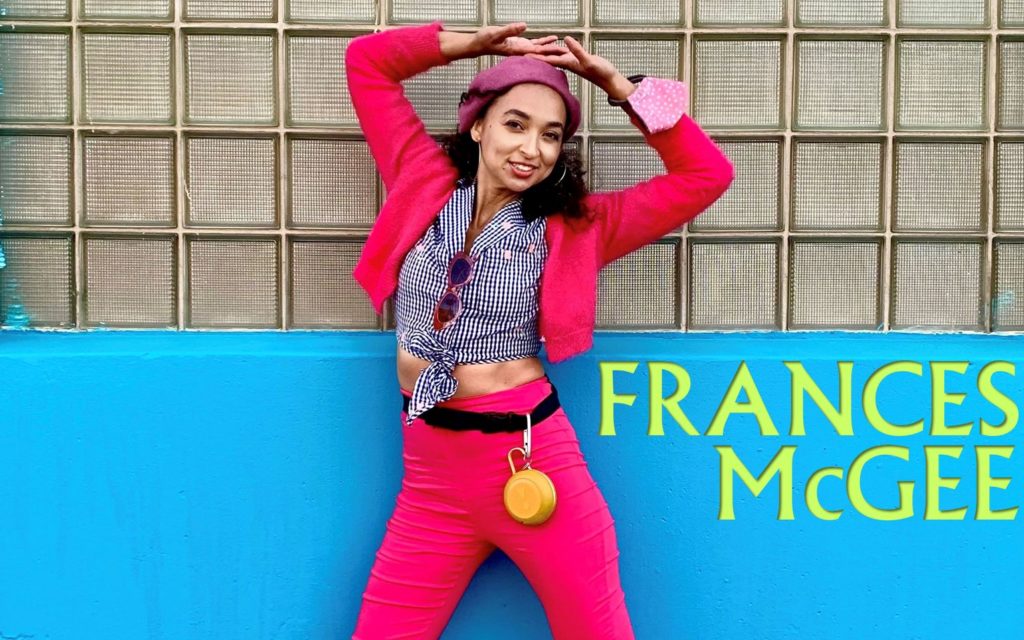 It's been a while since I've had a personal friend on the show so it was great chatting with professional roller skater Frances McGee, aka Abominatrix. We had a great talk about the places roller skating has taken her, how she got her start and what its' like teaching new skaters, like me, how to flow.
Not many people get to work in a field they love and Frances knows how fortunate she is to be able to share her passion with others. She shares her skate journey starting in Hawaii (also where she was when I interviewed her), her bumps and bruises from her derby career and traveling around the West Coast for teaching seminars.
Give Frances a follow on her social media pages to see where she is heading next and sign up for a lesson from one of the best …..
Connect with Frances McGee on her social media pages:
ABOUT Frances McGee
be love in action, own your motivation.
For 14 years I've been passionate about creating holistic learning experiences on skates. Sharing the empowering benefits of kinetic alignment with beginner skaters and beyond…
I started in 2007, skating around Oahu, Hawaii, protesting in support of marriage equality.
To me roller skating is a form of self expression I could aim towards any challenge. In a way, it lead back to my voice… That one true power in us all.
It goes that deep, it's genetic, it is heritage, it is American History. My Grandmother and Great Uncle, both black elders, were roller skating since the '40s & '50s, competing on soul nights, navigating segregation and pitching in during the civil rights movement. Into the OG roller derby days in Kansas City, KS with my Uncle bounced bouts. Decades later, my eldest cousin continues with tradition, traveling the country contributing to the culture in regional skate party scenes.
And here I am tapping into the resurgence of derby in the 2000s, diving into the civil rights movement of today.
Proudly representing my passion, my family roots, and my Black cultural history.
I believe in my heart that skating finds a person within an evolution of self,
Or a life transition. Roller skating found me when I felt like my life was no longer worth living. I started skating when my epilepsy was in a bad place. It was the worst bout of seizures I've had in my life. I felt trapped in my body, home, work, and relationship. Without graduating college and I didn't see a way out. Let alone, how I fit into traditional roles of a 'successful' woman.
I needed to connect to the child within me that knew joy.
Those formative early years on skates helped me find perspective, get venerable, accept my health and body for the gift of each new day. I also found the power as an artist to create freely on roller skates.
Follow my feed for calming skate videos, tutorials, seminars, and workshops and a look into how I combine roller skating with the fight for social justice.
SUBSCRIBE
You can subscribe to The Travel Wins Podcast on Apple Podcasts, SoundCloud, YouTube, iHeart Radio, Stitcher, Google Podcasts, Spreaker, Podnews, Castbox,  Pocket Casts, Radio Public, and Amazon.
The Travel Wins intro song by Allison Johnson and Steve Stevens
Website Design by Stack Host
#abominatrix #francesmcgee #rollerskate