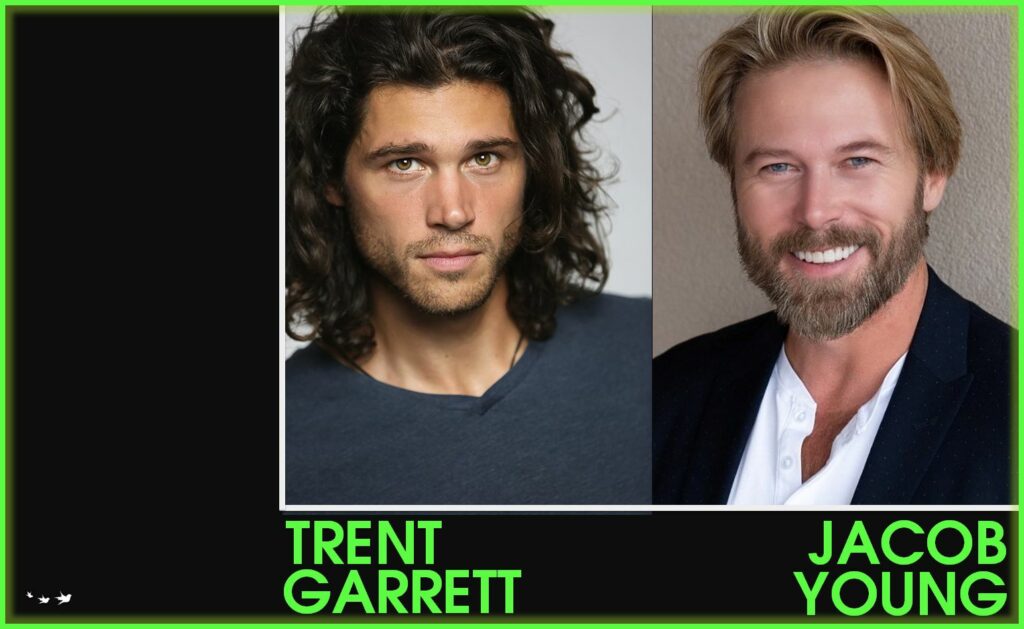 Unveiling Creative Horizons: A Tale of Hollywood Hearts Nurturing Young Talents
Step into the world of silver screen magic with a duo whose names resonate with Hollywood prestige – Jacob Young and Trent Garrett. With a combined legacy that spans decades, adorned with acting prowess and producing finesse, they've unfurled the curtains on a chapter that radiates compassion and creativity.
Amidst the ceaseless whirlwind of their ongoing ventures, a remarkable endeavor has emerged from their collective passion. Nestled in the quaint embrace of Hampton, Virginia, a beacon of inspiration beckons. Here, the maestros of showbiz have united their expertise to orchestrate a symphony of artistic education. The canvas? A captivating movie workshop program that extends a golden opportunity to the budding talents of tomorrow.
Picture this: Wide-eyed children delving into the heart of cinematic craftsmanship, guided by the very hands that have graced iconic screens. The workshops, spanning a transformative 30 weeks, are set to unfurl their cinematic tapestries across several cities nationwide. From the soulful rhythms of Nashville, Tennessee, to countless other urban canvases, this venture promises to plant the seeds of cinematic passion far and wide.
As they recount their journeys to listeners, Jacob and Trent unfurl a vivid tapestry of their travels. The iconic locales that have played host to their artistic endeavors are no mere backdrops, but stages where dreams flourished into reality. Their voices resonate with excitement as they share their fervent aspiration – igniting the same sparks of inspiration that once ignited their own journeys.
These workshops, though much more than meets the eye, aren't just about nurturing actors. They're an all-encompassing odyssey into the realm of filmmaking. They hold the promise of cultivating future directors with visions that could shape narratives, grips that hold the very fabric of scenes together, audio engineers sculpting soundscapes, and lighting wizards painting emotions with light. From makeup artists who embellish characters with life to the unsung heroes tending to the well-being of the set – these workshops forge a collective dream.
Join us in this captivating episode as we delve into the hearts of two maestros turned mentors. Traverse the avenues of cinematic allure, where the past and the future coalesce, and where young minds are sculpted into the auteurs of tomorrow's silver screen. This is more than a workshop; it's a transformative journey into the art of storytelling, guided by the hands that have spun tales that linger in our hearts.
Connect with Jacob and Trent on their social media pages:
ABOUT Jacob Young
Jacob Wayne Young is an American actor and producer. He is a five-time Daytime Emmy Award nominee, winning once in 2002 for his role as Lucky Spencer in the soap opera General Hospital (2000–2003). He is best known for his roles as Rick Forrester in the soap opera The Bold and the Beautiful (1997–1999, 2011–2018) and JR Chandler in the soap opera All My Children (2003–2011).
Early life and career
Jacob Wayne Young was born in Renton, Washington, the youngest child of Rhonda and Michael Young, Sr. and was raised in Loveland, Colorado, and Roy, Washington, moving to San Diego, California at age seventeen with his mother. His parents divorced and his mother remarried to Edward Vasquez. He has one older brother and two sisters.
Young portrayed Rick Forrester on the CBS soap The Bold and the Beautiful from December 31, 1997, to September 15, 1999. He was nominated for a Daytime Emmy Award as Outstanding Younger Actor in a Drama Series in 1999. Young later portrayed Lucky Spencer on General Hospital for three years from February 25, 2000 until February 10, 2003. In 2001, he was named "Sexiest Soap Star" by People magazine. In 2002, he won a Daytime Emmy Award for Outstanding Younger Actor in a Drama Series for his role as Lucky Spencer on General Hospital
Young portrayed JR Chandler on All My Children from October 1, 2003 to September 23, 2011. In 2005, he was again nominated for a Daytime Emmy Award as Outstanding Younger Actor, and in 2009 he was nominated for Outstanding Supporting Actor in a Drama Series.
In September 2011, Young reprised his role as Rick on The Bold and the Beautiful. His first airdate was September 26. In April 2018, Young announced he had been dropped to recurring capacity, which he called a "blessing."
Other projects
On September 11, 2001, Artemis Records released Young's self-titled CD. In 2004, he guest-starred in the film The Girl Next Door. He additionally guest-starred on ABC's Hope & Faith and, from May 2006 through August 20, 2006, starred in Disney's Beauty and the Beast on Broadway, in the role of Lumiere.
Personal life
In April 2006, Young and his longtime girlfriend, Christen Steward, a model, announced their engagement. They were married on May 13, 2007, at the Westmount Country Club in Woodland Park, New Jersey. The couple has three children.
ABOUT Trent Garrett
Trent Garrett is an American actor best known for his roles as Bowie Quinn on the Disney Channel series Andi Mack, Wes on Splitting Up Together, and John on Maggie.
Personal life
Trent Garrett was born on March 2, 1984. He was born and raised in Hampton, Virginia. Garrett was the kicker on the Grafton High School football team. Garrett has a son born in 2015.
Career
Garrett's film roles include Austin Banks in Boost, Jason in Pocket Listing, and Larry in Martial Science. His first major television role was as Asher Pike in 91 episodes of All My Children. In 2012, he had a recurring role on the ABC Family series, Make It or Break It, playing Brad, who is training to go to the 2012 Olympics for cycling. In 2017, he landed the recurring role of Bowie, Andi's father on the Disney Channel's hit show Andi Mack, and in Season 3 he was promoted to a series regular. In 2018, he joined the cast of the ABC sitcom Splitting Up Together. In 2021, he played the role of Parker Freeman on the TNT drama series Animal Kingdom. In 2022, he played the role of John on the Hulu comedy series Maggie.
SUBSCRIBE
You can subscribe to The Travel Wins Podcast on Apple Podcasts, SoundCloud, YouTube, iHeart Radio, Stitcher, Google Podcasts, Spreaker, Podnews, Castbox,  Pocket Casts, Radio Public, and Amazon.
The Travel Wins intro song by Allison Johnson and Steve Stevens
Website Design by Stack Host