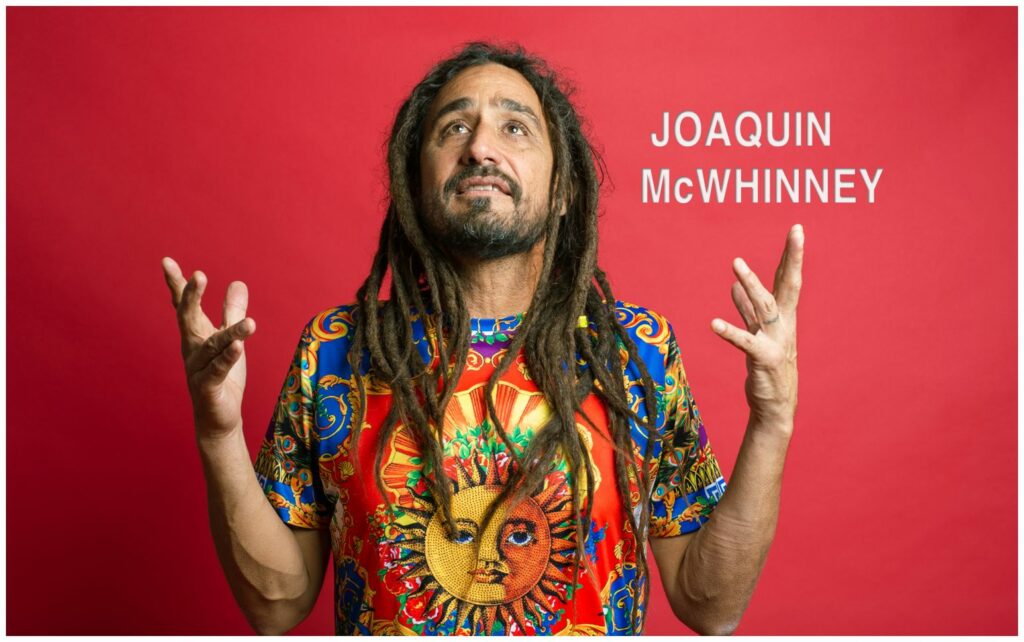 Joaquin "Quino" McWhinney is the founder and lead singer of the reggae group, Big Mountain, formed in San Diego, California. After reaching #1 status on the Billboard chart with the single "Baby, I love Your Way' in 1994, Joaquin and the group recorded more albums and toured extensively. He wanted to take a break from recording and the touring so he decided on becoming a high school music teacher and activist. He is now back recording new music and is once again touring the world sharing his music with us.
This was my first interview with someone while in Bali, Indonesia and it shows us the ability to reach the world with a little effort. Joaquin is a thoughtful man and I truly appreciate him making the time to share his thoughts on many subjects including music, activism, family, reggae and most importantly for the show his thoughts on the importance of travelling and seeing how others live around the world.
Connect with Joaquin on his social media pages:
Website: https://bigmountainband.com/
Instagram: https://www.instagram.com/bigmountainband/
Twitter: https://twitter.com/bigmountainband
YouTube: https://www.youtube.com/user/BigMountainBand
Facebook: https://www.facebook.com/bigmountainmusic/
ABOUT Joaquin "Quino" McWhinney
It was Quino's authentic reggae sounds that tore the house down when he and James exploded their revolutionary cries of peace, justice and change. His signature 1994 reggae hit, "Baby, I Love Your Way" lead the closing songs reminding the audience that reggae asserts its standing in all venues whether a street fair, a beach celebration, an outdoor festival or a sophisticated supper club in an upscale neighborhood. This is the heart of Quino, an evolving artist pushing his talent to encompass a wider audience while simultaneously bringing depth and range to his message of peace, love and global justice.
Even the name Big Mountain carries a symbolic gesture of social consciousness. In the eighties Quino's band, formerly called Shiloh, performed a benefit concert to raise money to fight a British mining company's relocation efforts of 12,000 native Hopi and Navajo tribes in Arizona in order to strip-mine coal in a sacred mountain called Big Mountain. As an act of support to shine light on the injustice at Big Mountain, Quino took on the moniker for his band.
Quino's conscience and intellect comes from a rich culturally diverse family layered with music, activism and tragedy. Born in 1966 in San Diego, California to a Scot-Irish father and Mexican mother, little Joaquin, named after a Mexican 'Robin Hood' rebel Joaquin Murrieta, moved to Honduras at the age of five while his father, an educated agriculturalist, worked for Dole Bananas. While residing in Central America Quino's brother, James McWhinney, who also sings with Big Mountain, was born in 1973. Unfortunately, soon after his birth their mother returned to San Diego with the boys in a hushed controversy following the brutal stabbing death of their father, leaving Quino at age seven and his family with a mysterious loss that never underwent investigation or trial, let alone a devastating personal trauma.
Four years later, Quino's mother remarried an African American photographer, college professor and businessman whom Quino loves and adores. He recalls a moment watching America's TV news magazine, "60 Minutes", with his stepfather about a profile on Bob Marley. The following day his dad bought and played Marley's Kaya album leaving Quino with a love of reggae as an early teen.  In addition, Quino's politically activist Mexican aunt lived with a Rastafarian and she introduced Quino to writers like Howard Zinn and his book 'The People's History of the United States', which slowly crafted Quino's comprehension of oppression and injustice.
To enhance more music to his rich life, Quino's Mexican grandfather and two uncles performed Mexican songs professionally, encouraging a Latin mix of world music in their diverse household. Not surprisingly, Quino eased into Latin reggae projecting the same smooth melodic rhythm, cultural soul and engaging versatility in his voice as in the 1994 hit, "Baby, I Love Your Way". Quino's sensuous sound perfectly matches his striking looks and soulful conscience, which endlessly mesmerize any female audience.
SUBSCRIBE
You can subscribe to The Travel Wins Podcast on Apple Podcasts, SoundCloud, YouTube, iHeart Radio, Stitcher, Google Podcasts, Spreaker, Podnews, Castbox,  Pocket Casts, Radio Public, and Amazon.
The Travel Wins intro song by Allison Johnson and Steve Stevens
Website Design by Stack Host
#joaquinmcwhinney #bigmountain #reggae