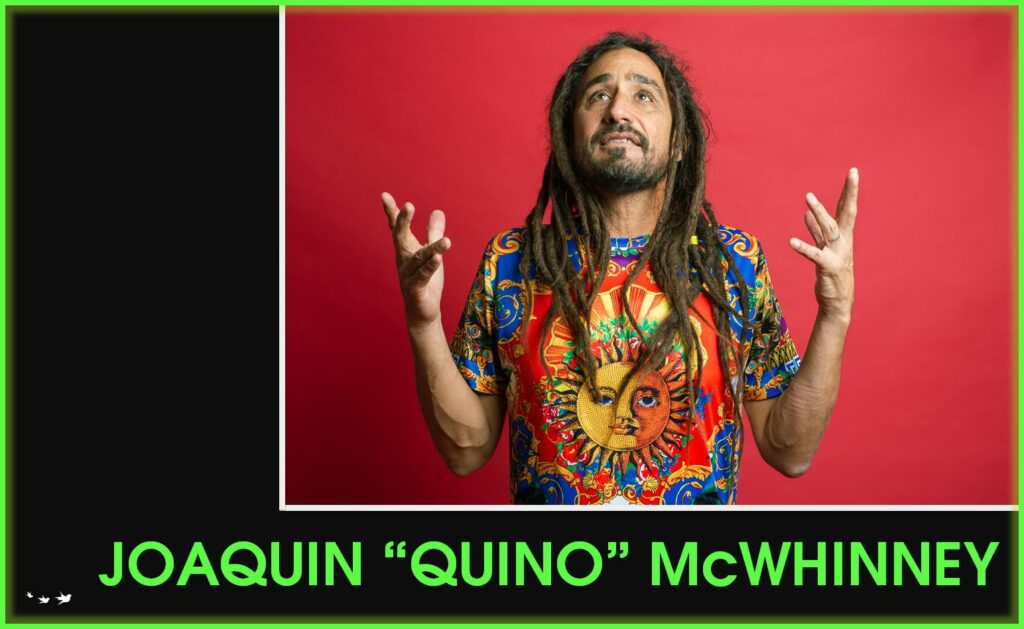 Joaquin "Quino" McWhinney, the visionary behind the renowned reggae group Big Mountain, holds a multifaceted persona as the band's founder and lead singer. Hailing from the vibrant city of San Diego, California, Quino's musical journey has traversed the heights of success and profound societal impact.
In 1994, Big Mountain's irresistible sound catapulted them to the summit of the music industry, as their single "Baby, I Love Your Way" soared to the coveted #1 position on the esteemed Billboard chart. This remarkable achievement solidified Big Mountain's place in reggae history, captivating audiences worldwide with their infectious melodies and empowering lyrics. Emboldened by their initial triumph, Joaquin and his group embarked on a prolific creative journey, producing captivating albums that resonated deeply with fans and critics alike.
However, amidst the whirlwind of recording sessions and extensive tours, Joaquin McWhinney yearned for a change of pace and direction. Driven by a passion for education and social change, he made the bold decision to embrace a new role as a high school music teacher and activist. This choice reflected his unwavering commitment to nurturing the next generation of musicians and inspiring them to utilize their artistry as a catalyst for positive change in society.
Throughout his hiatus from the music scene, Joaquin's indomitable spirit continued to burn bright. Immersing himself in his role as a teacher and activist, he tirelessly championed causes close to his heart, advocating for social justice, equality, and the transformative power of music. Joaquin's unwavering dedication to making a difference in the world exemplifies his profound depth as an artist and a compassionate human being.
Now, having emerged from his sabbatical, Joaquin McWhinney has returned to the recording studio, breathing new life into his musical endeavors. His creative genius once again resonates through his latest compositions, offering a fresh perspective and evolving sound that captivates fans old and new. With unwavering passion and a renewed sense of purpose, he takes to the stage once more, embarking on exhilarating tours across the globe, sharing his timeless music with audiences far and wide.
The interview with Joaquin took place against the breathtaking backdrop of Bali, Indonesia, providing a vivid illustration of the immense power of connectivity in our modern age. Through the magic of technology, the world has become a smaller place, enabling individuals like Joaquin to reach global audiences with ease, bridging cultures and spreading messages of unity and understanding. In this enlightening conversation, Joaquin McWhinney showcased his introspective and contemplative nature, sharing his profound insights on diverse topics ranging from music and activism to family, reggae, and the transformative effects of travel. His words resonated deeply, highlighting the significance of embracing different cultures and experiencing the diverse ways of life that exist throughout the world.
Joaquin's role as a thoughtful and insightful individual shines through, as his willingness to share his perspectives with the world serves as a testament to his generosity of spirit and his belief in the power of dialogue and understanding. His passion for music, activism, and global connectivity echoes through his every word, demonstrating the immense impact one person can have when fueled by a genuine desire to make the world a better place.
In essence, Joaquin "Quino" McWhinney stands as a beacon of inspiration, a musical luminary who has gracefully transitioned between roles, leaving an indelible mark both on the reggae genre and the realms of education and activism. With his triumphant return to the stage and his unwavering commitment to making a difference, Joaquin continues to inspire audiences worldwide, reminding us of the transformative power of music and the immense value of cultural exchange in shaping a brighter future for all.
Connect with Joaquin on his social media pages:
Website: https://bigmountainband.com/
Instagram: https://www.instagram.com/bigmountainband/
Twitter: https://twitter.com/bigmountainband
YouTube: https://www.youtube.com/user/BigMountainBand
Facebook: https://www.facebook.com/bigmountainmusic/
ABOUT Joaquin "Quino" McWhinney
It was Quino's authentic reggae sounds that tore the house down when he and James exploded their revolutionary cries of peace, justice and change. His signature 1994 reggae hit, "Baby, I Love Your Way" lead the closing songs reminding the audience that reggae asserts its standing in all venues whether a street fair, a beach celebration, an outdoor festival or a sophisticated supper club in an upscale neighborhood. This is the heart of Quino, an evolving artist pushing his talent to encompass a wider audience while simultaneously bringing depth and range to his message of peace, love and global justice.
Even the name Big Mountain carries a symbolic gesture of social consciousness. In the eighties Quino's band, formerly called Shiloh, performed a benefit concert to raise money to fight a British mining company's relocation efforts of 12,000 native Hopi and Navajo tribes in Arizona in order to strip-mine coal in a sacred mountain called Big Mountain. As an act of support to shine light on the injustice at Big Mountain, Quino took on the moniker for his band.
Quino's conscience and intellect comes from a rich culturally diverse family layered with music, activism and tragedy. Born in 1966 in San Diego, California to a Scot-Irish father and Mexican mother, little Joaquin, named after a Mexican 'Robin Hood' rebel Joaquin Murrieta, moved to Honduras at the age of five while his father, an educated agriculturalist, worked for Dole Bananas. While residing in Central America Quino's brother, James McWhinney, who also sings with Big Mountain, was born in 1973. Unfortunately, soon after his birth their mother returned to San Diego with the boys in a hushed controversy following the brutal stabbing death of their father, leaving Quino at age seven and his family with a mysterious loss that never underwent investigation or trial, let alone a devastating personal trauma.
Four years later, Quino's mother remarried an African American photographer, college professor and businessman whom Quino loves and adores. He recalls a moment watching America's TV news magazine, "60 Minutes", with his stepfather about a profile on Bob Marley. The following day his dad bought and played Marley's Kaya album leaving Quino with a love of reggae as an early teen.  In addition, Quino's politically activist Mexican aunt lived with a Rastafarian and she introduced Quino to writers like Howard Zinn and his book 'The People's History of the United States', which slowly crafted Quino's comprehension of oppression and injustice.
To enhance more music to his rich life, Quino's Mexican grandfather and two uncles performed Mexican songs professionally, encouraging a Latin mix of world music in their diverse household. Not surprisingly, Quino eased into Latin reggae projecting the same smooth melodic rhythm, cultural soul and engaging versatility in his voice as in the 1994 hit, "Baby, I Love Your Way". Quino's sensuous sound perfectly matches his striking looks and soulful conscience, which endlessly mesmerize any female audience.
SUBSCRIBE
You can subscribe to The Travel Wins Podcast on Apple Podcasts, SoundCloud, YouTube, iHeart Radio, Stitcher, Google Podcasts, Spreaker, Podnews, Castbox,  Pocket Casts, Radio Public, and Amazon.
The Travel Wins intro song by Allison Johnson and Steve Stevens
Website Design by Stack Host