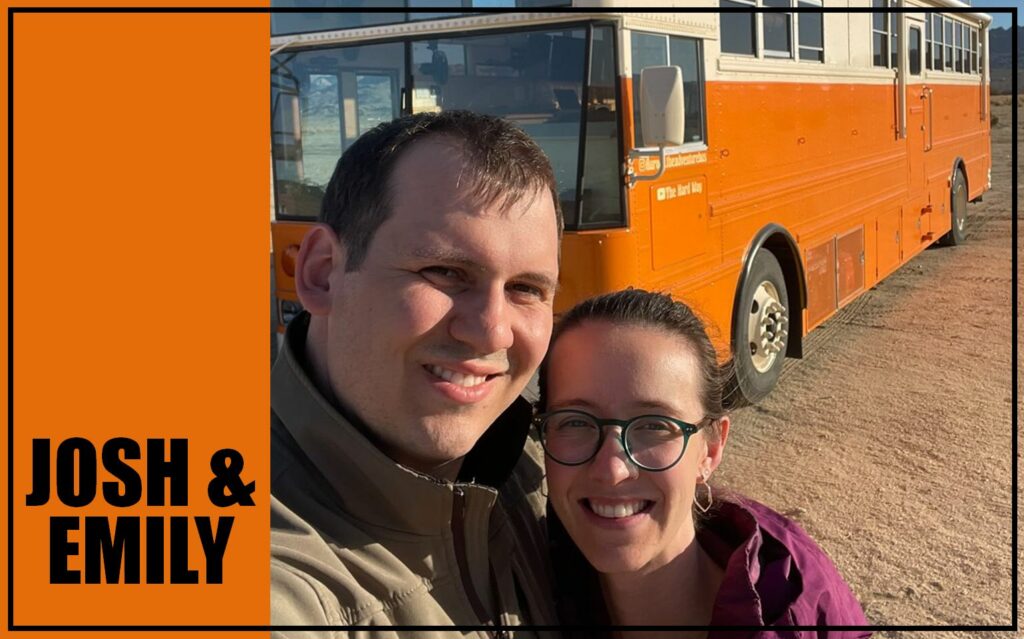 Josh and Emily are a young couple learning how to work and live remotely in their custom "skoolie" Aurora the Adventure Bus. The worldwide pandemic was an eye opener for many and the young couple decided to make some changes in their professional work and living environment. I was super happy to be able to speak with them about where they are in their journey and what do they see as their future.
While they are just at the beginning of their skoolie adventures it was nice to hear how they got started and how life on the road is treating them. If you have any interests or general questions they are happy to answer them.
My limited time living in my RV, "Deloris", for my day job is giving me a greater appreciation for everything we consume, including the basics like water, food and electricity so it was great to hear a younger couple talking about the same things.
Connect with Josh and Emily on their social media pages:
ABOUT Josh, Emily and Aurora: The Adventure Bus
Converted school buses, also called "skoolies," are a popular alternative to RVs and tiny homes.
Named Aurora the Adventure Bus, it is a 40-foot-long 2004 International RE-300 school bus that has been converted into a lavish tiny home on wheels. Engineers by profession, the young couple from South Dakota has taken two years and about $80,000 to complete the project.
The couple has renovated the interior as well as the exterior. One interesting improvement drawing attention is the raised roof that has been lifted 18 inches up which increases the headroom inside the bus.
The exterior of the Aurora Adventure Bus is painted in random orange and cream white that's sure to catch attention. There are three awnings that wrap around the entire bus and help maintain the interior temperature. Inside; there is a cozy sofa bed, kitchen, two work-from-home stations, bathroom with shower, and bedroom in the middle.
The interior layout looks quite stylish, with a ceiling paneled in wood and walls done in white. The most interesting thing inside the bus is the kitchen which includes a large pantry with a spice rack. Being a cat parent, the couple has included a hidden cat litter box next to the front door. They've has even renovated the driving section to make space for storage and a shelf for planters.
The couple has built the bus conversion RV for off-grid life since the roof is equipped with a 2,400-watt solar panel system and a 200-gallon water tank. Also, there is an 80-90 gallon fuel and an additional 20-gallon fuel tank for heaters mounted within the body of the bus, with access from the outside. The bus home is powered by a DT466E engine, which is sufficient to tow their Jeep Wrangler.
SUBSCRIBE
You can subscribe to The Travel Wins Podcast on Apple Podcasts, SoundCloud, YouTube, iHeart Radio, Stitcher, Google Podcasts, Spreaker, Podnews, Castbox,  Pocket Casts, Radio Public, and Amazon.
The Travel Wins intro song by Allison Johnson and Steve Stevens
Website Design by Stack Host