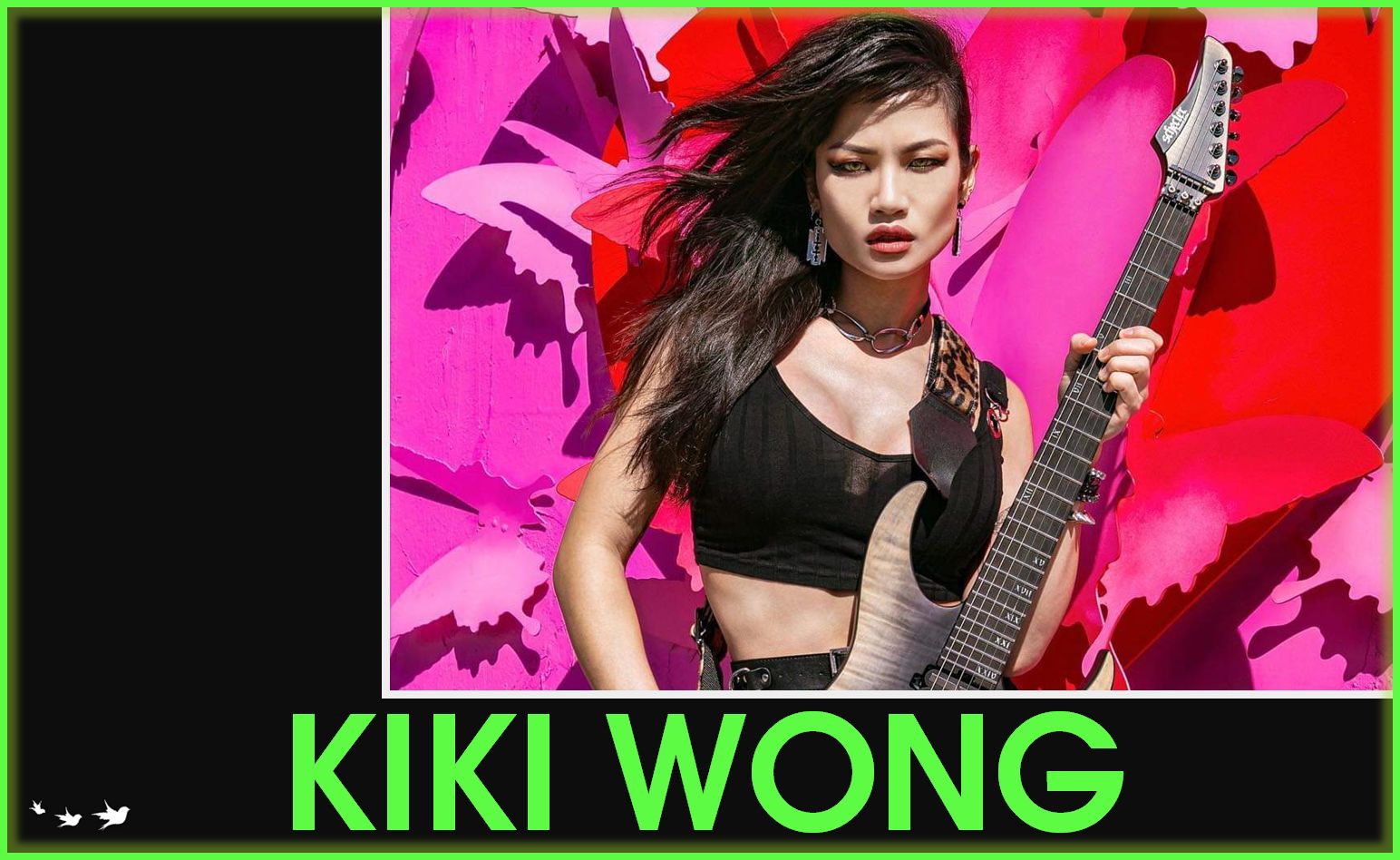 Kiki Wong is our special guest on today's episode and we are thrilled to share the story of this incredibly dynamic and multi-talented LA based guitarist. Kiki is an individual who approaches every endeavor with an unwavering intensity, embracing various passions and pursuits with remarkable dedication. From her musical prowess to her fighting spirit, her literary endeavors to her wanderlust, and her recent venture into podcasting, Kiki's boundless energy and determination are truly awe-inspiring.
Having initially joined Nylon Pink as a skilled guitarist, Kiki's undeniable talent and versatility led her to assume the role of the band's lead singer, propelling their musical journey to new heights. However, what makes Kiki's story all the more exceptional is the evolution of Nylon Pink from a musical group to a burgeoning business brand. Exploring the intricacies of this transition promises to unveil a captivating narrative of creative entrepreneurship and adaptability.
The rarity of encountering someone who completed a pre-medical education but subsequently decided to embark on a full-time career as a musician and world-touring singer cannot be overstated. Kiki's audacious choice defies convention and speaks volumes about her unwavering passion for music and her fearlessness in pursuing her dreams. Unraveling the motivations behind this pivotal decision and the challenges she faced along the way promises to be an enlightening exploration of personal growth, ambition, and the pursuit of fulfillment.
As we engage in this truly remarkable conversation, it becomes apparent that Kiki Wong possesses a wisdom that belies her age. Her unique experiences have forged a maturity that shines through her every endeavor. With an open mind and an indomitable spirit, Kiki eagerly embraces whatever life has in store for her next. This fantastic chat will undoubtedly leave listeners inspired, enlightened, and eagerly anticipating the boundless possibilities that lie ahead for this extraordinary individual.
Kiki Wong on social media:
SUBSCRIBE
You can subscribe to The Travel Wins Podcast on Apple Podcasts, SoundCloud, YouTube, iHeart Radio, Stitcher, Google Podcasts, Spreaker, Podnews, Castbox,  Pocket Casts, Radio Public, and Amazon.
ABOUT Kiki Wong
From the time Kiki was a young girl, barely reaching knee height, her heart was captivated by the enchanting world of animals and the mesmerizing melodies of music. Like a myriad of little girls, her dreams danced with the vision of becoming a veterinarian, tenderly tending to her stuffed animal patients, playing the role of a compassionate doctor.
At the tender age of six, a new passion blossomed within her when she discovered the magical realm of music. Embarking on the path of classical piano, she embarked on a journey that would harmonize with her soul for years to come. It was when she reached the age of thirteen that her family presented her father with an extraordinary gift—the first acoustic guitar to grace their household—an illustrious Yamaha Eterna. Guided by her father's skilled hands, she learned the three foundational chords—G, C, and D—an invaluable introduction to her musical destiny. Fueling her insatiable hunger to learn, she embarked on a quest for guitar mastery in the pre-YouTube era, seeking wisdom from the vast expanse of the internet.
Throughout her high school years, Kiki immersed herself in countless garage bands, a wild symphony of diverse musical genres that ranged from indie tunes to the electrifying realm of death metal. Not content with the six-stringed wonder alone, she expanded her instrumental repertoire, mastering the drums at the age of sixteen and even delving into the art of bass guitar, her fingers dancing with undeniable finesse and rhythm.
After completing her studies at the illustrious University of California, Irvine, where she obtained a bachelor's degree in Biological Science/Pre-Medicine, Kiki found herself yearning for respite from the world of textbooks. She embraced her destiny as a full-time shredder, joining forces with the all Asian-American girl band, Nylon Pink, assuming the role of lead guitarist and later ascending to the position of lead vocalist. The stage became her sacred sanctuary, and her melodies reverberated through the hearts of thousands.
Kiki's musical journey transcended the boundaries of the ordinary, as she found herself gracing the stage alongside iconic figures. Her talent caught the attention of Taylor Swift, and she shared the spotlight with the pop sensation at the 2014 VMA's. Not stopping there, she harmonized her guitar prowess with the legendary Usher at CBS's Fashion Rocks Fall 2014. Adding to her accolades, she wielded her six-stringed weapon as the lead guitarist for Bret Michaels in a captivating commercial for Nissan. Yet, her odyssey did not end there.
Embracing the thunderous call of her artistry, Kiki joined forces with the legendary Jerry Only of the Misfits, becoming an integral part of the band She Demons, a relentless force that transcended borders, igniting hearts both internationally and across the nation. The fall of 2015 witnessed her blazing trails as the direct support for the Misfits, their performances a breathtaking spectacle. Later, the band's name metamorphosed into Hellfire Heart, an embodiment of their fiery passion.
However, the symphony of music eventually took a pause, leading Kiki and the former singer of Nylon Pink, Kaila Yu, to embark on a new chapter. They deftly pivoted their brand, birthing a travel, beauty, and lifestyle blog that swept the digital realm by storm. Within a mere six months of its release, the blog garnered over 100,000 views per month, a testament to their captivating storytelling and unparalleled expertise. Their journey took an enchanting turn when they authored the best-selling book "30-Day Travel Challenge: How to Make Your Travel Dreams a Reality," bestowing their readers with the power to transform their wanderlust into tangible adventures. Moreover, their expertise as travel connoisseurs earned them the privilege of sharing their wisdom on esteemed news networks such as KTLA, CBS, NBC, and Fox News.
Now residing in the vibrant city of Los Angeles, California, Kiki's heart is eternally entwined with two furry feline masters who graciously reign over her abode. Meowlius Caesar and Nyx, their regal presence and tender affection infuse her life with joy, reminding her of the unconditional love that flows between humans and animals in perfect harmony.
Photo by Jack Lue