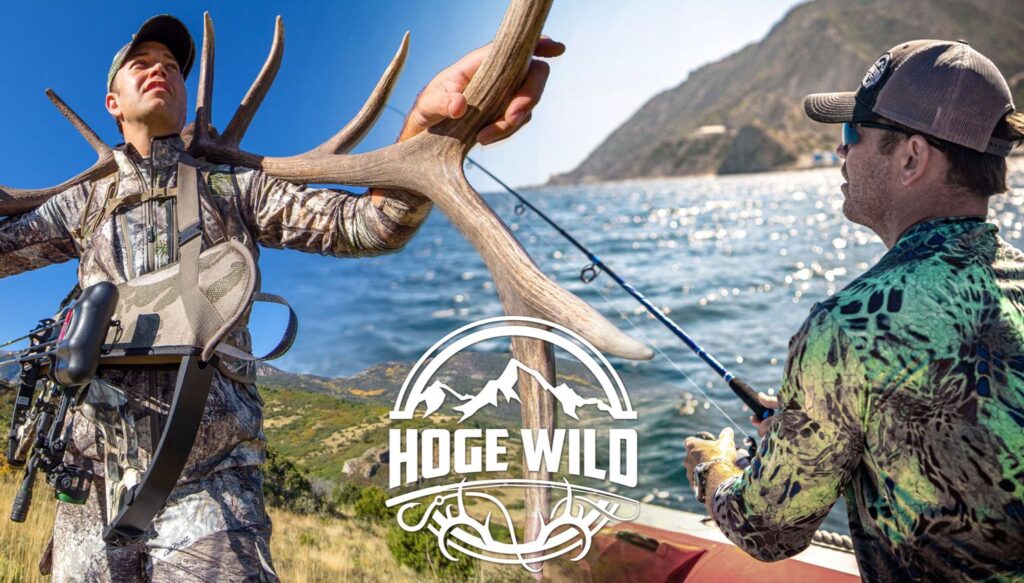 Can country singer Lucas Hoge pursue his passions outside of music?
Originally from a town of 44 people in Hubbell, NE, Lucas is a country artist with Top 30 and Top 40 singles and his last album "Dirty South" went No. 1 on Billboard for Country album sales. He's an avid outdoorsman and hosts the Sportsman Channel show "Hoge Wild". Lucas has performed on the Grand Ole Opry and overseas for 12 years entertaining our troops for the Wrangler National Patriot Tour.
Unfortunately the worldwide lockdown has affected both his television show and touring for music. We talk about how the lockdown has specifically affected him and how he has kept a good attitude while waiting for travel to re-open. One of the subjects I was excited to speak with him about is his ability to meet people on the road and make them friends. He shares his story how he met the founder of Cabela's at the end of a show and partnered together thru the years.
Connect with Lucas Hoge on social media:
Connect with Hoge Wild on social media:
SUBSCRIBE
You can subscribe to The Travel Wins Podcast on Apple Podcasts, SoundCloud, YouTube, iHeart Radio, Stitcher, Google Podcasts, Spreaker, Podnews, Castbox, Overcast, Breaker, Pocket Casts, Radio Public, and Spotify.
Intro song "Road Trip" by Robin Tricker
ABOUT
Lucas Hoge grew up in Hubbell, Nebraska, along with three siblings. At the age of 17, he started to play the guitar. Hoge attended the University of Nebraska in Lincoln, Nebraska.
Music and Television
He was the lead artist for two bands; the rock band "Southern Cross" and "Xtreme Devotion", a Christian music group. Local residents of the small town raised $2,500 to help launch his career. Hoge moved to an apartment in Nashville and started work, performing in small clubs in the evenings.
His first CD, entitled "In My Dreams", was released in 2002. In the same year, Hoge's first song for television was "If I Only Could" and featured on the hit Warner Brothers show Smallville. Hoge released his second album, "Dirt", in 2006.
Hoge went on to appear on television programs including a 2007 Toby Keith Christmas production, a Sunday Night Football promotion with Faith Hill.
Hoge has toured London and traveled to the Middle East to perform for American troops. He's visited bases in Iraq, Kuwait, Kosovo, Afghanistan, Africa, Alaska as well as other locations over the last 9 years on the Armed Forces Entertainment Wrangler National Patriot Tour. Hoge is the official spokesperson for Guardian Angels for a Soldiers Pet.
Hoge was the host and star of Animal Planet's TV show "Last Chance Highway" and wrote and performed the show's theme song. In 2011 he made his debut performance at the Ryman.
Hoge received his first nomination in the Inspirational Country Music Awards (ICM) as "New Artist of The Year" 2011. Hoge gained recognition in the Christian Country genre when he answered a woman's dying wish, Natalie Fognani, and wrote the song "How Was I To Know", inspired by her poem. Around the same time, Hoge played several concerts in Colorado, where Natalie lives, including opening for Martina McBride
 Hoge landed his second TV show theme song with "Give A Damn".
Lucas Hoge partners with Southwest Airlines as the Southwest Storyteller Ambassador
ABOUT HOGE WILD
Hoge Wild will keep the audience on the edge of their seats with wild hunts, epic fishing trips, deep dives and Lucas' ability to make you laugh while laughing at himself.
This No. 1 Billboard selling country artist is serious about his hunting, conservation, and the taste of his harvest!
Every true red-blooded American will tell you that hunting is a way of life, and Lucas is no different and he's on a mission.  Lucas will take out some first time hunters and some of his country star friends.  "I want to change the narrative of hunting" says Lucas!
While Lucas is serious about his outdoor adventures, he's all about living life to its fullest and singing along the way, and always serving his "Hoge Wild" game parties up with a side of laughter! 
 You can follow Lucas performing overseas to duck hunting in Nebraska, Elk hunting in Colorado to deep sea fishing in Puerto Vallarta and diving in the Cayman Islands.