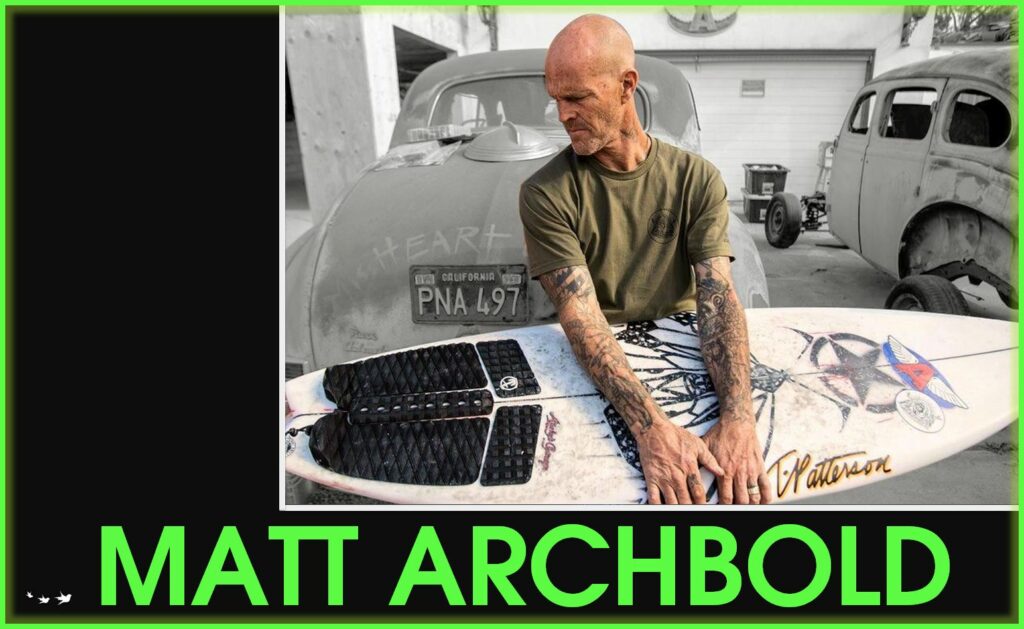 Matt Archbold, the legendary free surfer, shares his captivating journey that began in 1979 at the tender age of 11. From those early days to the present, Matt has embarked on a globe-trotting adventure, chasing waves and immersing himself in diverse local cultures. Now, with nearly four decades of experience under his belt, he stands tall as the unrivaled icon of high-performance surfing and the most triumphant free surfer of all time.
In our enthralling conversation, Matt recounted his enthralling experiences in some of the world's most remarkable surf destinations. Among them, he holds cherished memories of his time in Japan, where not only did he conquer thrilling waves, but he also forged deep bonds with a warm and welcoming host family.
As we delved into the past and present of surf travel planning, Matt unveiled the significant role technology has played in revolutionizing the way he approaches his surf trips. With an abundance of information at his fingertips, the modern-day surfer's experience is vastly different from the pioneering days when he first set foot on the surfing scene.
For a glimpse into Matt's ongoing adventures and to stay updated with his awe-inspiring escapades, make sure to follow him on his vibrant social media pages. Don't miss the chance to be a part of this living legend's ever-unfolding journey, as he continues to redefine the boundaries of surfing and explore new horizons across the globe.
Make sure to follow Matt on his social media pages to see what's going on his world.
Connect with Matt on his social media pages:
Twitter: https://twitter.com/mattarchbold
Instagram: https://www.instagram.com/mattarchbold/
ABOUT Matt
In the summer of 1970, the Archbold family moved to San Clemente–Mom, Dad, Brian (age 4) and Matt (age 2). After a day at the beach, when we returned to our apartment on Avenida Victoria next to Fred's Liquor, I filled the bathtub with bubbles. Wet, sandy, and sunburn, Matt said, "I want to go home." I responded with, "You are home." Hence, a San Clemente local had arrived.
They call him a legend, a cult hero, punk rock on a surfboard, and one of the most influential rebels in surf lore. But what do they call the woman who gave birth to a legend? I guess that would be Mom. After the boys' dad and I divorced, I took my maiden name back and got my college degree in Arizona. Matt supported my educational efforts but didn't know why I moved to Arizona. "We're 'beach people,' Mom."
Matt was a high-achiever and knew what he wanted to do at a young age. Before surfing, he was into football, but when his older brother was surfing every day and entered surf contests, Matt got the bug. The prodigy surfer was doing a 360 within two weeks amazing his older brother and his friends. He got good grades in school when there was a purpose. The purpose was so he could surf on the National Scholastic Surf Team. He excelled in all the contests but he didn't fit the competitive mold. He jumped on the fast track, with my wary blessing, when he quit school and turned pro at age 16. Travel was his education. 
He went from surfing every day, eating Cap'n Crunch, and playing Atari to competing in Japan, Brazil and Australia. He started winning contests but eventually, the judges didn't know how to deal with his brand of modern surfing. He liked to have fun. He was rock and roll on a surfboard. Raised on the road with battle-hardy pros, he grew up fast. 
SUBSCRIBE
You can subscribe to The Travel Wins Podcast on Apple Podcasts, SoundCloud, YouTube, iHeart Radio, Stitcher, Google Podcasts, Spreaker, Podnews, Castbox,  Pocket Casts, Radio Public, and Amazon.
The Travel Wins intro song by Allison Johnson and Steve Stevens
Website Design by Stack Host