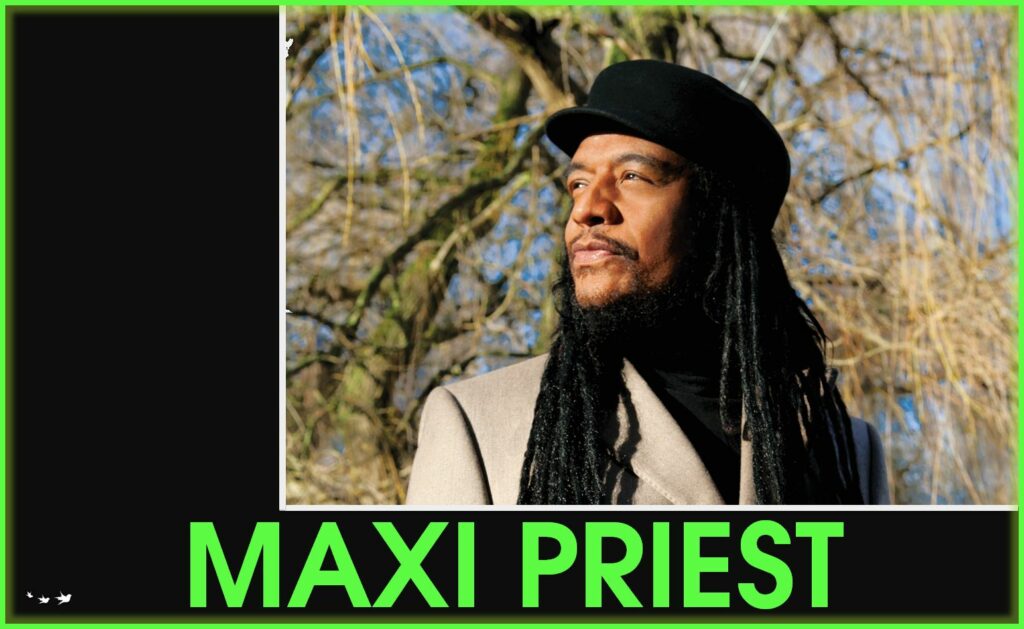 When you combine an exceptional talent, genuine kindness, and a wealth of experience, you are introduced to the extraordinary artist known as Maxi Priest. With his remarkable style of reggae fusion, Maxi effortlessly rises above his peers, solidifying his status as a true superstar in his field. Recognized by the industry with multiple Grammy nominations, Maxi Priest's musical prowess is unparalleled.
 "I love different cultures. You know, I go to a place like Japan or India- somewhere like that. And, I go wow! I wish I could bottle this moment and bring it back to my friends that are not as fortunate to travel." – Maxi Priest
Delving into Maxi's musical journey, one discovers the deep roots that have shaped his artistry. Hailing from the United Kingdom, Maxi Priest spent his formative years alongside his nine siblings, following his family's relocation from Jamaica. It was within this diverse backdrop that Maxi's mother, a devout Pentecostal missionary, instilled in him a profound worldview that would leave an indelible mark on his musical career.
The pivotal moment arrived when Maxi released his debut album at the renowned Saxon Studio International. This significant milestone showcased his distinctive talent, highlighted by a captivating rendition of Cat Steven's classic "Wild World." With this release, Maxi Priest swiftly emerged as one of Britain's esteemed reggae singers, etching his name into the annals of the genre.
Throughout his illustrious career, Maxi Priest has accomplished unparalleled feats. Boasting eleven solo albums, his discography stands as a testament to his enduring creativity and artistic evolution. Countless hit singles have graced charts worldwide, captivating audiences across the globe with his enchanting melodies and poignant lyrics.
Maxi's most recent solo endeavor, "It All Comes Back to Love," serves as a testament to his continued excellence. This magnificent album has garnered widespread acclaim, earning a prestigious Grammy nomination in 2021, a testament to Maxi Priest's unwavering commitment to his craft.
However, Maxi Priest is more than just a musical virtuoso. He is a warm and authentic individual who possesses a genuine connection with his audience. In this enlightening episode of The Travel Wins, Maxi shares his experiences on the road, regaling listeners with authentic stories that encapsulate the spirit of his journey. Fans of reggae music will undoubtedly be captivated by the opportunity to hear firsthand accounts from this revered artist.
Moreover, the conversation delves into Maxi's approach to maintaining a healthy lifestyle while traversing the globe. As an artist constantly on the move, Maxi imparts valuable insights into staying physically and mentally fit during his demanding travels.
The impact of the Covid-19 pandemic on Maxi's career is also explored, shedding light on the challenges faced by musicians during these unprecedented times. Despite the obstacles, Maxi Priest perseveres, embodying resilience and adaptability as he continues to share his music with the world.
To Maxi Priest, a performance is not merely a show; it is an opportunity to create a profound connection with his audience. Discovering what he considers a "win" during these performances offers a unique glimpse into Maxi's artistic philosophy, revealing his deep appreciation for the emotional resonance his music evokes.
In summary, Maxi Priest is an extraordinary artist whose talent, kindness, and wealth of experience have propelled him to the forefront of the reggae fusion genre. From his humble beginnings in the United Kingdom to his international acclaim, Maxi's journey has been marked by a profound dedication to his craft and an unwavering commitment to authenticity. With his latest solo album earning Grammy recognition, Maxi Priest continues to captivate audiences with his captivating melodies and authentic storytelling.
Show Notes:
0:27 – Learn about Maxi's Grammy nominations and the beginning of his career.
4:12 – Maxi discusses his musical roots and influences.
7:25 – Maxi opens up to Pete about his musical collaborations and motivations to work with others.
10:04 – Pete gets Maxi to discuss some of the most popular Reggae stars he's met along the way.
12:12 – Pete discloses the first Reggae album he purchased.
18:55 – Find out how the impact of the Covid Pandemic affected Maxi's performance schedule.
22:35 – We explore the many places Maxi has traveled during his musical career.
25:40 – Discover how Maxi stays healthy and keeps his voice in top condition on the road.
29:23 – Maxi elaborates about seeing Bob Marley at the Crystal Palace Bowl.
31:25 – Maxi explains what he considers a win when he performs.
35:17 – Maxi talks about traveling with his kids and family members on the road.
38:58 – Maxi explains the challenges of jet lag.
42:42 – Learn about the friends Maxi has met from around the world and how they've shaped him.
44:08 – Pete describes how Maxi's music makes him feel and receives a genuine response.
44:44 – Find out how Maxi's parents prepared him for a musical career.
48:59 – We discuss Maxi's latest project with Robin Trower and Livingstone Brown.
Connect with Maxi Priest on social media:
SUBSCRIBE
You can subscribe to The Travel Wins Podcast on Apple Podcasts, SoundCloud, YouTube, iHeart Radio, Stitcher, Google Podcasts, Spreaker, Podnews, Castbox,  Pocket Casts, Radio Public, and Amazon.
The Travel Wins intro song by Allison Kotzbach and Steve Stevens
Website Design – Stack Host