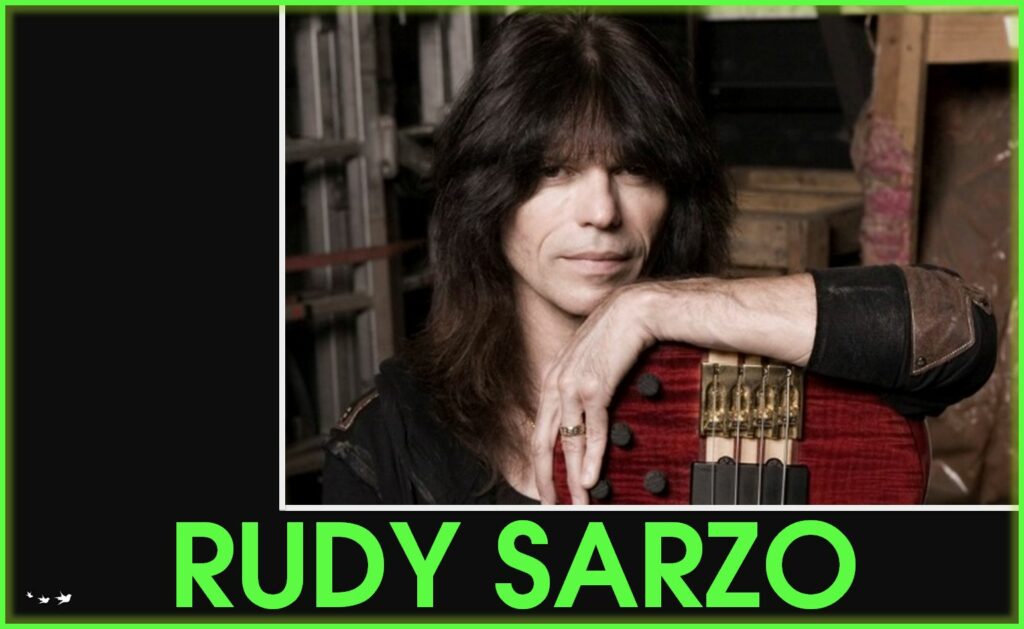 In today's captivating podcast episode, I have the pleasure of hosting the legendary bass guitar virtuoso, Rudy Sarzo, as my esteemed guest. Rudy's illustrious musical career has left an indelible mark on the world of heavy metal and hard rock, solidifying his place as a prominent figure in the industry.
Renowned for his exceptional bass guitar skills, Rudy gained fame through his remarkable contributions to iconic bands like Quiet Riot, Ozzy Osbourne, and Whitesnake. However, his musical journey doesn't end there; he has also lent his talents to several other well-known acts, such as Manic Eden, Dio, Blue Öyster Cult, Geoff Tate's Queensrÿche, and Devil City Angels. With a touring career that dates back to 1981 when he joined forces with Ozzy Osbourne, Rudy's experiences in the music industry span decades, making him a true veteran and authority in his field.
During our fascinating conversation, we delved into the essence of what makes a musician truly invaluable to a band, exploring the unique qualities and skills that set extraordinary artists like Rudy apart. Moreover, Rudy candidly shared his perspective on the less glamorous aspects of a musician's life, particularly the challenges and drawbacks of extensive traveling throughout the years.
Given the current global landscape, the music industry, like many others, has been significantly impacted by the worldwide lockdown. This reality has naturally affected Rudy's ability to tour with The Guess Who, prompting us to delve into an insightful discussion about the future of touring. As the industry adapts to unprecedented changes, we also explored how these transformations are shaping the broader landscape of the music business.
Join me as we journey through Rudy Sarzo's remarkable life in music, as he imparts wisdom, stories, and reflections that resonate with aspiring musicians and fans alike.
Connect with Rudy Sarzo on social media:
SUBSCRIBE
You can subscribe to The Travel Wins Podcast on Apple Podcasts, SoundCloud, YouTube, iHeart Radio, Stitcher, Google Podcasts, Spreaker, Podnews, Castbox, Overcast, Breaker, Pocket Casts, Radio Public, and Spotify.
Intro song by Podcast Cleaners – Jason Southard
ABOUT RUDY SARZO
Rudy Sarzo is a Cuban born American hard rock/heavy metal bassist. He is currently the bass player for The Guess Who.
Book
In 2006, Sarzo wrote a book entitled Off the Rails, a biographical account of his time in Ozzy Osbourne's band in the early 1980s. It centers mainly on his memories of the influential young guitarist Randy Rhoads, a close friend who died in a 1982 plane crash during the Diary of a Madman American tour.
Technical career
Sarzo is also an avid computer digital animator. When not touring or recording, he is a 3D technical director and co-executive producer at Ocean Visual FX in Southern California. Sarzo has demonstrated computer animation software at major tradeshows, such as demonstrating Acid, Sony Vegas and DVD Architect software at the Sony Pictures booth during the 2004 Winter NAMM Show. He released the Acid for Non Linear Editors training DVD, directed by Douglas Spotted Eagle, for the VASST training series, and created the "Working Man's Bass" loop library exclusively for Sony Pictures' Acid Software. He created the concert 3D animated opening for the video wall used during a European tour by Dio.