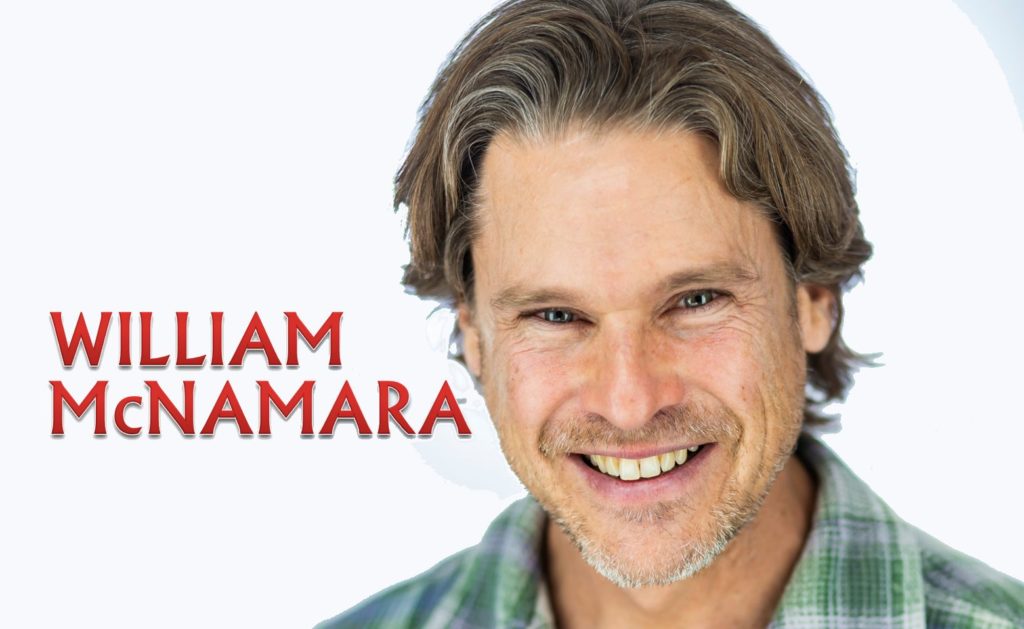 William McNamara (Billy) is an actor with over 30 years and 100+ titles to his credit. I was lucky to catch him in between projects in New Mexico, Oklahoma and Mexico. We had a great talk about the benefits of traveling the world for various projects and life on the road as a vegan.
He has a movie that he directed, wrote, produced and acted in, The Trouble with Billy, that is ready to be released and he is currently working on a distribution deal to let it reach the masses. It's a great movie premise with superb actors like William Baldwin, Tom Sizemore, Alison Eastwood, Robert Wagner and Costas Mandylor doing what they do best.
After watching Billy in multiple movies and shows over the years it was great to see and hear in person that he is a genuine person and it's easy to see why he has been a successful working actor for decades. Let me know what you think of the way he passes time when he travels.
Follow Billy on his social media pages to see what he is up to and to find out when his projects will be released in 2022 …..
Connect with William McNamara on his social media pages:
ABOUT William McNamara
William McNamara studied at the Lee Strasberg Theatre and Film Institute and has since notched up over one hundred and sixty-five film and TV appearances. One of his first roles was that of Joel in the teen movie Dream a Little Dream (1989) with Corey Feldman and Corey Haim. He followed this up with the Bette Midler film Stella (1990).
It was during the nineties, however, that William – arguably – turned out some of his best performances. He gave a great performance as Derek Wolfe Jr in the Ernest R. Dickerson manhunt thriller Surviving the Game (1994), in which he worked with a cast of talented veteran actors including F. Murray Abraham, Gary Busey, Rutger Hauer, and John C. McGinley. That same year he was again teamed with Gary Busey – and Tom Berenger – in the Navy comedy Chasers (1994), directed by Dennis Hopper.
His most prized – and chilling – role, though, is that of Peter Foley the copycat serial killer in the psychological thriller Copycat (1995). The film also starred Sigourney Weaver, Dermot Mulroney, and jazz musician Harry Connick Jr.. He appeared with Andrew McCarthy and John Stockwell in Stag (1997), and made his way towards the millennium opposite Gabriel Byrne in the World War II drama The Brylcreem Boys (1998).
William's first feature film role was in acclaimed cult horror director Dario Argento's slasher classic, Opera (1987). But don't fear: the actor is actually a kind spiritualist and an avid animal rights activist, putting much time, energy, and money into the plight of the dolphins and small whales off the shores of Japan. In addition William involves himself in animal rescue in general, Kundalini, and Yoga!
Like Henry Rollins, his co-star in Time Lapse (2001), William McNamara gets his own hands dirty while 'actively' pursuing causes that are close to his heart.
Trivia
Ex-fiance of actress Erika Eleniak. His father was a professional race car driver for the Ford Motor Company. His mother was an interior designer. Attended Columbia University. Received a Cable Ace Award nomination for Best Actor for his performance in Wildflower (1991). Studied acting at The Lee Strasberg Institute. Not only did he do his own stunts for Copycat (1995), but also spent time with Dr. Park Dietz, a forensic psychiatrist, in order to prepare for his role as the psychotic Peter Foley.Was asked to be the model and spokesman for in the Calvin Klein underwear ads, but turned down the offer. He feared that it would ultimately damage his career by leading to his being typecast. Is a huge fan of Don Knotts.
SUBSCRIBE
You can subscribe to The Travel Wins Podcast on Apple Podcasts, SoundCloud, YouTube, iHeart Radio, Stitcher, Google Podcasts, Spreaker, Podnews, Castbox,  Pocket Casts, Radio Public, and Amazon.
The Travel Wins intro song by Allison Johnson and Steve Stevens
Website Design by Stack Host
#williammcnamara #thetroublewithbilly #billy