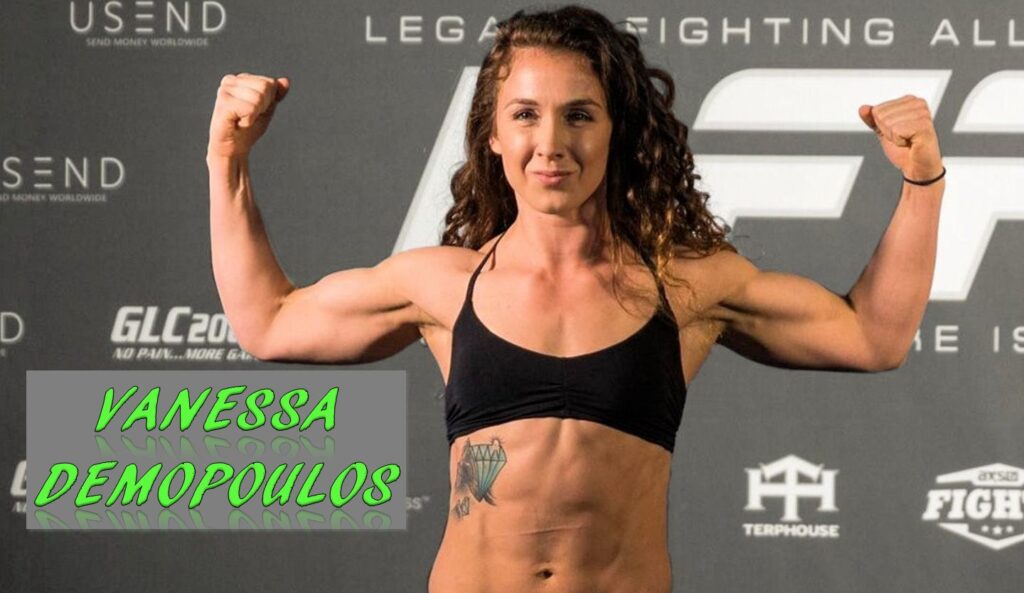 Is it okay to fight like a girl?
That would be a compliment if being compared to this week's guest, Vanessa Demopoulos. Vanessa is a professional mixed martial arts fighter, jiu jitsu fighter, author and exotic dancer. She has her first pro title fight on July 17 and she is excited about the chance to show her skills at LFA 85 in Sioux Falls, South Dakota. One of the subjects we discussed is the differences in her training after switching to the Blackhouse Gym in California from Ohio.
"One of the things with traveling, so often and so much, is that you meet really cool people all around the country and all around the world and I love being able to stay in touch with them."  ~Vanessa Demopoulos on how she fills her travel downtime
Vanessa was the first professional fighter guest on the show and she was great with sharing her stories and travel experiences. Make sure to check out her upcoming fights and you can watch several of her previous fights on YouTube. It was great meeting and hearing someone being so positive during the lockdown and looking forward to her future.
Connect with Vanessa Demopoulos on social media:
SUBSCRIBE
You can subscribe to The Travel Wins Podcast on Apple Podcasts, SoundCloud, YouTube, iHeart Radio, Stitcher, Google Podcasts, Spreaker, Podnews, Castbox, Overcast, Breaker, Pocket Casts, Radio Public, and Spotify.
Intro song "Road Trip" by Robin Tricker
FIGHT HISTORY – PRO
RESULT
FIGHTER
EVENT
METHOD/REFEREE
R
TIME
WIN
Lovethpatra Young
LFA 81 – Emmers vs. Barbosa
Jan / 31 / 2020
Decision (Unanimous)
Mike Beltran
3
5:00
WIN
Nadine Mandiau
LFA 69 – Perez vs. Moreno
Jun / 07 / 2019
Submission (Armbar)
Jason Herzog
1
2:37
WIN
Valerie Soto
LFA 62 – Kenney vs. Cachero
Mar / 22 / 2019
Decision (Majority)
Aladin Martinez
3
5:00
LOSS
Itzel Esquivel
LFA 52 – Rodriguez vs. Gutierrez
Oct / 19 / 2018
Decision (Unanimous)
Jon Schorle
3
5:00
WIN
Emme Weber
Iron Tiger Fight Series / Alliance MMA – IT Fight Series 79
Dec / 15 / 2017
Submission (Armbar)
N/A
1
4:36
FIGHT HISTORY – AMATEUR
RESULT
FIGHTER
EVENT
METHOD/REFEREE
R
TIME
WIN
Andrea Amaro
Tuff-N-Uff – Mayhem in Mesquite 11
May / 20 / 2017
Submission (Armbar)
Joe Sullivan
1
0:59
LOSS
Katlyn Chookagian
NAAFS – Night of Champions 2013
Dec / 07 / 2013
TKO (Punches)
N/A
3
2:11
WIN
Madeline Simmons Kidder
AAMMA 32 – Absolute Action MMA 32
Apr / 26 / 2013
Submission (Armbar)
N/A
1
2:14
WIN
Gina Begley
AAMMA 29 – Absolute Action MMA 29
Oct / 27 / 2012
Decision (Split)
N/A
3
3:00
ABOUT
Founder & CEO – The Stripper Bible
12yr Exotic Entertainment
Internationally recognized
Pole Competitor
Exotic Entertainment Instructor
Twerk Instructor
Pole Instructor
Professional MMA fighter
World Class Jiujitsu competitor
Netflix Cover Girl and participant for Original Series "The Ultimate BeastMaster"
#mma #mmawomen #mmagirls #lfa #jiujitsu #brazilianjiujitsu #exoticdancer #demopoulos #stripper #author #businesstravel #jobsthatinvolvetravel #careersthatinvolvetravel #businesstravelcareer #businesstraveljobs #thetravelwins