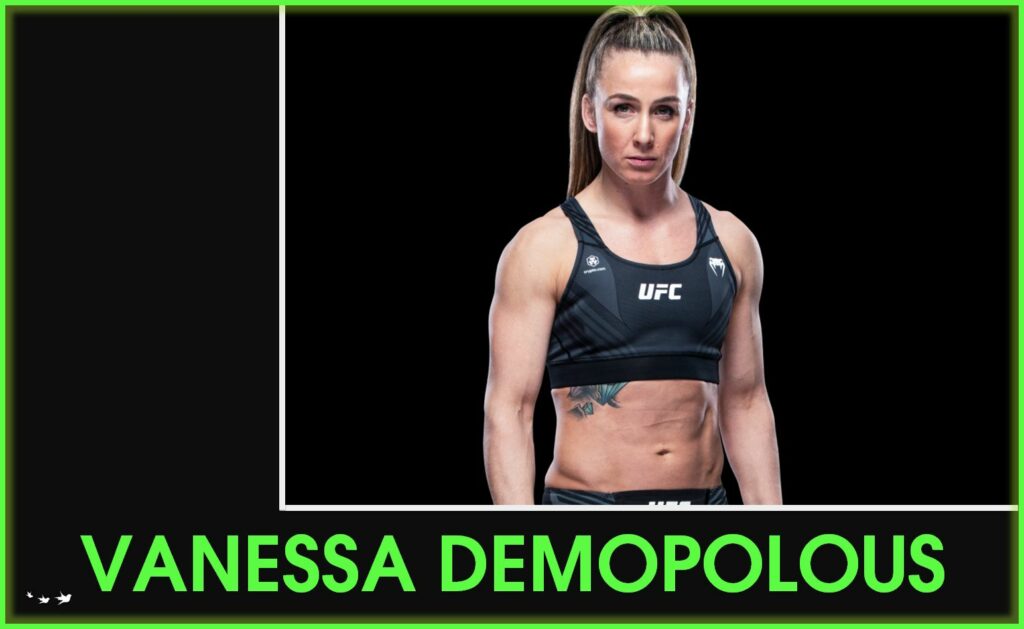 Vanessa Demopoulos is a formidable and multi-talented individual, known for her exceptional skills in various disciplines. As a professional mixed martial arts fighter and jiu-jitsu practitioner, she has proven her mettle in the competitive arena. Beyond her martial arts prowess, Vanessa is also an accomplished author and an exotic dancer, showcasing her versatility and creativity.
"One of the things with traveling, so often and so much, is that you meet really cool people all around the country and all around the world and I love being able to stay in touch with them."  ~Vanessa Demopoulos on how she fills her travel downtime
The anticipation is building as Vanessa prepares for her first professional title fight, scheduled for July 17. Eager to display her skills on a grand stage, she is thrilled about the opportunity to compete at LFA 85, which will take place in the vibrant city of Sioux Falls, South Dakota. This momentous event marks a significant milestone in Vanessa's career, and she is fully committed to delivering an awe-inspiring performance.
During our conversation, Vanessa shed light on the transformative impact of transitioning from Ohio to the esteemed Blackhouse Gym in California. This move has allowed her to benefit from world-class training facilities and a supportive community of fellow fighters. The change has undoubtedly enhanced her training regimen, enabling her to refine her techniques and push her limits in pursuit of excellence.
Vanessa's frequent travels have exposed her to diverse cultures and provided her with the opportunity to forge meaningful connections with people from all walks of life. She appreciates the enriching experiences these encounters offer and cherishes the ability to maintain these connections even after her journeys conclude. Her passion for staying connected with individuals she meets along the way reflects her genuine appreciation for the power of human connection.
Being the inaugural professional fighter guest on the show, Vanessa captivated the audience with her engaging stories and captivating travel experiences. Her positive attitude and resilience during the challenging lockdown period were truly inspiring. As she looks ahead to a promising future, it is highly recommended to keep an eye out for her upcoming fights, where she will undoubtedly leave spectators in awe. For those curious to witness her previous battles, several of Vanessa's exhilarating fights are available to watch on YouTube, showcasing her tenacity and skill.
Encountering someone as passionate and optimistic as Vanessa was an absolute pleasure. Her unwavering dedication to her craft and her relentless pursuit of greatness make her a remarkable individual worth following.
Connect with Vanessa Demopoulos on social media:
SUBSCRIBE
You can subscribe to The Travel Wins Podcast on Apple Podcasts, SoundCloud, YouTube, iHeart Radio, Stitcher, Google Podcasts, Spreaker, Podnews, Castbox, Overcast, Breaker, Pocket Casts, Radio Public, and Spotify.
Intro song "Road Trip" by Robin Tricker
ABOUT Vanessa
FIGHT HISTORY – PRO
RESULT
FIGHTER
EVENT
METHOD/REFEREE
R
TIME
WIN
Lovethpatra Young
LFA 81 – Emmers vs. Barbosa
Jan / 31 / 2020
Decision (Unanimous)
Mike Beltran
3
5:00
WIN
Nadine Mandiau
LFA 69 – Perez vs. Moreno
Jun / 07 / 2019
Submission (Armbar)
Jason Herzog
1
2:37
WIN
Valerie Soto
LFA 62 – Kenney vs. Cachero
Mar / 22 / 2019
Decision (Majority)
Aladin Martinez
3
5:00
LOSS
Itzel Esquivel
LFA 52 – Rodriguez vs. Gutierrez
Oct / 19 / 2018
Decision (Unanimous)
Jon Schorle
3
5:00
WIN
Emme Weber
Iron Tiger Fight Series / Alliance MMA – IT Fight Series 79
Dec / 15 / 2017
Submission (Armbar)
N/A
1
4:36
FIGHT HISTORY – AMATEUR
RESULT
FIGHTER
EVENT
METHOD/REFEREE
R
TIME
WIN
Andrea Amaro
Tuff-N-Uff – Mayhem in Mesquite 11
May / 20 / 2017
Submission (Armbar)
Joe Sullivan
1
0:59
LOSS
Katlyn Chookagian
NAAFS – Night of Champions 2013
Dec / 07 / 2013
TKO (Punches)
N/A
3
2:11
WIN
Madeline Simmons Kidder
AAMMA 32 – Absolute Action MMA 32
Apr / 26 / 2013
Submission (Armbar)
N/A
1
2:14
WIN
Gina Begley
AAMMA 29 – Absolute Action MMA 29
Oct / 27 / 2012
Decision (Split)
N/A
3
3:00
ABOUT
Founder & CEO – The Stripper Bible
12yr Exotic Entertainment
Internationally recognized
Pole Competitor
Exotic Entertainment Instructor
Twerk Instructor
Pole Instructor
Professional MMA fighter
World Class Jiujitsu competitor
Netflix Cover Girl and participant for Original Series "The Ultimate BeastMaster"