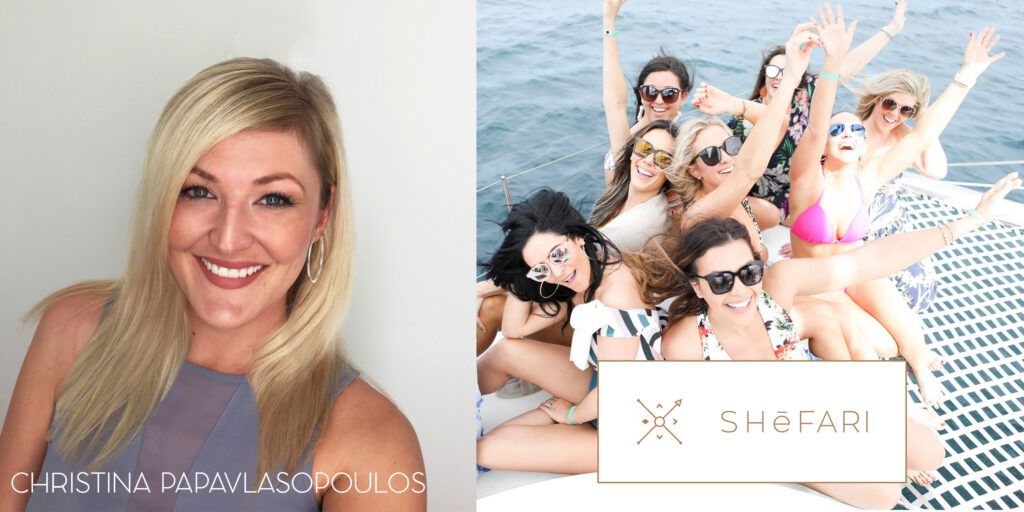 Can I start a company helping women travel the world?
Christina Papavlasopoulos is the co-founder of the luxury travel boutique company, Shefari. I was excited to speak with Christina about her company beginnings and where they are headed.
Christina added some great insight to being a co-founder of a company as a newlywed and an expectant mother. The proverbial, work-life balancing act will get tougher but more rewarding for her in the next several months. As a husband and father of two daughters, I was happy to hear from other women that are looking to expand their circle and help empower women. Make sure to look at the bottom of this page for their upcoming woman empowerment trip, She Succeeds, to Greece this October.
ABOUT CHRISTINA
Adventure has been instilled in me since childhood. We moved often, and though good-byes were difficult, there was always excitement for the faces and places that lie ahead. My sense of adventure continued in college, where my interest in art history and fashion sent me on a study tour to Paris and London. I admired the intricate architecture, the chic Parisian style, and delighted in calling my parents from an infamous red telephone booth to wish them a Happy New Year. A week in France and England led to a semester in Italy, and then work in Greece – each its own glorious adventure.
Besides travel I love musicals, bold colors, artichokes, and leather-bound books.
 I want to learn the cello and become fluent in five languages. I adore wit and creativity, and I've never met a latte I didn't like. When I'm not planning your next Shefari, I can be found painting, drawing, and jogging (fine, walking) to throwback hip-hop. Though planes take me all over the world, my favorite destination is home to Florida, sharing wine and stories with my family.
The Shefari "aha" moment came with an international phone call. My aunt announced that she was coming to Greece, explaining life was too short not to experience it to the fullest and see the places she wanted. She already had her sister, mother, and cousins on board. At her request, we planned the trip of a lifetime for seven of my favorite women, and our first Shefari was born.
Connect with Christina Papavlasopoulos on social media:
Click here to see other guests choices for listening while traveling
SUBSCRIBE
You can subscribe to The Travel Wins Podcast on Apple Podcasts, SoundCloud, YouTube, iHeart Radio, Stitcher, Google Podcasts, Spreaker, Podnews, Castbox,  Pocket Casts, Radio Public, and Amazon.
SHEFARI
We are a new generation of travel planners. A company for and by women.
Our goal is simple: to inspire and connect individuals through the art of traveling. So we've crafted travel packages for all of life's occasions, whether it is a wonderful mother-daughter getaway, a life-changing retreat, or your dream honeymoon.
We offer magnificent destinations and activities, selected with you in mind. Create your own using Build A Trip, browse our collection of transformative travel, or contact us for an custom itinerary just for you.
Let us help you travel well.
She Succeeds
Entrepreneurial Retreat in Corfu, Greece
October 5-10, 2019
At Last!
 The ultimate women's entrepreneurial retreat that you've been seeking – where travel meets transformation and methodology meets magic.
As driven professionals, we know it's imperative to occasionally step away from the hustle to refocus. This retreat will stir you to find clarity and creativity on multiple levels, so you can return to your projects from a place of deep presence and renewed imagination. You'll gain insight into how to grow your business and leave empowered.
Why Corfu?
The turquoise waters of this mythical island and the women of its rich history are integral elements of this experience. Immerse yourself in Greece's philosophies of wellness, success, and a life well-lived.
 Strength, from the legendary goddess Athena, who rescued the shipwrecked hero Odysseus on Corfu's shores.
 Inspiration, as you stand in the famed courtyard of the Nine Muses.
Well-being, through the calm haven where Princess Sisi of Austria came to heal.
Luxury, in the essence of Jackie Onassis, who lived and sunbathed in the very resort you will call home for five days.
Prepare for self-care, insightful masterclasses, and sunsets by the sea in a luxurious oasis. Return refreshed and recharged.
Don't miss this life-shifting opportunity!
Imagine…
Five incredible days of immersive lessons from a stellar lineup of internationally successful female CEOs, coaches, and visionaries…all who are excited to share in your growth.
Start each morning with beach yoga, meditation, and Greek-inspired nutrition tips to keep you at the top of your physical game. Sip chilled rosé at sunset and nautical network on a sun-kissed boat in the Ionian Sea with ladies who "get it".
Explore a 13th century monastery then dine on traditional Hellenic cuisine in a cozy local tavern. Get real with a global group of women who've got your back for life.
It's no coincidence that you've landed here…
If this resonates, then you belong at the She Succeeds Retreat in Corfu this October!
Do You Crave…
Sharing ideas and connecting with like-minded women on the "business vacation" of a lifetime?
Building your own mastermind group of dynamic females packed with motivation, peer-brainstorming, and accountability?
Learning proven tactics from dynamite leaders on amping up your networking, selling, digital marketing, time-managing, writing, and business strategy?
Pinpointing those areas of your business that consistently trouble you and creating a plan to move forward in both group and one-on-one mentorship?
Breaking away from the loneliness of the solo-preneur and small biz journey?
Turning your passion project or side hustle into a full-fledged, lucrative business?
The opportunity to present your company, idea, or challenge and hear constructive feedback from elevated thinkers?
Improving both your personal and professional well-being? (Hint: they are beyond interconnected!)