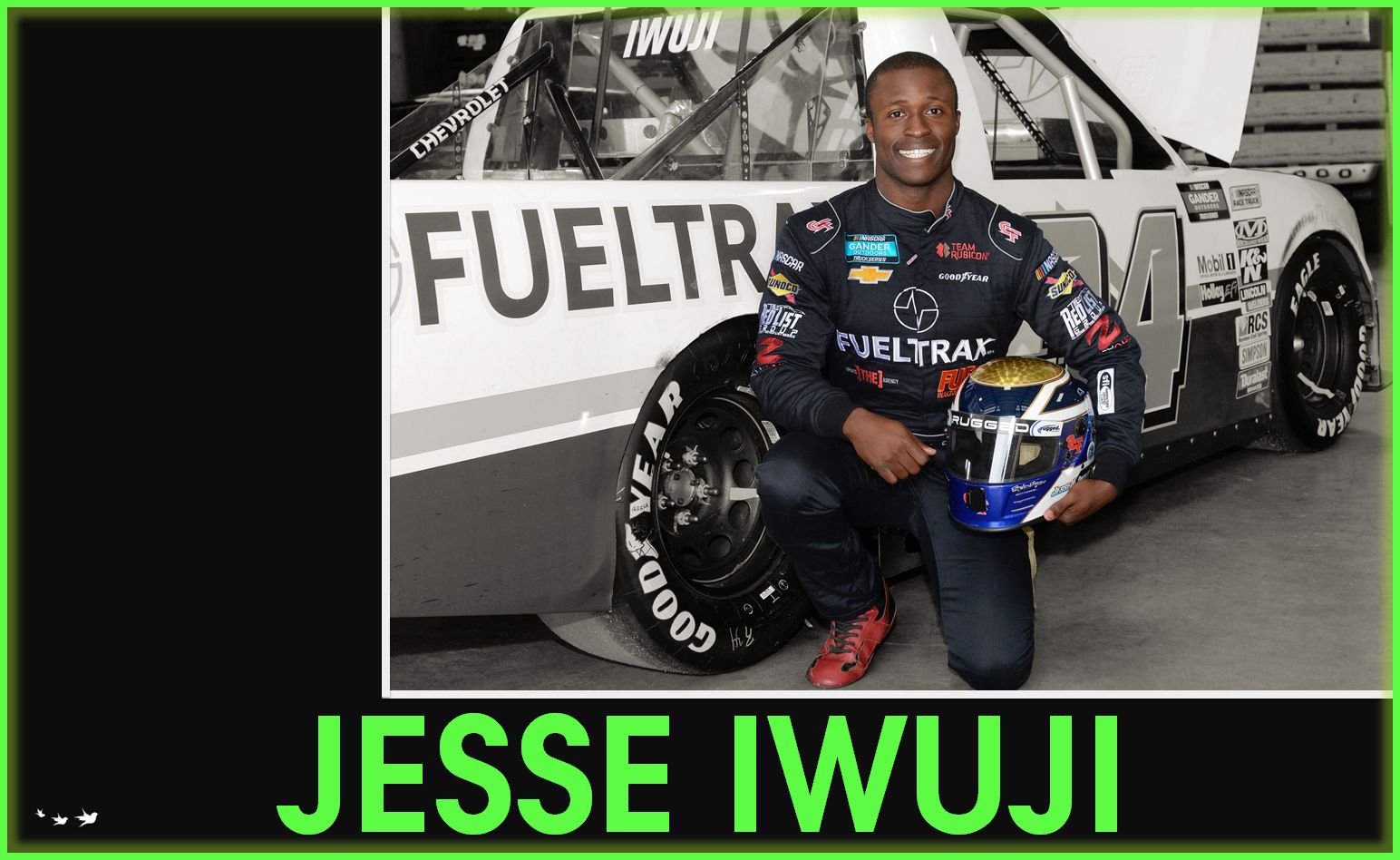 "Navigating Dual Highways: Jesse Iwuji on Balancing Life as a NASCAR Driver and Navy Officer"
Jesse Iwuji is no ordinary individual. He's a dazzling blend of speed and discipline, skimming asphalt and sailing seas — a professional stock car racing driver in NASCAR's Gander Outdoors Truck Series and a commissioned officer in the United States Navy Reserve. Driving the No. 34 for Reaume Brothers Racing, Iwuji doesn't just steer wheels, he navigates complex landscapes both on and off the racetrack.
The Need for Speed and Service
Jesse's journey to the pinnacle of motorsports and military service is a story of relentless dedication and unwavering commitment. Attending the United States Naval Academy, he was more than just another cadet. Jesse was a dual-athlete dynamo, serving as a free safety for the Navy Midshipmen on the college football team, while also flexing his muscles on the track and field team.
Graduating in 2010, he swapped his cleats for naval boots and entered the United States Navy as a surface warfare officer. His years of active duty included service on the Mine Countermeasures ship Exultant and the USS Comstock. Seven years later, he transitioned seamlessly into the Navy Reserve, but that was merely the beginning of another exhilarating chapter.
Racing Against Time
"As a professional athlete, the toughest part with traveling…. sometimes might be just getting enough rest," Jesse admits on today's episode. It's not just the speed on the racetrack that keeps him on his toes; it's the whirlwind lifestyle that leaves little room for pause. Frequent traveling for NASCAR events and fulfilling his duties in the Navy Reserve make downtime a scarce commodity.
A Unifying Force
Jesse Iwuji is not just a driver or a sailor; he's a beacon uniting two seemingly divergent worlds: military service and professional racing. He actively serves as an ambassador for both the NASCAR and military communities. His philanthropic endeavors don't stop at the racetrack or naval base; he is intricately involved in initiatives supporting the armed forces and veterans.
Whether it's by the throttle of a NASCAR truck or the helm of a naval ship, Jesse Iwuji is an exemplary figure maneuvering through life's challenges with precision, commitment, and an insatiable drive to succeed. The life lessons he shares are not just about accelerating on the road but are valuable insights into steering through life's complexities.
Connect with Jesse Iwuji on his social media pages:
SUBSCRIBE
You can subscribe to The Travel Wins Podcast on Apple Podcasts, SoundCloud, YouTube, iHeart Radio, Stitcher, Google Podcasts, Spreaker, Podnews, Castbox,  Pocket Casts, Radio Public, and Amazon.
The Travel Wins intro song by Allison Johnson and Steve Stevens
ABOUT Jesse Iwuji
While attending the Naval Academy, Iwuji first expressed interest in motorsports when the Midshipmen visited the Lowe's Motor Speedway in Charlotte, North Carolina before the 2006 Meineke Car Care Bowl, during which the players rode around the track. During his senior year, he started drag racing at Capitol Speedway in Crofton, Maryland, driving a Chrysler 300.
After his graduation, he raced a Dodge Challenger. Four years later, he participated in the Mojave Mile speed trial; for the event, he upgraded his Challenger's engine to a horsepower of 1,100. With the new engine, Iwuji ran at a speed of 200.9 miles per hour (323.3 km/h), becoming the fifth modern Mopar driver to accomplish the feat at the Mojave Mile. Afterwards, he joined the Naval Postgraduate School staff in southern California, where he was involved in road racing – driving a Chevrolet Corvette – before making the transition to stock cars.
In 2014, Iwuji tested a stock car for Performance P-1 Motorsports at Irwindale Speedway. A year later, he began racing for the team after returning from deployment in the Persian Gulf. He first competed in the Whelen All-American Series, finishing 15th in his debut. He also made two K&N Pro Series West starts that year at Evergreen Speedway, but did not start the race. He later ran the race at Meridian Speedway, finishing 23rd after a crash. In the winter, he ran 34 dirt track races, one of which included a fifth-place finish in a Winged 500cc Outlaw Kart A-main.
Iwuji started competing full-time in the K&N Pro Series West in 2016, driving the No. 36 for Patriot Motorsports Group. That year, he was named to the "Mighty 25: Veterans poised for impact in 2016" list by military website We Are The Mighty. He recorded a best finish of tenth at Orange Show Speedway. At the Utah Motorsports Campus race, he earned the Move of the Race Award, which is given to the driver who gains the most positions in a race. During the year, he also competed in the NAPA Big 5 Late Model Series at Meridian Speedway. Iwuji battled with Todd Gilliland and Salvatore Iovino for the K&N Pro Series West's 2016 Most Popular Driver Award, but lost to Iovino. He finished the season tenth in the final point standings and sixth the rookie standings.
In February 2017, Iwuji was awarded the NASCAR Diverse Driver Award, which is given to a minority/female driver who "exemplifies outstanding performance both on and off the race track in encouraging awareness and interaction with NASCAR and motorsports".
Prior to the 2017 season, Iwuji became Patriot Motorsports Group's primary owner, while former National Football League linebacker Shawne Merriman partnered with the team to serve as owner of the No. 36 car. The two met during a fashion show in Los Angeles promoting Merriman's new clothing line; Merriman, a longtime motorsports fan, agreed to join PMG. Over the course of the season, Iwuji continued to race Outlaw Karts to develop his racing ability on both dirt and asphalt. In February, he ran his first K&N Pro Series East race in the season opener at New Smyrna Speedway, in which he finished 21st.
In February 2018, Iwuji tested an ARCA Racing Series car for PMG at Daytona International Speedway in preparation for his series debut in the Lucas Oil 200. For the 2018 season, he intends to focus on competing in ARCA, particularly the larger tracks, in addition to running sporadic K&N East and West races. In August, Reaume Brothers Racing announced Iwuji would make his NASCAR Camping World Truck Series debut at Canadian Tire Motorsports Park in the team's No. 34 Chevrolet Silverado. After starting 31st, he finished 25th.
Iwuji returned to Reaume Brothers Racing and the Truck Series in 2019, driving the No. 34 at Las Vegas Motor Speedway.
Jesse's traveling music/song/podcast choice is:
Rich Dad Poor Dad audio book
Click here to see all of the guests listening choices when traveling.