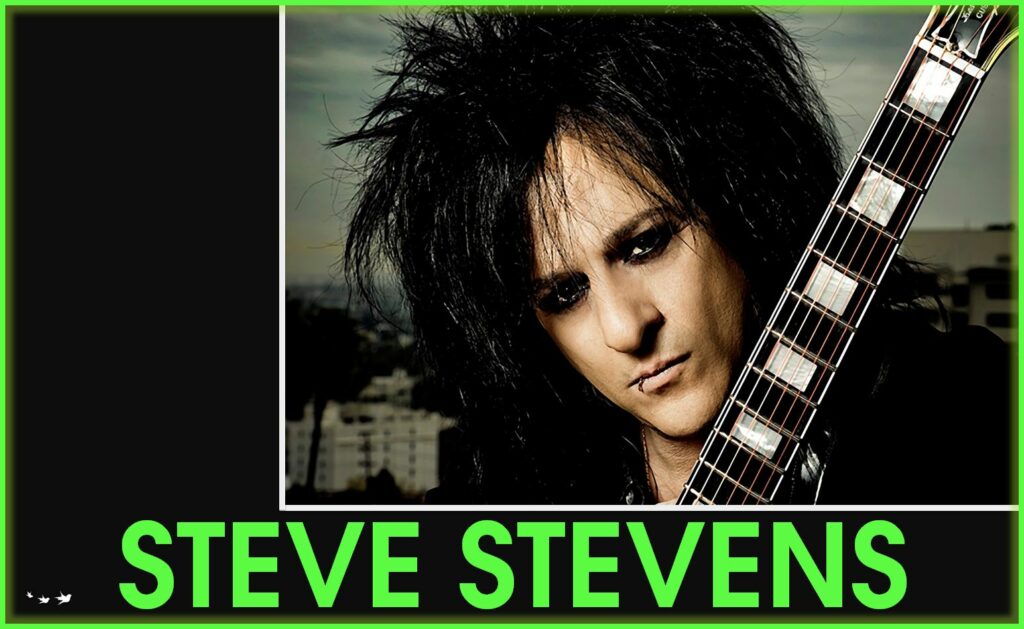 "Harmonizing Highways and Melodies: Unveiling Decades of Musical Journeys with Steve Stevens"
Brace yourself as we unveil a symphony of stories and insights shared by none other than the legendary road warrior himself, Steve Stevens. Embarking on a journey that traces back to the tender age of 7, Steve's virtuoso guitar prowess has weathered the sands of five decades, resonating with an everlasting rhythm that continues to enthrall audiences worldwide. A true rock icon, he still ignites the stage alongside the electrifying Billy Idol, a partnership spanning almost 40 years. Through this remarkable alliance, Steve has unlocked the gates to the enigmatic realm of the music industry, a domain where he's collaborated on harmonies with luminaries such as Michael Jackson, Ric Ocasek, and Vince Neil.
But that's not all—Steve's sonic footprint extends to the silver screen, his melodies gracing the soundtracks of blockbuster classics like "Top Gun" and "Speed." A more recent crescendo finds him converging with the supergroup Deathland Ritual, each note a testament to his enduring relevance. A pinnacle of his achievements was marked by the Grammy victory for the iconic "Top Gun Anthem," a sonic emblem etching its legacy into the annals of time.
As the sun sets on the horizon of our conversation, we delve into the symphony of the present and future. A harmonic discourse unfolds as we muse over the possible resurgence of the "Top Gun Anthem" in the forthcoming cinematic spectacle, "Top Gun: Maverick." Through Steve's eyes, we glimpse the persistent yearning for the cadence of rock music, a harmonious heartbeat that reverberates through live performances. Yet, even amidst this, the conversation takes an introspective turn, illuminating the explosive surge of electronic music and the meteoric rise of luminaries like Billie Eilish.
And oh, what an encounter it was! With humility and gratitude, I recount the privilege of conversing at length with Steve, a maestro of melodies. Special thanks are due to his life partner, Josie, who orchestrated this captivating exchange. As we explore the synergy between life on the road and the companionship of a loved one, we unravel the positives of traversing the globe with your soul's confidant.
Tune in to this episode, where the symphony of Steve Stevens' experiences harmonizes with the euphony of exploration, unraveling layers of music, travel, and the resonance of shared adventures.
Steve Stevens on social media:
Steve's listening choice while traveling for work is:
Taking a break from music, Steve likes to relax when he has time. 
Click here to see other guests choices for listening while traveling
ABOUT
Steve Stevens is an American guitarist and songwriter. He is best known as Billy Idol's guitarist and songwriting collaborator and for his lead guitar work on the theme to Top Gun – "Top Gun Anthem" – for which he won a Grammy in 1987: Best Pop Instrumental Performance. A session guitarist, he has played for Michael Jackson, Ric Ocasek, Robert Palmer and many others. Stevens was in Vince Neil's band in 1993, touring and recording on Neil's album Exposed. In 1995, Stevens and Idol were briefly members of the group Neurotic Outsiders. Stevens was a founding member of the supergroup Bozzio Levin Stevens, which released Black Light Syndrome in 1997 and Situation Dangerous in 2000. He brought Spanish flamenco guitar stylings to the song "Pistolero" (1999) for the trance group Juno Reactor. During 2012–2016, Stevens appeared with Kings of Chaos. His "Steve Stevens" group headlined the closing performance at the Musikmesse in Frankfurt, Germany, in April 2016. He is also a television personality on the E! Show Married to Rock, alongside his wife, Josie Stevens.
Discography
Solo albums
The Guitar World According To Steve Stevens (1986 cassette from the music magazine Guitar World)
Atomic Playboys (1989)
Akai Guitar Sample Collection (1994)
Flamenco a Go-Go (1999)
Memory Crash on Magna Carta Records (2008)
Movie soundtracks
"Top Gun Anthem", Top Gun (1986)
"Speed", Speed (1994)
Albums with Billy Idol
Billy Idol (1982)
Rebel Yell (1983)
Whiplash Smile (1986)
Devil's Playground (2005)
Kings & Queens of the Underground (2014)
Albums with Michael Jackson
Bad (1987)
Albums with Robert Palmer
Don't Explain (1990)
Albums with Jerusalem Slim
Jerusalem Slim (1992) – only released in Europe and Japan
Albums with Vince Neil
Exposed (1993)
Albums as a member of Bozzio Levin Stevens
Black Light Syndrome (1997)
Situation Dangerous (2000)
Albums with Kyosuke Himuro
I·De·A (1997)
Collective Souls (1998)
The One Night Stands (1998)
Mellow (2000)
Beat Haze Odyssey (2000)
Follow the Wind (2003)
Albums with Gregg Bissonette
Submarine (Stevens played on "Train to Willoughby") (2000)
Albums with Adam Bomb
New York Times (Stevens played on "NY Child" "Cheyenne" "Saluda a Lola" & "Anxiety") produced by Jack Douglas (2001)
Albums with Sebastian Bach
Give 'Em Hell (2014)
Other performances
Merry Axemas Vol. 2 ; track 3 "Do You Hear What I Hear" (1998)
The Fallout | Neodymium Project (2012)
Desire | Meg Myers – Sorry (2014)
I Will Always Be Yours | Ben Rector (2018)
Down in Flames | Deadland Ritual (2018)